ISSA Study Materials For 2023
Cut your study time in half for the ISSA personal trainer certification
Hey there All-star and welcome to our ISSA study materials page. Are you ready to reduce your overall ISSA study time by 50%?
Most of the materials can be purchased separately, but you can save a ton with our packages.
If you want to learn more about us, check out our about page.
If you have any questions, here is how to reach us:
The orange chatbox on the bottom right of this page (quickest response)
Send us an email using our contact page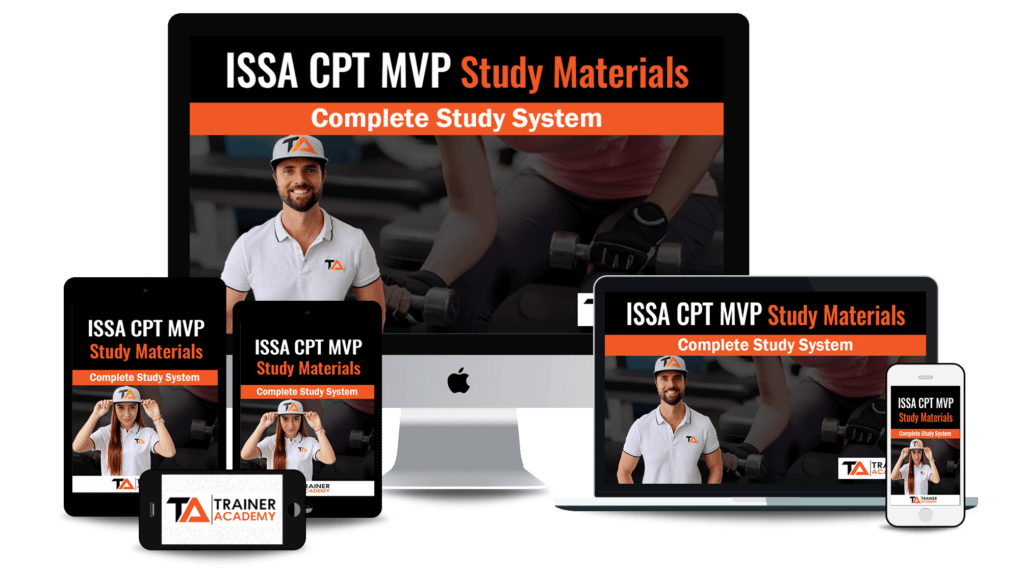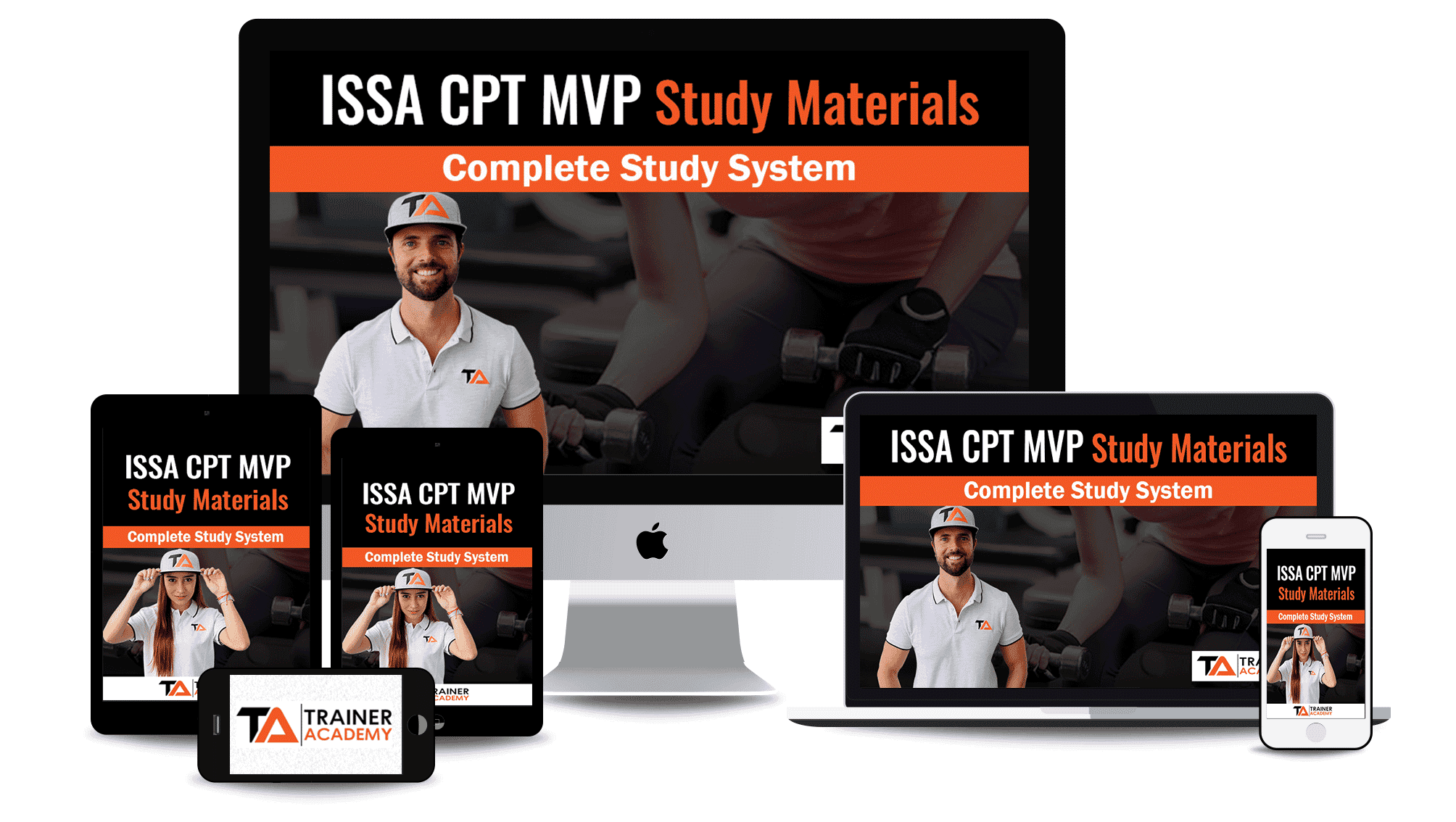 Flash Sale Ends Today: $100 Off The ISSA MVP (Only $199). Code: 100OFF
[tu_countdown id=598 design=15][/tu_countdown]
ISSA CPT Study Material Packages:

All study materials are available immediately after purchase

Info On Our ISSA Study Materials
ISSA Study Guide Answers
Memorizing a huge textbook is daunting. And the official study guide that comes with your ISSA program is great. The only problem is they didn't include any answers to this study guide questions! Our study guide includes the ISSA workbook and study guide answers to these questions to save you a ton of time. Use as a reference, or's study straight out of it!
ISSA Practice Test/Quiz
A complete 200 question practice test will help you understand the test structure and get you to use to how ISSA words their questions. We also have a 50 question true and false quiz. After finishing the practice exam or quiz, you will get a breakdown of how you did in each domain in order to refocus your studies. These study materials are a must.
ISSA Intelligent Flashcards
Our intelligent flashcards use Spaced repetition learning (SRL) and is the key to help you memorize difficult topics and definitions. This algorithm personally learns which cards are easy, and which cards are difficult for you. It sets different study intervals to help you learn your harder topics and cement this info in your long term memory.
Audio Study Guide
The audio study guide goes over the assignment questions and answers from the written study guide. Great for people who are audio learners, those who drive a lot or simply as another medium to learn. The Audio study guide needs to be used in combination with the written study guide as well as the Mnemonics in order for it to be effective.
Magic Mnemonics
Memorize the most difficult parts of the ISSA exam by making unbreakable connections between the study concepts and our magic mnemonics. Our students that use these mnemonics not only remember the info for passing the exam, but they remember it for years to come, which is even more important for being a great trainer (crucial!).
Comprehension challenge
Recently, ISSA changed their exam structure to a 200 question multiple-choice exam. Before, they had case studies and short essays as well. We still believe that these are super helpful for grasping difficult to learn concepts. Our comprehension challenge will help you master these principles. This will help form you into a top-tier personal trainer.
ISSA Study Blueprint
The study blueprint contains a 10 week study plan, an 8 week plan, a 4 week plan and a 2 week plan (AKA the cram plan). We help you decide which plan is right for you and show you exactly what to study (and how) for that time frame. This blueprint is essential if you are last second cramming and will give you the best chance to pass the exam.
ISSA Cheat Sheet
The ISSA cheat sheet contains the most important information that you need to focus on right before the exam. This all fits on one sheet of paper and can be easily printed out and used the night before the test, as well as the day of the exam. This drastically helps with the retention of information.
Exam Pass Guarantee
Our ISSA MVP study package comes with an exam pass guarantee. It's straightforward, if you somehow fail the test after using our study materials, we will refund 100% of your money. Period. We are that confident in our study materials.
What our students are saying
Trainer Academy really helped me prepare for the ISSA exam. A lot of the questions from their practice exam were very similar to the ones I saw on the real thing.
The answers to the study guide really helped me during the exam. Also, the mnemonics are too funny!
My favorite study material was by far the flashcards and Audio study guide. I drive a lot, and the ability to learn while on the way to work was great.
u003cbru003eI am now a certified personal trainer! Of these ISSA study materials really helped me retain all the information for the exam.
The ISSA exam seemed so easy for me after completing the eight week course from Trainer Academy. Thanks!
FAQ
Do you really boast a 99% pass rate?
Out of all of our students that have gone through the ISSA MVP study materials, we have Less than a 1% failure rate.

How does the pass guarantee work?
With the purchase of the ISSA MVP study package, you receive our exam pass guarantee. It's pretty straightforward, if you somehow fail the test after going through the study guide, passing our practice tests and going through our flashcards, we will refund 100% of your money. Period.

How did you create these practice tests?
The questions were created from talking to hundreds of our students that have passed the exam, and the types of questions that they saw. ISSA is constantly changing their tests and it is important to have updated questions to best simulate the real exam. This practice test is as close as you will get to the real exam.

How did you create this study guide?
When you purchased the ISSA program, it came with their official study guide. The only problem is, they are just questions. Our study guide answers these questions which will save you tons of time looking through the book to find the right ones. You can use our study guide to study directly out of, or as a reference to make sure that your answers are correct.

How many pages is the ISSA study guide?
The study guide is a 114 page PDF.

How do I receive the study materials?
Immediately after your purchase, you can access every study material for the package you choose.