How much do personal trainers make?
Well, that number depends on a lot of factors.
With an increase in demand for personal trainers, here we explore the annual salary of a personal trainer, and touch upon the following main points:
Average annual personal trainer salary
Factors that may affect a personal trainer salary
PT salary and career FAQs
So, without further ado, let's dive in.
Exclusive TA Offers



Most Popular Cert

Great Option

Best Cert for you?

Good Option

Good Option

Good Option

Business/Employment Models vs. Average Annual Salary Roundup
Business/Employment Model
Average Annual Salary
Pro
Con
Full-Time
$36k-$150k
Eligible for employee benefits.
Minimum wage floor salary.
Part-Time
Under or around $36k
Eligible for some employee benefits, and there's extra time for supplemental income.
Earns less than full-time trainers.
Self-Employed
Varies
You're the boss!
More responsibilities and administrative duties.
1099 Model
Varies
You're the boss!
Must adhere to the gym's price points and training models.
Online Coaching
$72,436.00+
$108,436.00+ (Popular trainers)
You earn more by doing less.
You are responsible for marketing yourself.
Fitness Business
$82,514.00
You decide what you earn.
Running your own business may be taxing, and require more administrative duties.
Passive Income
Varies
Self-sustained revenue; it's a renewable commodity that doesn't require any active work past initial production.
Not 100% passive! (You are still responsible for marketing yourself.)
Average Earnings for Personal Trainers
Now for the main subject of the article: How much money does a personal trainer make training clients?
The average personal trainer's salary varies tremendously across the board, and many factors influence earning potential for personal trainers, including experience, number of clients, and your personal training certification.
For example, when you take the steps to become a personal trainer the typical starting salary starts out lower than the salary for a head personal trainer or celebrity fitness trainer.
Also, often personal trainer average salary for those with a bachelor's degree or a master's degree comes out to a higher number than entry-level personal trainer salary.
According to a market survey conducted by ACE., the average certified personal trainer salary has gone up by 12% since 2010.
According to the U.S. Bureau of Labor Statistics (BLS), the average personal trainer earns around ​$40,390.00 per year.
In the same survey, statistics indicate that in a personal training career, you'd expect to earn a national average of $52,333/year, with an average hourly rate of $26/hour.
Other jobs such as group fitness instructor and health and wellness coach show an annual average of $52,848 and $51,219 respectively, which is in the same ballpark as a personal trainer.
As mentioned, there are so many variables and factors that influence these figures.So what factors and variables affect making money as a personal trainer?
Factors That Affect A PT Salary
What factors influence how much you make as a PT?
Let's discuss the following:
Location
Credentials
Years of experience
Educational background
Employment type
Certification provider
Also, as a fitness instructor, you should also be passionate about helping people improve their quality of life by guiding them on their journey to achieving their fitness goals and developing healthier habits, which ultimately leads to increased levels of fulfillment and a better quality of life.
So now, let's go ahead and talk briefly about how the above variables can influence your PT wages in the job market.
Location, location, location.
You've heard that one before.
In the case of certified personal trainer income, location embodies one of the most crucial factors, because it determines several factors that all play into your total earnings as a fitness pro.
You can be the best at getting your clients into shape, helping them build muscle and shred body fat, but if no one lives in your area it's hard to make a living. 
Just think and compare expensive cities like New York City, San Francisco, and Los Angeles to other small, lesser-known cities.
The first thing a location decides is the population size, because oftentimes the number of people in your area affects how much money you can make. It's certainly a numbers game, when it comes to the personal trainer job outlook.
The income bracket influences how many people are likely to pay for your services as well as how much you can realistically charge them.
Wealthier people with more assets and disposable income tend to take pride in being able to pay for the best and most exclusive service, and they usually determine how good something is based on the cost.
According to ACE, the top-earning locations are in the North Western United States (Oregon, Washington, Idaho, Montana) with the Southwest areas coming in a close second (Arizona, New Mexico, Colorado, California, Nevada, Utah, and Texas).
Across each state, we see an income split based on qualification and specialization.
In the Northwest region, average earnings are:
Personal Trainer: $56,281
Group Fitness Instructor: $76,565
Advanced Certification: $47,162
In the Southwest:
Personal Trainer: $60,120
Group Fitness Instructor: $56,331
Advanced Certification: $58,884
From this data, we can tell that average income location stats also vary based on credentials and scope of activity.
Being a PT is most lucrative in the Southwest, while being a group fitness instructor is the go-to career path in the Northwest.
That then brings us to the actual credentials and qualifications, which ones you need, and what the income looks like for each of these roles.
Credentials allow potential employers, clients, and collaborators to verify and authenticate your value, job description, and trustworthiness as an experienced trainer.
Having the right qualifications also allows you access to important insurance, legal protection, and business resources.
And, a higher salary many times!
There are 4 basic types of paperwork you should look at before you embark on your role as a PT, which will also determine how much you can expect to earn.
Let's take a look!
Prerequisites are credentials you need to have before you can get the main qualifications.
In fitness, your main qualification is typically a personal trainer certification, and to be able to get that, you would normally need a high school diploma along with being at least 18 years old.
You also need your first aid and CPR/AED certifications. 
As a caregiver, which is what personal training essentially makes you, you need to be able to deliver the goods as well as deal with the bad. That's why first aid and CPR are necessary, and so without them, you can't even work. This is one of your basic personal trainer responsibilities and a sign of your basic competence. 
The next type of credential is type of certification.
A NCCA personal trainer certificate is the most common and accepted form of qualification for fitness professionals, but you have to use some discernment when going for additional certification, program costs, if it counts toward continuing education units (CEUs), and most importantly, how much you'll now be earning.
There are a variety of additional certifications you can obtain to supplement your personal training certification, such as a nutrition certification, group exercise certification, or a specialized certification in a particular area like Pilates, yoga, or strength and conditioning, which can help you command a higher salary.
For example, one of the highest-earning certifications types is a group fitness instructor, with a national annual average salary of $52,848.00. If you're interested in how to become a group exercise instructor, make sure to investigate the best group fitness certifications.
Completion of a nutrition certification also goes a long way, with a national average pay of $54,195, while in California it is $64,884. Our Precision Nutrition review explains why we think that is one of the top certifications to pick if you want to go along that route and become a nutrition coach.
Maintaining a balanced diet is essential for achieving and sustaining a high quality of life, as it not only provides the necessary nutrients and energy to keep the body functioning optimally, but also helps to reduce the risk of developing chronic illnesses, such as heart disease, diabetes, and obesity, while also providing a sense of fulfillment and satisfaction that can contribute to an overall improved quality of life. If you want to help people, and make more money in the process, look into nutrition coaching. 
When it comes to training, top programs include the NASM CPT certification, along with ACE, ISSA, and the NSCA certified personal trainer. If you look at ACE vs NASM, you see that, on average, ACE trainers make slightly more at $51,699 vs $50,075. ISSA average compensation is even higher when you compare ISSA vs NASM, with ISSA CPTs earning $58,412 per year. When you pick a certification make sure to adequately prepare for the test so you don't have to pay the re-test fees, which can be quite high. If you go with the ACE fitness certification, we at Trainer Academy recommend a quality ACE study guide and ACE practice exam to balance out your practice schedule. If you decide on NASM, you might want some NASM flashcards and a NASM practice exam.
Exclusive TA Offers



Most Popular Cert

Great Option

Best Cert for you?

Good Option

Good Option

Good Option

Also, if you want to add other credentials to your arsenal you might look at things like pilates, yoga, Zumba, or Crossfit certifications as well.
The years of experience you have in your fitness career definitely affect your PT salary.
While entry-level personal trainer salaries start at an annual $43,677.00 in the United States, more experienced personal trainers get a step up in income with an annual $58k – $60k.
To break it down even further, the average personal trainer in the U.S. who has been in the field makes about $21.00 – $35.00 an hour.
However, full-time personal trainers make about $50,000.00 per year with the potential to make a whopping $130,000.00 per year as their careers progress!
The next type of credential that is known to impact your PT salary is the one earned from tertiary higher education, like going to college or attending a university.
Common PT degrees include kinesiology or exercise science.
The average personal trainer salary with a bachelor's degree comes to about $50,833.00 per year, which is very similar to the average experienced personal trainer annual salary without higher education.
That's why only about half (52%) of advanced cert holders claim it allows them better income opportunities.
Note also that PTs with advanced degrees may go into research, academia, the healthcare setting, or other exercise science jobs and apply their fitness knowledge in other indirect ways in order to support themselves.
Degreed personal trainer starting salary estimates in those settings are roughly $50k – $78k on an annual basis, which again, is not so far apart from experienced personal trainers in the higher-earning percentile.
With a degree, more highly specialized certifications and degrees open up for you, which have the potential to find you higher-paying jobs. There are sports science strength and conditioning degrees you can undergo as an undergrad or in a master program. In many cases, however, a graduate degree isn't necessary for advancement and the requirements to be a strength and conditioning coach have more to do with the knowledge you can acquire from a good certification. The NSCA CSCS is a highly regarded cert if you decide you want to train athletes, although the CSCS remains one of the harder exams to pass. If you take it you will want a practice CSCS test and a CSCS study guide to aid you in acing the exam.
Full-time personal trainer salary always varies based on the employer.
Commercial gyms and fitness clubs often have sliding pay structures.
Companies like LA Fitness and Planet Fitness pay minimum wage for non-training hours (when you're on the floor versus in a workout with a client), while upmarket gyms such as Equinox might see trainers pocketing over $150k per year.
Furthermore, the typical Planet Fitness personal trainer salary, as of this year, sits around approximately $36,000.00.
This is about the same pay that's offered to personal trainers at most other popular commercial gyms.
Another thing to consider when gunning for a full-time position is what sort of benefits you want with your job title.
401K: 17%
DENTAL (FULL/PARTIAL COVERAGE): 31% / 27%
DISABILITY (LONG/SHORT TIME): 35% / 39%
EMPLOYEE ASSISTANCE PROGRAM : 29%
HEALTH (FULL/PARTIAL COVERAGE): 41% / 27%
LIFE INSURANCE: 40%
MATERNITY LEAVE: 31%
PAID SICK LEAVE: 52%
PAID VACATION: 64%
VISION (FULL/PARTIAL COVERAGE): 24% / 24%
With most full-time positions, you get a minimum wage floor salary, then once you actually accrue clientele and run training sessions and/or classes, your pay rises based on the commission structure. The more workouts you take clients through, the more money you make.
Part-time personal trainer salary often pays less, but having the extra time means there is a potential to supplement your income.
According to a salary survey in 2021, the average annual pay for a part-time Personal Trainer in the United States is $34,720.00 per year.
This works out to be approximately $16.69 an hour, which is the equivalent of $668.00 every week or $2,893.00 on a monthly basis.
Also, as far as benefits are concerned, here's what you can expect as a part-timer:
401K: 5%
DENTAL (FULL/PARTIAL COVERAGE): 2% / 4%
DISABILITY (LONG/SHORT TIME): 2% / 3%
EMPLOYEE ASSISTANCE PROGRAM : 3%
HEALTH (FULL/PARTIAL COVERAGE): 4% / 6%
LIFE INSURANCE: 3%
MATERNITY LEAVE: 2%
PAID SICK LEAVE: 4%
PAID VACATION: 6%
VISION (FULL/PARTIAL COVERAGE): 1% / 3%
Self-employment in the fitness world means treating yourself and your skills as a business, a one-man or one-woman operation.
A self-employed Personal Trainer salary typically falls between $35k and $66k annually, while earners in the 75th percentile and the top earners generate between $73k and $111k annually!
The one big benefit of being an independent trainer is that you make your own rules, fitness programs, and set your own prices.
When you take clients through cardiovascular exercise or strength exercises, you have more freedom. 
Being self-employed does have its tradeoffs, however.
Firstly, you'll have to say bye-bye to any benefits for employees.
You'll be responsible for your own perks and on-the-job amenities.
Secondly, self-employment means you take on the administrative burdens an employer would normally handle, such as marketing, tax, accounting, insurance, legal, and any other tasks on the list when it comes to day-to-day admin.
The list goes on. 
When it comes to self-employment in the fitness business, you still need infrastructure and equipment to conduct your training.
And finally, the most immediate go-to solution is to rent the use of a gym, which means either paying a fixed monthly fee or paying a commission off your earnings, but this would never be an issue if you do house calls or train people in public areas.
The 1099 model sort of sits somewhere between being a self-employed private contractor and being employed by a gym or facility.
Salary here can be very lucrative, and your earning potential is what you make it.
It would certainly be much higher than if you worked full-time at the gym. In fact, salary can be as high as $58k – $75k per year.
This is because the gym contracts you as a Head Trainer to run sessions with existing members and personal training clients, and instead of paying you a fixed salary, they simply charge a commission based on an agreed split.
Unlike self-employment where you get to set your own pricing structures and service packages, the 1099 model means you have to adhere to the gym's price points and training models.
But just keep in mind that you also need to take care of your own taxes and other admin details, just as a self-employed trainer would.
Online coaching entails creating and delivering prescribed health and fitness solutions based on client health and fitness goals through an online platform or social media (Instagram, Facebook, Tiktok).
Here you can use your guidance to assist clients of all levels.
The entrepreneurial nature of starting an online personal trainer business means you can earn more by essentially doing less.
As of this year, the average Online Personal Trainer salary is approximately $72,436.00 per year, similar to the average private Personal Trainer salary!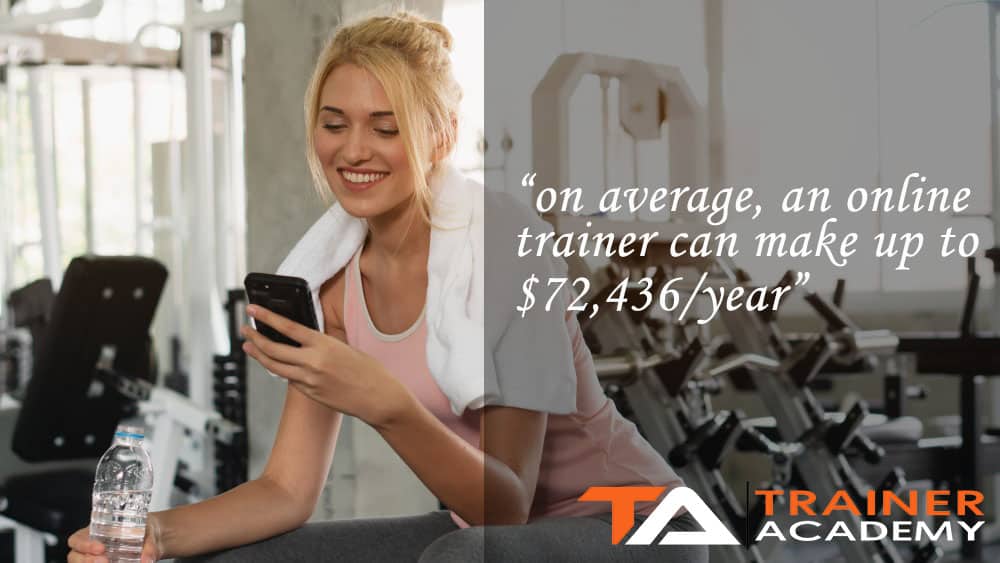 The average cost of a custom program is between $100.00 and $200.00 and the average sales figures range between 5 to 10 units per week.
If you are more popular or your brands are more established, you can sell more personal and group training programs and other content.
Another important factor when learning how to be a successful online trainer is the ability to maintain your in-person, offline duties, and clients.
Doing this is often referred to as hybrid training. Either by having online clients and separate real-world clients, or integrating your client's services with both online and real-world components.
Trainers in this category earn more, approximately $108,436.00 per year on average.
Since the in-person earnings are around $58k per year on average, you simply need to adjust for the time diverted towards online program design, and voila, you have an average income of $36,000.00 for real-world coaching + $72,436.00 for work done online.
Exclusive TA Offers



Most Popular Cert

Great Option

Best Cert for you?

Good Option

Good Option

Good Option

You don't have to limit yourself to personal training as a fitness professional, you can run your own business!
For instance, if you become a gym owner, you will need a slew of administrative fixtures in place to ensure your business is up to code.
These tasks and job titles include:
Admin Hardware and Software solutions (up to $2,500/year)
Commercial Licenses and Business Permits (cost varies)
Equipment Costs (approx $50,000 for a fully equipped gym)
Facility Costs(approx $3/sq ft)
Legal and Insurance ($200/hr up to $15,000.00)
Marketing, Sales, and Advertising (varying recurring costs)
Payroll (dependent on payment structure and staff number)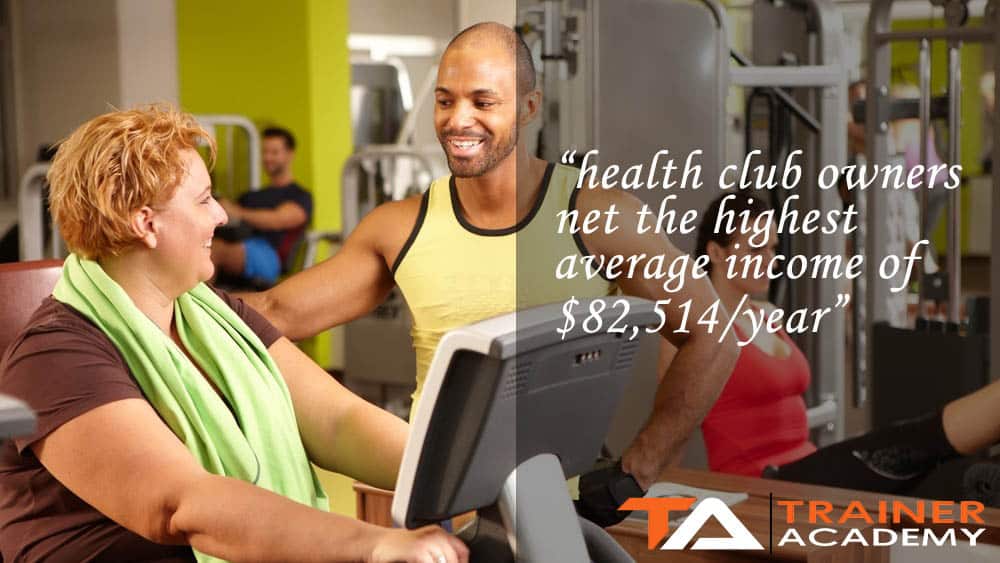 As a business owner, you are no longer self-employed but rather employed by the company you are running.
That means you are back to a fixed monthly income, albeit one you can determine.
That's why fitness business owners, such as health club owners, net among the highest average annual income of any other fitness job category, clocking in at $82,514.00 per year.
According to IHRSA, there are approx 111,055 fitness businesses in the US.
As far as commercial gym franchises, there are about 9,997. In this capacity, fitness has seen $36 billion in revenue in 2019, with franchises accounting for $4billion.
If you want to get into the business of running a gym or business, make sure to weigh out serious pros and cons. Running a gym requires a hefty amount of down-the-road experience and understanding that fact will help you prepare adequately and reach your overall goal. 
Passive income comes from the idea that you can release a product or service that generates self-sustained revenue because it's a renewable commodity that doesn't require any active work past initial production.
This is something you can achieve by selling courses, ebooks, and other information products, so everyone can learn from you, no matter their location.
You could create a course for beginners or more advanced fitness learners. You could even build training courses with videos to guide other students who want to learn how to be a fitness coach..
What's the salary of a Personal Trainer in this scenario? Typically, anything from as low as $30k to as high as $200k per year.
The thing you are not really told about passive income is that it's not really 100% passive.
Sure, past the initial work required to create and publish an information product, you will require less direct input, but you will still need to market and promote your product for it to get the traction it needs to generate the proper sales performance. 
For instance, if you create a weight loss program, you need people to hear about it or you risk no one taking it.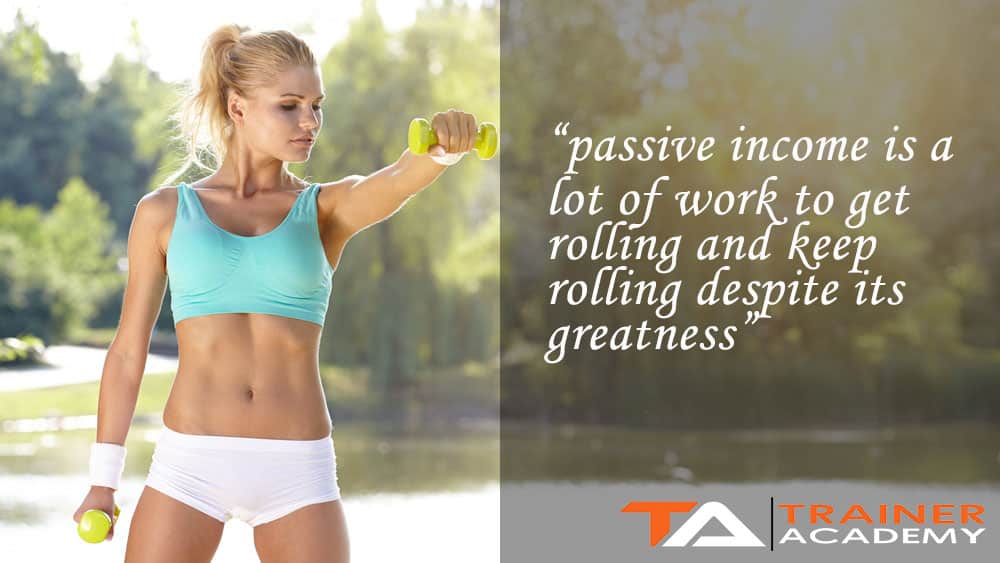 Passive income may sound great, but it still actually takes a lot of work to get the ball rolling and to keep it rolling.
However, if you have enough ambition, you can use your imagination to create programs to protect people from injury, strength programs that use weights to increase force production of the muscles, or even hypertrophy dedicated systems for people looking for muscle buidling results.
Having a passive income stream should only complement your existing business model or employment position, since your influence and reputable status count heavily towards the success and value of your information products.
In other words, you need to have an existing and valuable brand presence to create the right level of exposure to make passive income-earning products popular enough to generate a significant income, so this is something you want to consider after a bit of experience and name recognition development. If you're wondering how long does it take to become a personal trainer, this stage is going to be a lot later in your career. 
When you have a reliable base of clients, you can use customer stories, for example, to advertise your goods.
With that being said, when it comes to monetizing your ideas and knowledge, fitness is one of the most lucrative sectors of the information product passive income market, so it's definitely one to keep tabs on as you search for alternative income potentials.
Frequently Asked Questions (FAQs)
Can you make good money as a Personal Trainer?
You can make as much as you are willing to work. The fitness industry is growing fast, and personal training is highly sought-after. Given that the average salary is in the 50k pay range, and the ability to make your own schedule, the opportunities to make money are definitely there. The cost of living in your location also needs to be taken into account when thinking of what is "good" for a base salary.
Can Personal Trainers make 100k?
They sure can. It may not be the average, but a lot of PTs, as we said in the post, partake in both in-person and online training, with an average salary entering into the 6 figure mark. Research also shows that 1 in 10 trainers make 6 figures. Personal training also depends highly on your client base, so you must work on building that part up significantly if you want to make 100k per year.
Who is the highest-paid Personal Trainer?
The highest-paid Personal Trainer is Joe Wicks, who is currently known to make around $40,000.00 per day from his business. So, the options are near limitless when it comes to personal training and your annual salary.
How many hours does a Personal Trainer work?
Personal Trainer jobs allow a lot more flexibility than other professions, as you oftentimes make your schedule based on you and your clients. Your hourly wage is going to determine your salary range.
What percentage do gyms take from Personal Trainers?
This is an aspect to consider with personal training because oftentimes a Personal Trainer is considered to be an independent contractor. This means the PT must pay to provide their service at a gym. This all depends on your contract with the gym. Some examples of gyms such as the YMCA, Crunch Fitness, Anytime Fitness, 24-Hour Fitness, and many more, may allow you to do your personal training business through them and change the pay scale to be hourly.
What are some personal training certifications that get paid the highest salaries?
Most PTs who report earning higher salaries have their PT certifications from NASM, ACSM, NSCA, ISSA, or ACE.
In addition to your personal training certification, there are a variety of certifications you can obtain, such as nutrition certifications, group exercise certifications, and specialty certifications, that can help you to increase your salary and expand your knowledge base in the fitness industry.
Your salary as a Personal Trainer can take many shapes and sizes and is influenced by many factors and variables.
Once all is said and done, it all boils down to how you see and value yourself, and what you're willing to do to confidently secure that value.
Personal training is valued as the 18th best job in America in terms of quality of life.
It certainly brings a lot of fulfillment and allows you to maintain a healthy lifestyle yourself.