Hello and welcome to Trainer Academy's ISSA review, which critiques the ISSA Certified Personal Trainer Study Program.
The goal of this ISSA CPT review is to help you decide if the ISSA-CPT is the best choice certification for your preferences as a professional trainer.
This article is a critical ISSA certified personal trainer review, where we look at the content, test prep materials, and exam for the ISSA-CPT looking in-depth at:
Upon reading this ISSA certification review, we assure you that you will be able to make an educated decision regarding the ISSA-CPT cert.
And without further ado, let's get right into this ISSA personal trainer review!




ISSA CPT Information

Exam cost: $828.00 (purchased with study materials)
Study material cost: $69/month for 12 months
Prerequisites: High School Diploma, CPR/AED
Exam passing score: 90/125 Scored Questions, Scaled 550/800
Exam pass rate: 70%
Average completion time: 2-4 months
Pros
Great exercise technique
Good scientific coverage
International CPT recognition and use

Elite Trainer package

offers the best value in the industry
Cons
Minimal special populations coverage
Insufficient behavior coaching
Lacks comprehensive program framework
Our Score
Exercise Science Foundations
10
Special Population Training
10
Aerobic Fitness Training
10

Trainer Academy Guide
Complete curriculum study preparation
Audio guide, flashcards, and mnemonics
800+ practice questions
Highest exam pass rate
Exam pass refund guarantee
Cheaper pricing than ISSA materials

ISSA Materials
Curriculum study preparation
Includes textbook and study plan
Follow-along supplementary materials
200+ practice questions
No exam pass refund guarantee
$828.00 for starter package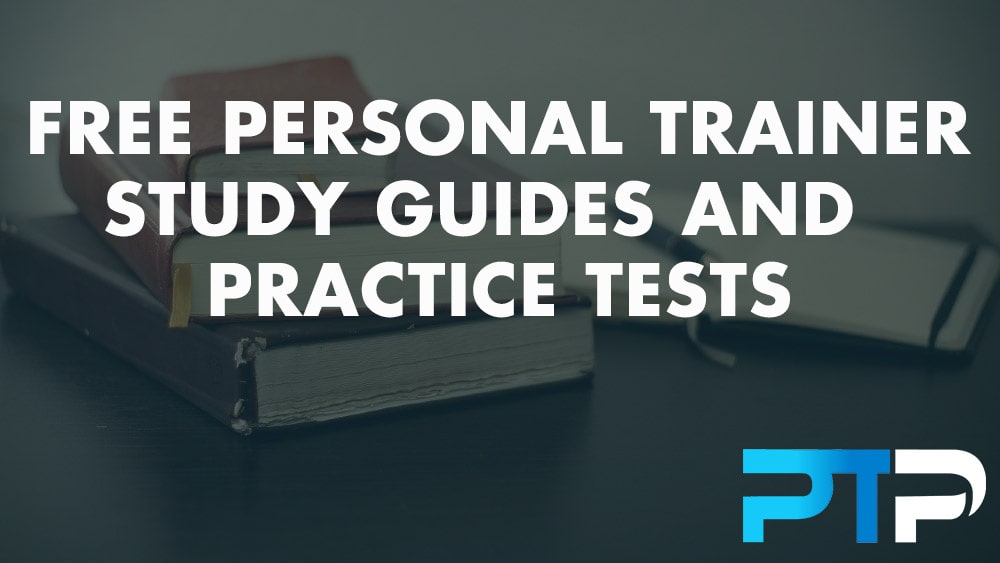 Free ISSA Study Guide
Curriculum material overview
Complete chapter breakdowns
60 practice questions
130 flashcards and cheat sheet
Free from PTPioneer
So ISSA, or the International Sports Sciences Association, is the quintessential global certifying agency for health and fitness and it has one of the best personal trainer programs.
Its global reach has placed it as one of the most popular certs, not just in North American territories.
You will find ISSA-certified trainers from all walks of life on all continents.
Of the many certification programs, ISSA has one of the strongest focuses on programming and applying the practical side of how to become a fitness trainer.
This stands in contrast to many other certifications that focus on bringing you the scientific understanding of health and exercise principles as a major priority.
An enticing feature when it comes to ISSA is the emphasis on business and entrepreneurial strategies, another topic often unaddressed by other agencies that are all part of the personal trainer job description.
Another great aspect of choosing ISSA as your certifying organization are some of its well-priced certification bundles.
As a budding personal trainer it's incredibly important to have the most knowledge at your fingertips so you can attract employers or customers.
One of the top Trainer Academy recommendations is combing a CPT with a nutrition certification.
This becomes really valuable because you can assist your clientele with more aspects of fitness or health rather than having to refer to another specialist when it comes to diet.
The only issue with purchasing two certs as once is it really drives the cost up in most cases.
However, ISSA has a two-in-one that includes their personal training certification along with the ISSA nutritionist certification for only $828 (check the website for current pricing).
Considering there are nutritional certifications out there that cost over $1000, and you are getting both nutrition and personal training credentials in the ISSA 2-for-1, this represents a huge savings.
We recommend viewing the ISSA website directly to check out this deal. If the discount is still on the table, it's tough to pass up.
ISSA is unique in many ways because of these aspects and other reasons we will soon get to learn.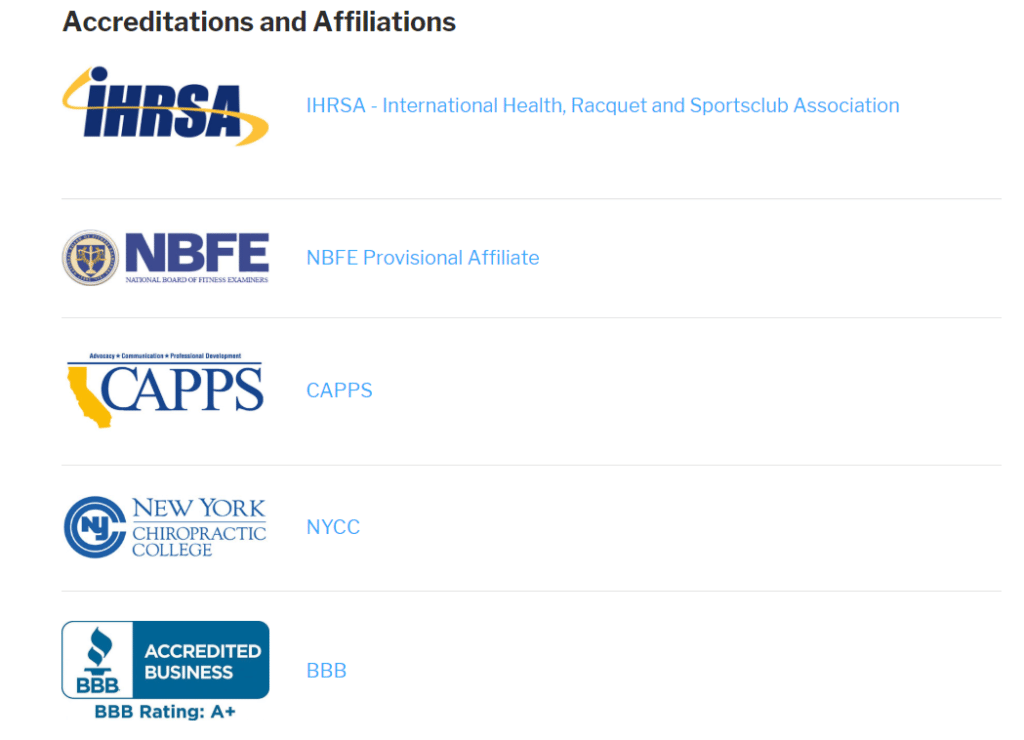 Is ISSA accredited?
Accreditation is the seal of approval necessary for you to know that what you're signing up for is quality education.
An accrediting body is an authority that puts a stamp of authenticity on an educational institution, letting you know that it checks out when it comes to industry standards and quality.
At the helm of an accrediting body is a board of experts and authoritative organizations who are leaders in research and development as well as experts in the delivery of education and training.
Most of the top-tier certifying agencies are accredited by the NCCA, which stands for the National Commission of Certifying Agencies.
But ISSA is a little different.
In fact, as you will come to understand, ISSA is different in many ways.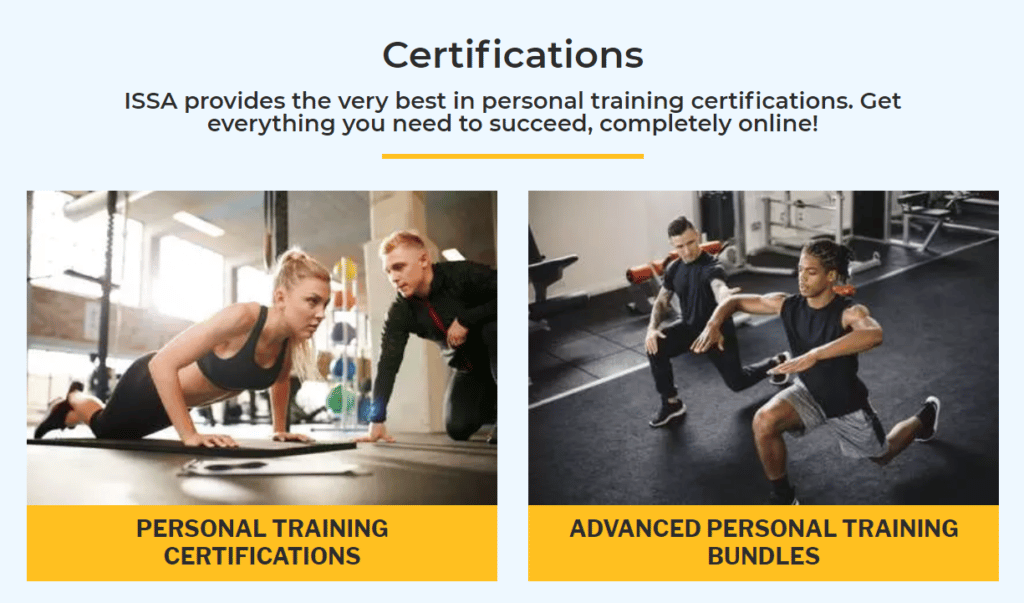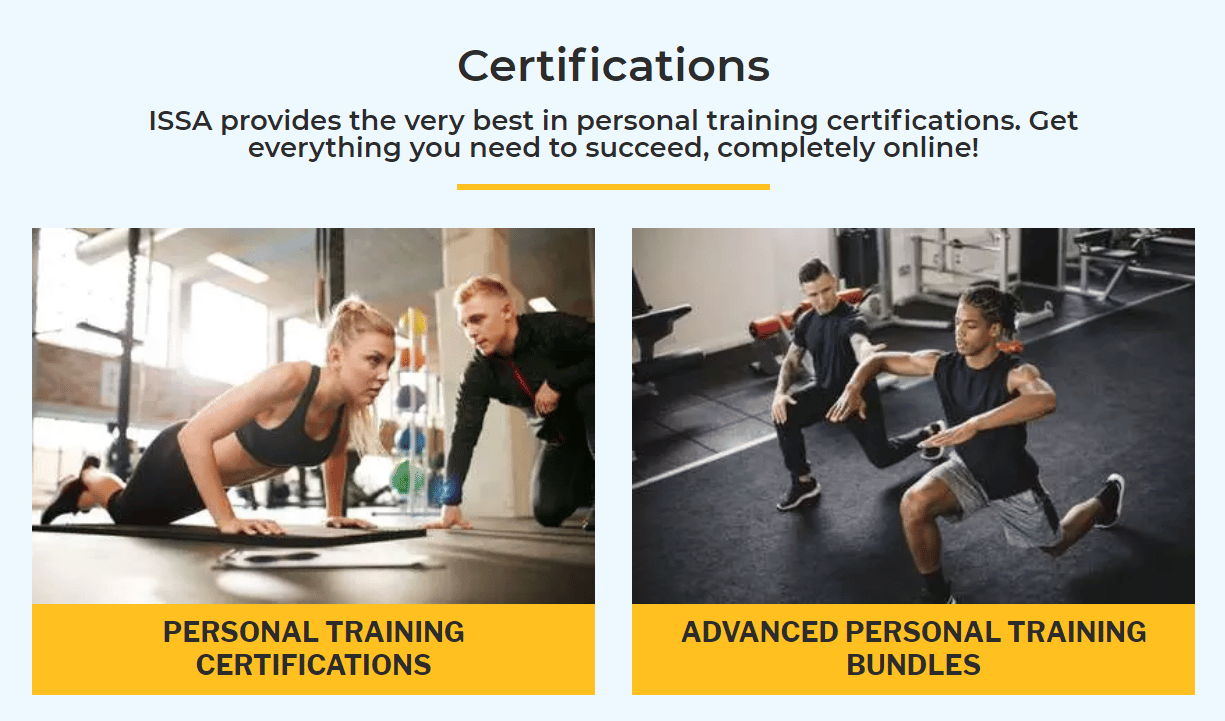 With regard to accreditation, ISSA is approved by DEAC as opposed to the NCCA.
DEAC stands for Distance Education Accrediting Commission, and as the name suggests, this organization is responsible for authenticating distance-based certifying agencies of which ISSA is one.
Because ISSA has its place as the leader in online certification, it has a long heritage as the main distance-based fitness certification.
Although the other big cats such as ACE and the NASM CPT certification have now taken an online approach, ISSA still has a fully distance-based system perfected over the years.
But the story doesn't end there.
As of 2020, ISSA acquired NCCPT (National Council of Certified Personal Trainers), adding NCCA accredited programs to its list of offerings, so it is a nationally accredited personal training certification in some cases.
Let's do a review of ISSA certification study materials.
ISSA provides a suite of study materials, which cut the drama and get straight to the point!
Unlike many other cert packages which come with many different tiers, priced according to what resources are included, ISSA just sticks to one.
One that will set you back $799 and comes as a bundle.
Note: there is an opportunity to get more value out of your ISSA if you opt for the Precision Nutrition and ISSA CPT. We have a comprehensive our Precision Nutrition review you might want to check out if that's of interest to you.
Certainly if you are interested in how to become a nutrition coach alongside training a cert will be ideal and you can increase your earnings with your nutrition coach salary in addition to regular training income.
Possessing both certs will increase your wealth of knowledge and will reflect in your handling of the client's fitness challenges.
Another deal you can't afford to miss with ISSA is the Elite Trainer and Master Trainer Certifications Packages (3-in-1 or 6-in-1, respectively, combo) which is a great way of obtaining a personal training cert, nutritionist cert, and any other cert of your choosing at a discounted price.
This can really set you apart from the other trainers out there because specializations really give you the tools to be able to hone your craft in one area and build a good client base. If you're the trainer who knows about corrective exercise, or the trainer who can work with athletes specifically, people are going to come to you, because you are an expert in a wide field, and for the price you can't beat ISSA's 3-in-one (or 6-in-one) deal.
Make sure to visit ISSA's site to see if they're still running the offer.




Quality of Study Materials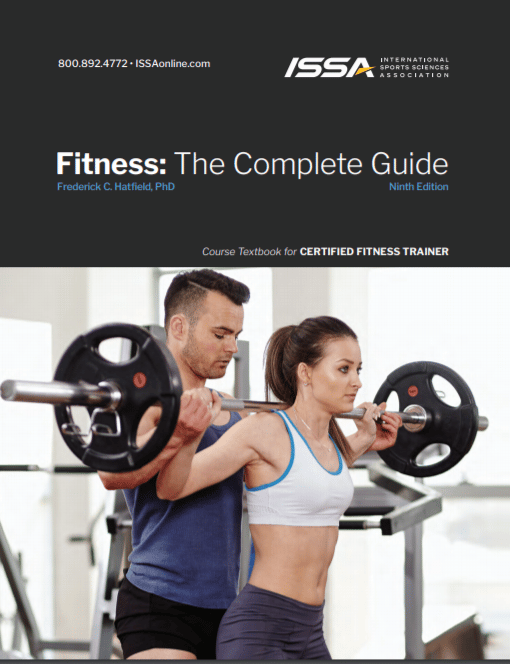 ISSA's standard study suite includes:
Current Edition Textbook
Online Practice Exams and Quizzes
Audio and Video Lecture Options
Online Study Guide and Workbook
Online Student Forum
Online Exam
Of course, the materials and ISSA test reviews go a little more in-depth than that.
Let's look at what you'll be getting with ISSA's standard study suite.
When you register for most certs, they provide you with an ebook and the option to purchase a hard copy.
Some people prefer paging through a physical textbook.
It makes it easier to highlight important concepts, leave bookmarks and sticky notes, and just have the satisfaction of a physical object to supplement your studies.
ISSA provides a free physical book with your purchase of the certification, with free shipping depending on your location of course.
The textbook provides quite an extensive look into fundamental health and fitness concepts and does this in an easy-to-digest conversational tone.
This makes it accessible to the average person while still expanding on technical aspects and terminology.
This cohesion between a lighter read and hard facts and science-backed knowledge makes absorbing information much easier.
The sidebar footnotes give ISSA's textbook an almost skimmable appeal, although we strongly advise you to go through it thoroughly for a proper understanding.
There are 6 learning sections in total, divided into various subunits.
They break down as follows:
Anatomy and Physiology 3 units
Kinesiology and biomechanics 4 units
Health and physical fitness 4 units
Program Development 5 units
Nutrition 4 units
Fitness for All 11 units
Other supplementary material includes:
BMI Calculator
Common Terms Glossary (Audio)
HyperStrike Exercise Videos
Information Links
Medline Research Articles
Muscle Glossary (Audio)
Question Board
Video Seminar
One of the most stand-out study materials for your ISSA exam review has to be the educational support as well as the business guide.
If you're stuck during preparation, the support team is on hand to provide the necessary academic assistance.
The business guide is also a game-changer if you want to learn how to make money as a personal trainer. As mentioned, not many certifications touch on the business side of a career in fitness.
ISSA Business and Career Support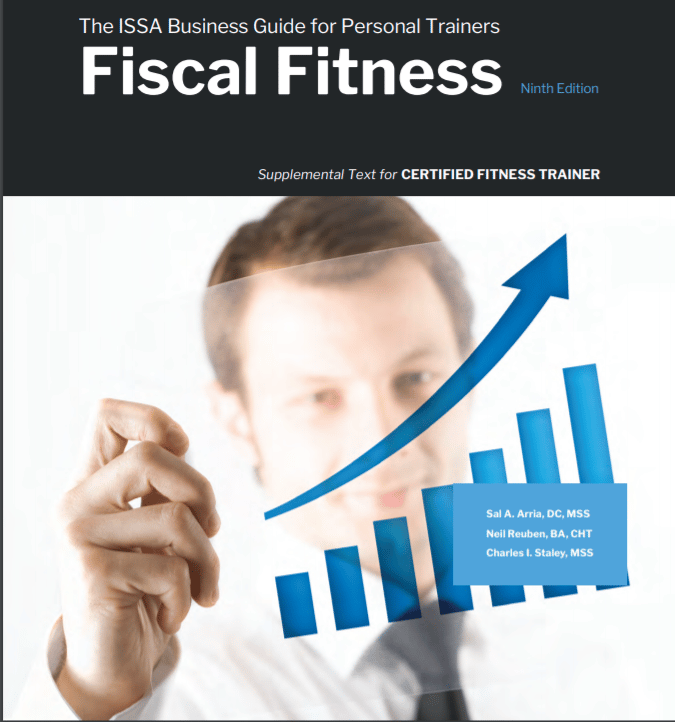 ISSA is also pretty smart with its desire to help accelerate the careers of its qualifying trainers. Something that isn't a common fixture with most of the other big-name certs.
The course text comes accompanied by a book called Fiscal Fitness, a guide on the ins and outs of running a fitness business.
It helps you develop a fundamental idea of the strategies and business acumen required to succeed in the fitness game.
It isn't quite as comprehensive as taking a business course, but it's a step up from what you'd normally expect from a fitness certification.
The marketing strategies laid out in this guide may be somewhat dated, especially with the exclusion of online fitness and social media protocols that are all too essential in this day and age.
Concepts such as digital marketing, SEO, Facebook ads, content marketing, and online social influence are not touched on, which are important when you are starting an online personal training business and you want to know how to be a successful online trainer.
Regardless, it is still a great foundation for business basics. This can help tremendously with beginning your trainer business.
Added to this you will find other career-building tools such as:
Business Guide Step by Step
Create Your Website
Fitness Business Tips
How to Interview
Personal Health Coverage
Medical Fitness Network
Professional Liability Insurance
These materials don't count as study materials when considering getting certified, but they are certainly great educational and support content when looking at the whole context of being a fitness pro.
Certifying also grants access to the ISSA Professional Division, where you will get:
Certified Logo & Business Cards
Continuing Education
Business Center Video Lab
Personal Trainer Forms
Job Resources
It's a great platform to network and enriches your growth and experience as a qualified trainer.
ISSA, just like many other certifying bodies, gives special access to military veterans.
They provide free registration and enrollment to service members wishing to transition from work in the military to work in the fitness business.
Use this link to get the up-to-date cost on ISSA.
First responder training is essential for any worthy trainer. As a care provider, you must not only be able to work towards a client's goals, you must also be able to assist them away from danger.
It is of course, mandatory to have your first responder certifications current and up-to-date as a standard prerequisite when completing any cert.
When it comes to ISSA, they provide the very unique opportunity for you to gain your First Aid and CPR/AED certifications through them as part of the standard course offering.
In fact, the final section of the ISSA-CPT textbook is dedicated to educating you on the specifics of the first response and primary care.
So from this, we get the impression that ISSA-CPT study materials are pretty spot on, and for that, we give them a 7/10 score.
Apart from the above-mentioned study materials, you'll get from ISSA, it is advisable to make use of premium third-party study materials from reputable bodies like Trainer Academy.
The MVP study packages help you maximize the learning process by reducing your study time by 50% through the use of time-tested studying techniques.
Click on the link here to maximize ISSA MVP Study Package.




Exam Layout and Passing Grade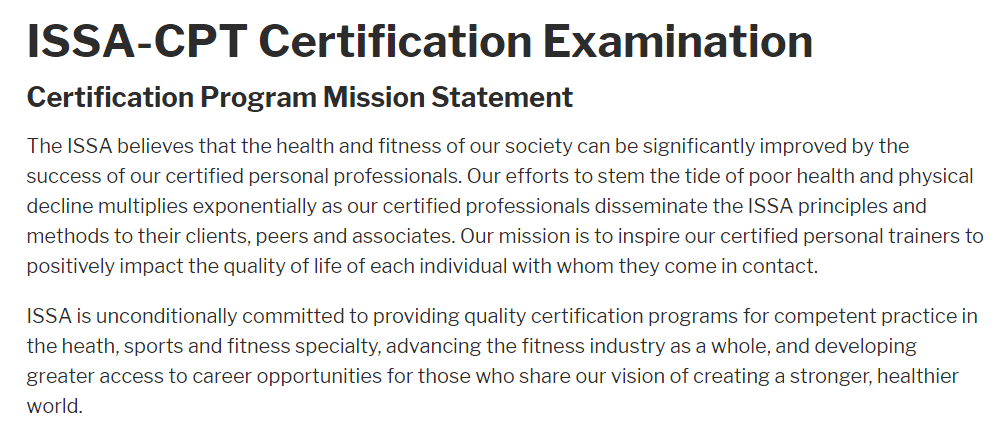 ISSA has a reputation for its uniqueness, and one of the aspects that makes it stand out is the exam difficulty.
With an 89.9% pass rate, ISSA's enrollment to certification ratio is the highest of the big certifications.
This is due to several factors, chief of these being the open book policy.
This would seem to reduce the level of challenge required to pass, but in fact, the level of practical know-how needed to grasp the fundamentals means that being open book doesn't do much for lowering difficulty.
If you don't know what you're looking for, you won't be able to find it.
This model is designed to teach rather than challenge, making it a more hands-on guide to becoming a skilled personal trainer rather than the "survival of the smartest" approach most exams take.
ISSA's exam format has changed, however, allowing it to fall in line with the standard conventions.
The exam used to have a large practical component, requiring candidates to write long-form, essay-based answers around case studies that included creating full workout programs.
Today, ISSA's final test consists of 160 multiple choice questions with a passing grade of 75%.
Exam Difficulty and Pass Rate
ISSA is one of the easiest exams in terms of pass rate statistics. A comfortable majority of test-takers end up passing.
This is largely due to the loose restrictions placed on how you take the test.
Firstly, it's a non-proctored test, which means no one or nothing monitors the integrity or activity of a candidate during an exam.
Secondly, the test is a completely open book exam. So you can refer to all your study materials as you do the exam. Heck, you can even use the almost infinite knowledge dump that is on the internet during the test.
Lastly, the final exam is self-paced. There is no time constraint outside of the enrollment period. You can start your test on Monday, log out and come back, picking up where you left off at any point within the enrollment period.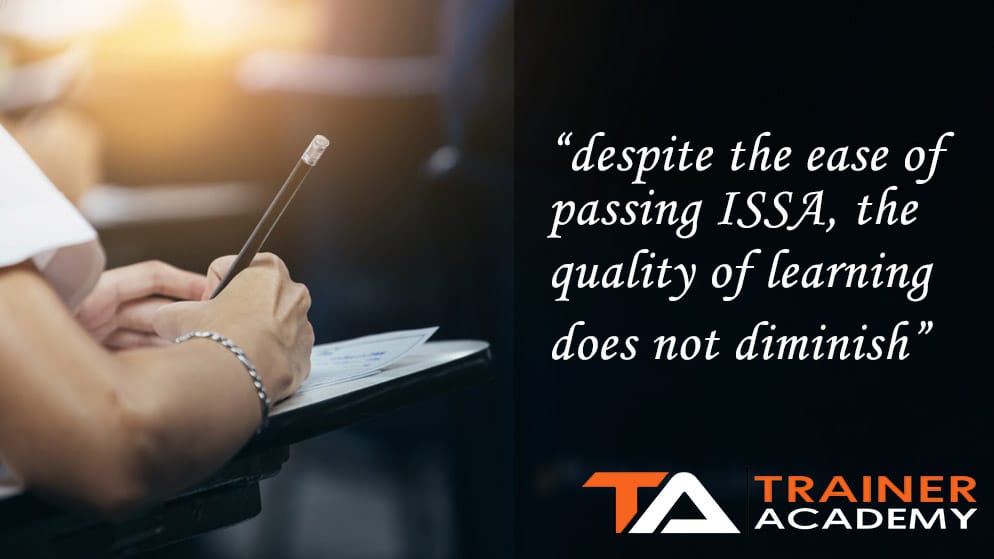 All these factors make ISSA fairly easy to pass. This however doesn't diminish the quality of what you're learning.
In fact, ISSA's approach with this exam structure seems to be an attempt to guide as many trainers into the industry as possible, rather than acting as a gatekeeper of sorts.
That's because, despite all the factors that make the ISSA exam almost too easy, actually ends up making it a critical experience.
You are forced to understand the concepts as you search for the right answers and approach, rather than just memorizing them for a once-off regurgitation.
ISSA has a pass rate of 90%, which kinda means you really have to try to fail. This is obviously much higher than certs such as the NSCA CPT exam which has a pass rate in the mid 70s or the ACE CPT certification where number of people who pass is around 71%.
To ensure you ace this exam in your first attempt, you should use the free ISSA study guide and practice test to get familiar with the exam format, layout, and structure.
To have access to it, click on the link below.
At Trainer Academy we also have ISSA test info available to help clarify everything you need to know about the exam.
ISSA has a very lenient approach to retakes.
You are permitted to retake the exam immediately following the failure for FREE.
This is a one-time deal, of course, meaning if you fail again, you will need to pay a fee of $50 to be allowed another shot.
This is still pretty decent considering what other certs charge as a retake fee. If you look at NASM vs ISSA, for example, NASM charges a whopping $199 to redo the exam!
In ISSA's case, this makes things super convenient, although some might suggest that it makes them a little too convenient since having a retake fee and stringent policy is a means of quality control.
Statistically, ISSA is the third most popular certification based on enrollment figures.
In 2019 it had an enrollment of 10,696 candidates, second only to the perennial top two ACE and NASM.
This is further established by google search stats which show 590 daily searches, a figure that sits third behind versus ACE or NASM once again.
ISSA's popularity is both localized in North America as well as due to its international reach.
This popularity translates into favorable opportunities in the job market meaning ISSA is just as popular with trainers as it is with the people that hire them.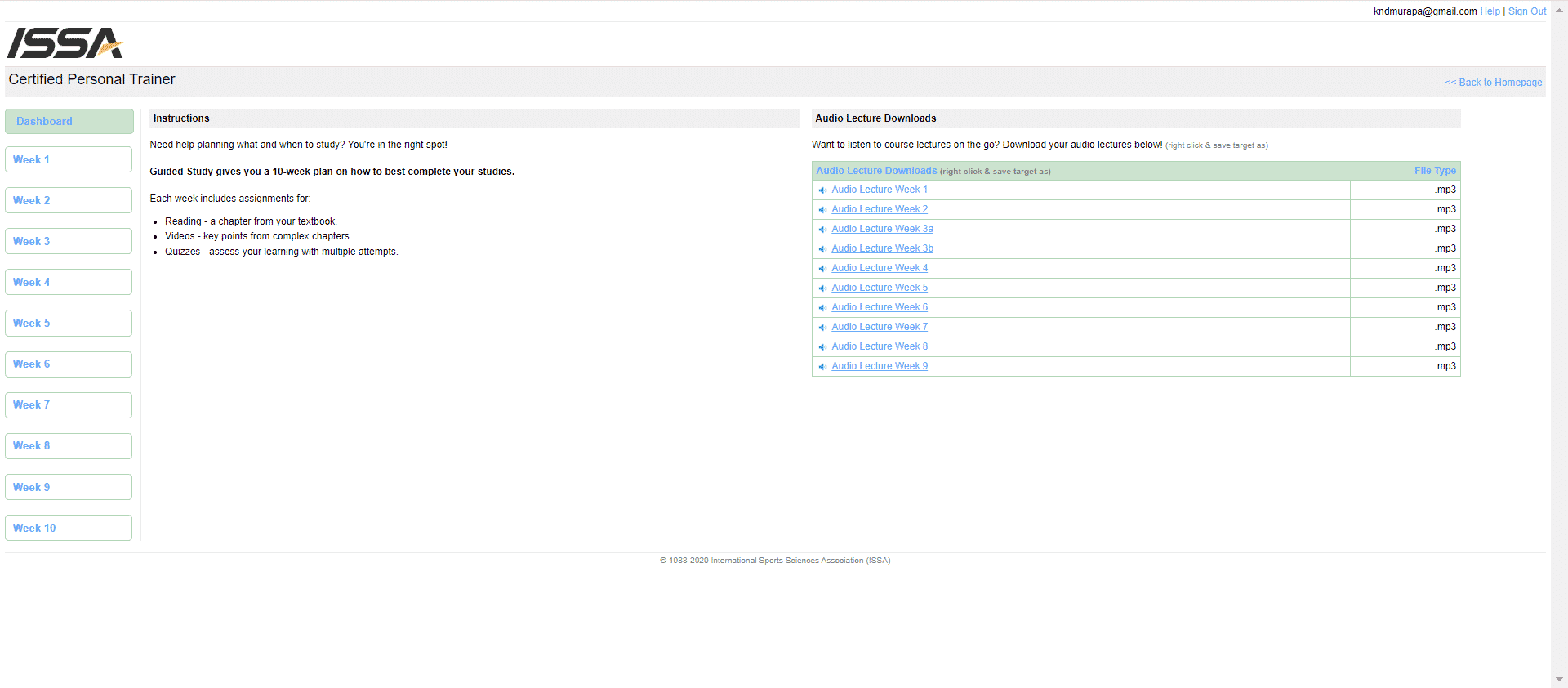 ISSA helps you break your studying down into 10 weekly chunks with the final week being the exam week.
A reading assignment for that week's units
A video lecture covering key topics
Final test prep essay assignments
A series of quizzes
The whole plan is to progressively prepare you for the big finale, and I think they do a pretty good job of it.
For those wondering how long does it take to get a personal trainer certification if you go at the slowest pace, you will be given 6 months to study and take the exam before your enrollment period expires.
Once that happens, you can reach out to ISSA to apply for a two-month extension on your enrollment.
The guided study also has audio lectures that fall in line with the weekly study objective, granting you quick, passive access to the material.
You will also get study assistance directly from ISSA during the 10 weeks guided period.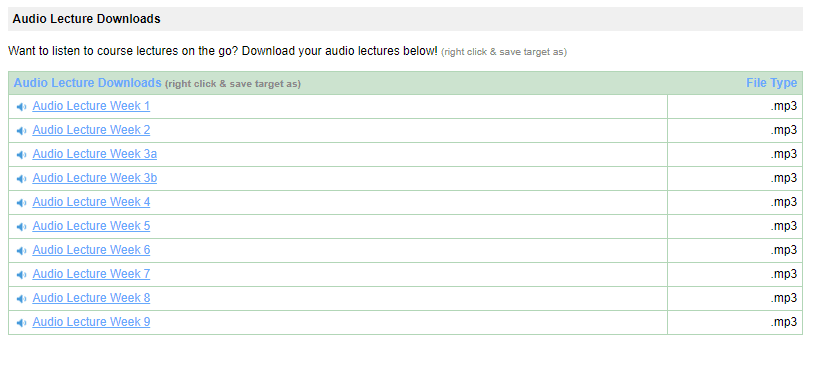 Being one of the most recognized and popular certs out there, it's fair to assume that ISSA provides a fitness trainer salary opportunity on the higher end of the scale.
As far as average earnings go, ISSA-CPT trainers earn $36,235 as of 2019 statistics. This places ISSA trainers just behind NASM, ACE, and NESTA certified trainers.
We can chalk it up to the fact that ISSA is so widely available internationally, including parts of the world where being a PT is not as lucrative, or where currency exchange and standard wages place a comparatively lower premium on what trainers charge.
In a North American context, based on enrollment and hiring statistics (which we'll get into), it seems that ISSA trainers are on par with other certified trainers, so the personal trainer job outlook is good with ISSA.
Primary Focus Of Certification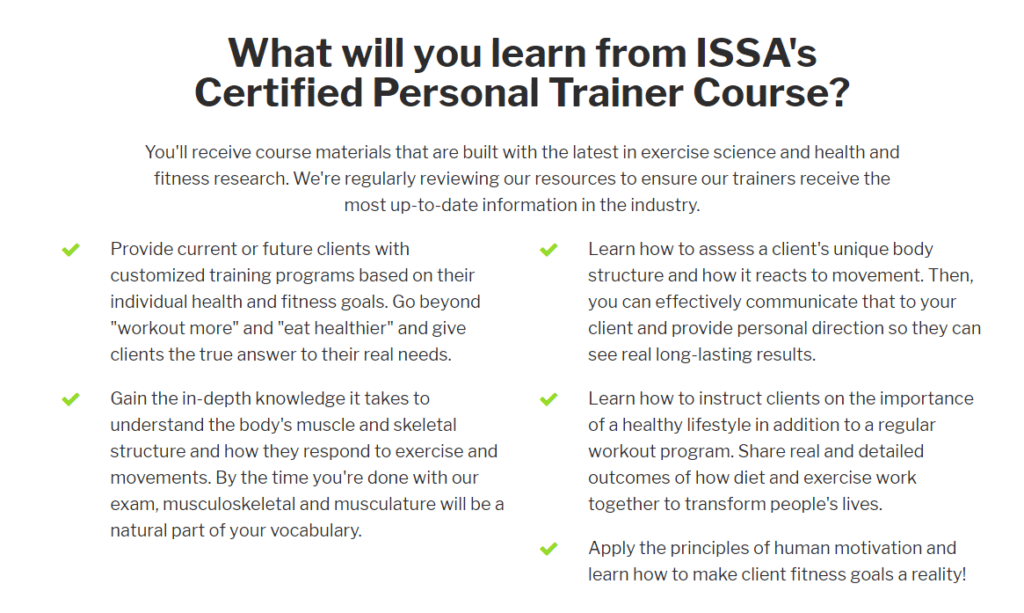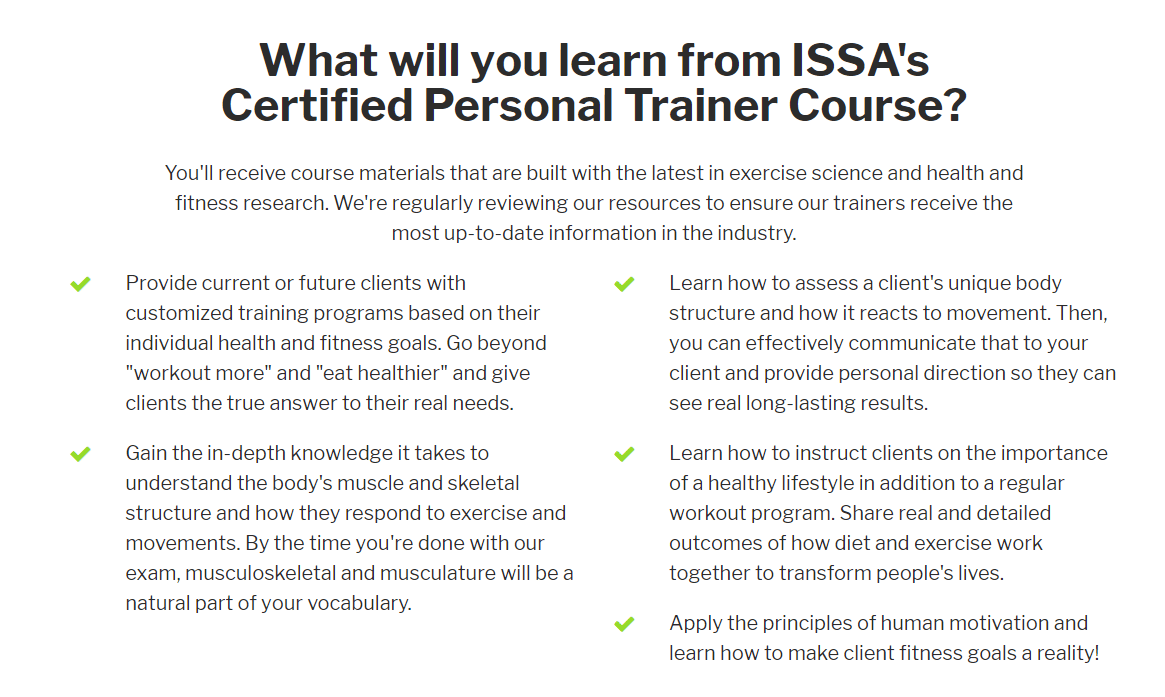 ISSA has a rich depth of both scientific and practical principles when it comes to health and fitness practice.
But their main focus seems to be in the practical field since one of their priorities is teaching trainers how to develop great programs.
The main area of focus of ISSA is programming and effective administration of programming. There is also a good useful amount of corrective exercise.
We like this take since, at the end of the day, the bulk of your activity as a trainer will be to develop workable plans and put those plans into action for the sake of your client's goals.
Coaching principles and methodologies around putting great health and fitness plans are given a platform especially in sections 3, 4, and 5.
Let's look at how each of these chapters places a spotlight on programming.
Section Three: Health and Physical Fitness
Section 3 leads in from the first two sections which provide scientific insight into the function of human biology and the training fundamentals that stimulate it.
From there, section 3 begins to address how you will actually go about training or coaching your clients.
It provides the nuts and bolts of what a good program addresses the following focused units:
Unit 8: Strength
Unit 9: Cardiovascular Training
Unit 10: Flexibility Training
Unit 11: Body Composition
Find updated info on ISSA SAC here.
Section Four: Program Development
Section four takes the resources of section 3 and then begins leading you into how these aspects are best implemented in a structured way, starting with the collection of data through relational skills with clients and data gathering.
All this data is then held subject to the laws of training outcomes also known as training principles.
This process of refining client data equips you as a trainer with the ability to craft a solution in the form of a program, including periodization.
From there it becomes a question of monitoring and modifying the coaching towards the desired end goal.
The units that address this are:
Unit 12: Drawing-In Phase
Unit 13: Basic Assessment of Fitness Participants
Unit 14: Training Principles
Unit 15: Periodization
Unit 16: Determining Training Loads
Use this link to stay abreast of info on ISSA Group cert.
If you decide to go deeper into strength programming check out our NSCA CSCS review. The CSCS is a much more difficult test to pass so you will want our CSCS study material and CSCS practice tests. If you pick NASM or ACE, the other big two, at Trainer Academy we have a free NASM study guide, a NASM practice exam as well as an ACE guide and ACE test questions.
Section 5 takes a fairly in-depth look at nutrition despite this not being a nutritionist certification.
Rightfully so since nutrition is an inescapable necessity when it comes to achieving desired outcomes.
Many PT certs place far too little emphasis on nutrition as a training protocol.
They would rather reserve nutrition as a coached aspect for the nutrition-specific certifications and only touch on nutritional science. For instance, if you compare ISSA vs ACE, ISSA definitely comes out on top in this regard and the same is more or less true when you look at NASM or ACSM.
ISSA teaches you the fundamentals of nutrition coaching even in their general PT cert because they understand that it is part and parcel of the process.
The nutrition units in ISSA-CPT are:
Unit 17: The Big Picture of Nutrition
Unit 18: Nutrition and Physiology
Unit 19: Nutritional Science
Unit 20: Nutritional Coaching
These 3 sections are the best representation of what ISSA aims to instill in terms of knowledge and skill.
The ones that follow simply provide more resources for a more diverse approach to programming.
The emphasis on programming is so entrenched in the DNA of ISSA that the original iteration of their final exam would actually have candidates do full essay-length case studies which included fully periodized programs.
Want a comprehensive ISSA fitness nutrition certification review?
Use this link to access more information and a brief ISSA nutrition certification review.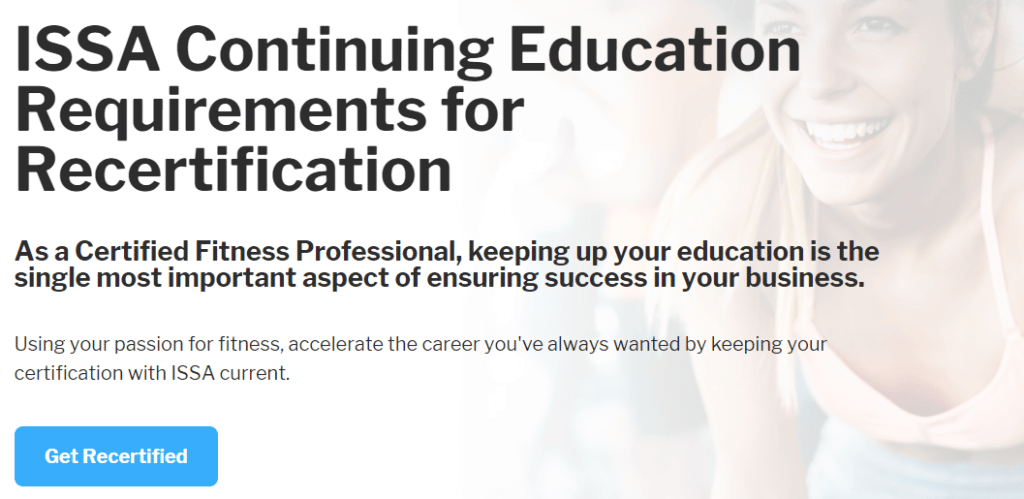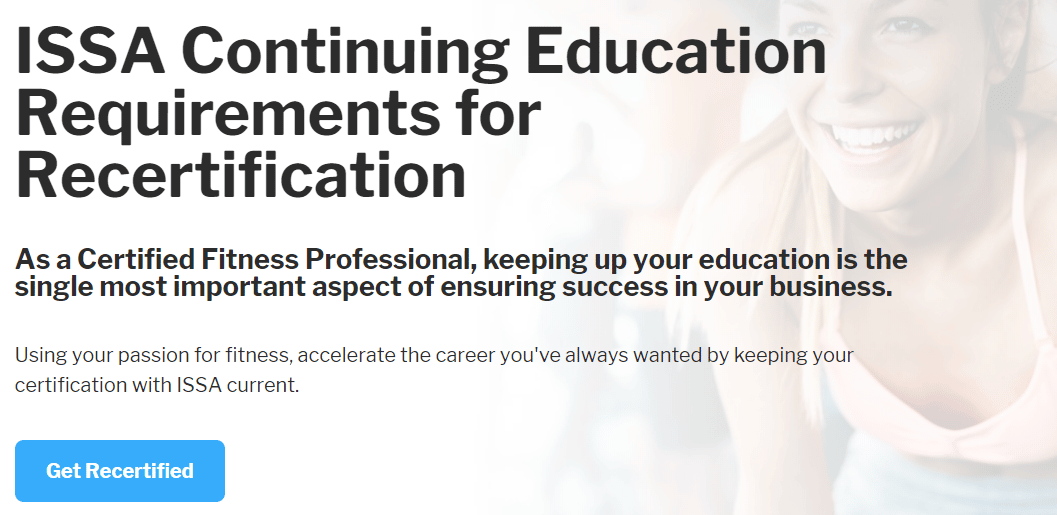 Recertification occurs every two years from initial certification.
You will of course be required to produce CEU credits as well as a $75 recertification fee. A whole lot cheaper than most of the other certs out there.
The CEU requirements for ISSA are 2.0 or 20 hours worth of continued education.
Continued education includes and in-the-field or academic activities that can be logged and officiated by a recognized institution or organization (approved provider).
You will need to submit proof of your CEUs through a submission process that includes sending photocopies of verified documents such as transcripts or certifications.
For this to happen, you will need to complete and submit a CEU report form along with the relevant credits.
If you are submitting CEUs from a non-approved provider, you must submit a Petition for CEU Program Approval along with your submission of approved credits.
For non-approved providers, the CEUs must come from academic or practical activity closely related to the career or specialization field of the cert you are renewing.
To conclude our ISSA personal trainer certification review, this CPT sits comfortably in the top 3.
That is, only if the statistics are anything to go by…
Being such an outlier in so many aspects of what is expected from a typical certification may be the very thing that gives it its unique appeal and great reputation.
ISSA is truly an international certification and has found use in some of the most obscure locations in the world.
The following are the overall pros and cons of the ISSA-CPT certification.
What we liked:
Near 90% pass rate for the exam
Great sports nutrition and regular nutrition focus
Thorough program design and certification course
Retest fee of 50$ is the lowest in the industry
What we didn't like:
Lack of NCCA accreditation
Expensive exam-only price
Average salary expectations sit a tad lower than other CPT certs
Frequently Asked Questions (FAQs)