The NASM certification covers programming and corrective exercise using its Optimum Performance Training model whereas the ACSM certification focuses more on advanced research and education. Both personal trainer certifications are NCCA accredited which most employers require.
Let's check them out to see which is best for you.
When it comes to personal training certification programs, The American College of Sports Medicine (ACSM) and The National Academy of Sports Medicine (NASM) rank as top gold-standard institutions.
Both have a firm standing in the industry, and both have their unique value to the fitness community.
That makes deciding between NASM vs ACSM a tough call.
In this article, we will review both personal trainer certification programs.
You'll learn the following:
About NASM certification and ACSM certification
Pricing and quality for each training program
Certified personal trainer exam, exam layout, difficulty, and pass rate
Income
Continuing education units
NASM is super popular with fledgling trainers dipping their toes in the game, while ACSM is more towards enriching the skill set of established and experienced fitness professionals.
Both aspects are important. Therefore, we're going to break down each personal trainer certifying institute for you!
We highly recommend that you take our helpful quiz to find the best personal trainer certification for you.
And with that said, let's jump in.
CPT
ACSM vs ACE Quick Breakdown
Features
Price
NASM CPT

The most popular and recognized certification providers in the world
Specializing in corrective exercise technique methodology
Great for newcomers and seasoned professionals
NCCA accredited program

View on NASM website
ACSM CPT

Good exercise science, behavior change, and special populations training
Covers basic business and sales skills
Lacks comprehensive program design framework
Weaker coverage of resistance training technique
Weak on corrective exercise

View on ACSM website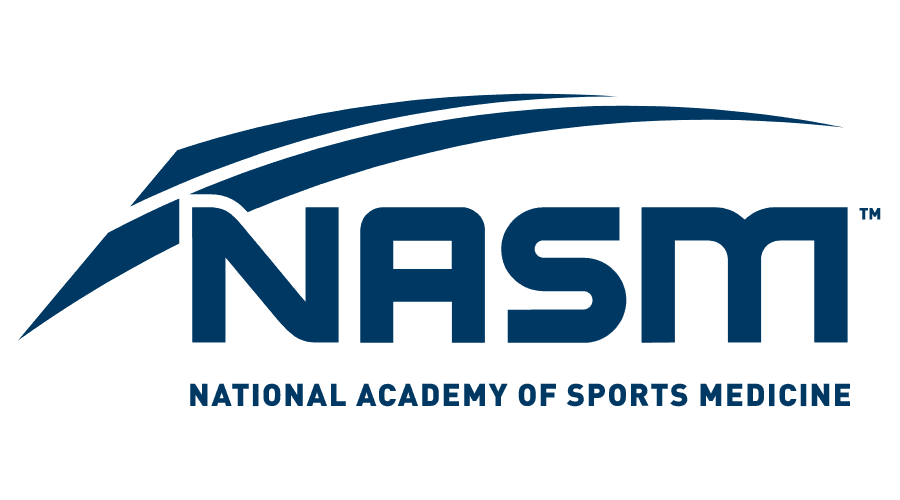 NASM CPT
Exam cost: $599
Study Material Cost: $699-999
Prerequisites: CPR/AED, High School Diploma
Exam Passing Score: 70%
Exam Pass Rate: 60%
Average Completion Time: 3 to 6 months

ACSM CPT
Exam cost: $349
Study Material Cost: $619-999
Prerequisites: High School Diploma, CPR/AED
Exam Passing Score: 550/800
Exam Pass Rate: 69%
Average Completion Time: 3 to 6 months

Trainer Academy Guides
Complete curriculum study preparation
Audio guide, flashcards, and mnemonics
800+ practice questions
Exam pass refund guarantee
Cheaper pricing than premium materials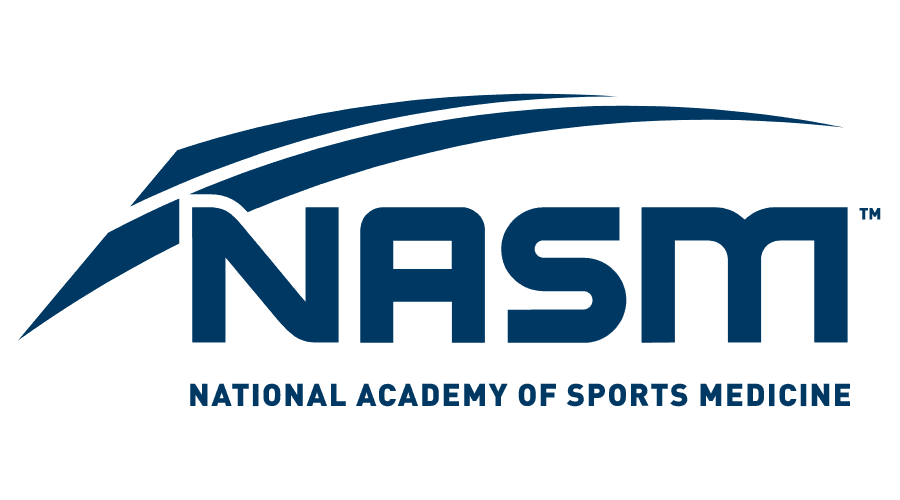 Provider Materials
Curriculum study preparation
Includes text, graphics, and videos
200+ practice questions
No exam pass refund guarantee
$300+ for ACSM textbook and prep course
$699+ for NASM starter package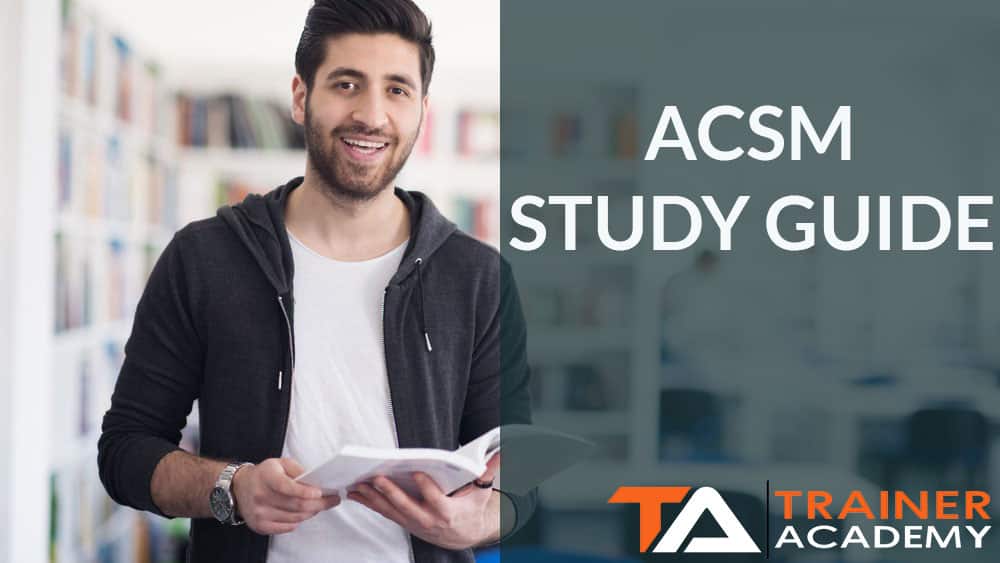 Free Study Guides
Curriculum material overview
Complete chapter breakdowns
60 practice questions
130 flashcards
Exam cheat sheet
Free from Trainer Academy
Exclusive TA Offers



Most Popular Cert

Great Option

Best Cert for you?

Good Option

Good Option

Good Option

Before we begin to unravel all the important facts and tidbits between two of the biggest personal trainer certification organizations, ACSM vs. NASM, let's take a deep dive into what they represent.
As we mentioned, each has its value and place in the fitness industry and understanding that will help you make a decision when considering your career objective.
NASM has been around for more than 30 years at the time of writing, having been established all the way back in 1987.
Since then, they have risen as a global leader in sports science and professional certification in that realm.
NASM has mainly been present in the North American region, despite this global reputation.
Recently, however, they extended their reach internationally, making them a globally accessible certifying agency.
The crux of NASM's curriculum is based on the proprietary OPT model or Optimum Performance Training.
This system was developed to enhance the fundamental abilities of the human body toward functional independence and longevity.
At Trainer Academy, we've gone through all the NASM reviews out there to give you the best overview of this cert.
The NASM PT certification is considered the most popular certification of all those deemed as gold standard certifying agencies.
This stellar reputation and value that matches see NASM continue to grow as a go-to option for anyone taking steps to become a personal trainer.
NASM also has some incredibly well-priced packages if you want to combine training with nutrition.
We all know that your diet is just as important as your workouts when it comes to improving your health and fitness.
If you want to have all the tools to help your clients succeed, having a nutrition certification as well a training credential should be a strong consideration.
If you have both certs, you get the added benefit of the knowledge you accrue, and you can charge more hour when your clients share their incredible results they achieved with you to their friends and co-workers.
If you go work for a gym or a company, having both certifications means they don't have to hire two new staff members because you can do both exercise and nutrition.
There are a lot of benefits, which is why at Trainer Academy we recommend getting both certifications as soon as you can.
Normally getting two different programs is expensive, but NASM's Nutrition and Fitness bundle is $999, which will save you a lot of money.
Make sure to check the website to see what the current price is, because sometimes these deals don't last.
The ACSM-CPT certification is one of the oldest certifying agencies, having been established all the way back in 1954 by a small group of physical educators.
This was a time well before the mass-market adoption of health and fitness as a consumer industry, which is why ACSM's origins and many of its present tenets are based on community and the spearheading of research.
The research focus of ACSM is so developed, in fact, that they are the leading institution when it comes to research amongst all other North American certifying agencies.
This is the case so much so that ACSM research actually forms a large component of the curricula of many other certifying institutions.
ACSM is also an NPO, which is why their cert packages are so competitively priced as you will later find out in this article.
Get more info on ACSM-CPT here.
Right off the bat, the first thing we need to do is look at the legitimacy of the certs in question.
And when it comes to the validity of a cert, there's one main consideration we observe, accreditation.
Accreditation is basically a certification for certification.
It proves the authenticity of the organization, its course curriculum, and the delivery method of the education system.
It is crucial in the personal training business.
Accreditation is provided by a standing association or board that serves as a group of authority figures that decision based on a set of criteria, whether an organization is eligible for the seal of approval.
In the case of health and fitness certifications in North America, the main accreditation agency is the National Commission for Certifying Agencies (NCCA).
A click on the links below will give you insightful info on both certifications.
Exclusive TA Offers



Most Popular Cert

Great Option

Best Cert for you?

Good Option

Good Option

Good Option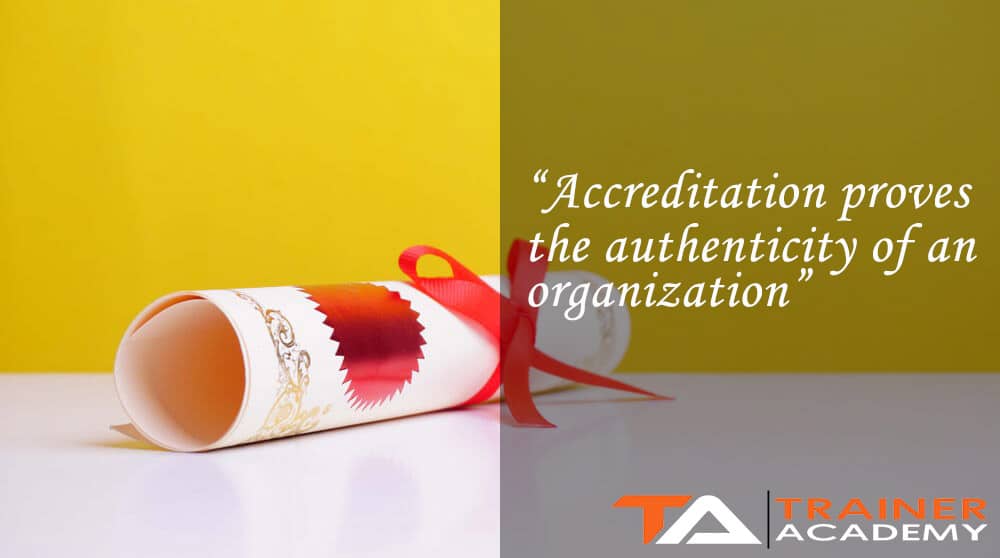 Both NASM and ACSM are NCCA accredited, meaning you can rely on them to provide quality, trusted education, and support resources.
Another huge reason accreditation is essential is because it helps separate the legit certs from outright scams.
Many questionable certifications exist today, and with the year-on-year exponential growth of digital economies, the choices of certifications are tremendous.
The average online cert, however, might not be a cert at all, just an online course, unfortunately, you do also get fake certs in the mix.
Checking for NCCA accreditation will help you avoid having your money taken by unscrupulous internet chancers.
Price is important of course. You need to know if the juice is worth the squeeze in terms of cost vs value.
You also need to know if you can afford it to begin with of course.
So what does the ACSM-CPT cost?
And what does the NASM certification cost?
When it comes to the issue of price, we find that the NASM vs ACSM comparison skews more in favor of ACSM when it comes to having a cheaper option.
But as we said, that's just one consideration. Let's take a look at the data.
The NASM training certification is traditionally one of the priciest certifications out there.
The most expensive option available from them will set you back more than $1,500.00!
The cost of NASM personal training certifications is separated below into 4 different package tiers:
| NASM Study Package | Cost |
| --- | --- |
| Self Study | $799.00 |
| Self Study Premium | $1,099.00 |
| Guided Study | $1,124.00 |
| All-Inclusive | $1,539.00 |
Each of these NASM certification courses offers unique, quality content!
Check out the current price of NASM certification here.
NASM does stand out when it comes to their Elite Trainer bundle which contain 6 different certifications! If you want to really stand out as a quality coach, having more qualifications under your belt will be essential.
There are lot of personal trainers out there and if you are a expert in strength and conditioning or corrective exercise or can teach group classes that's a big bonus.
All these jobs are then available to you and for not that much more than it would cost you to get a few of them. Check the website for details.
While this deal lasts you may want to snatch it up, especially if you are serious about a career in fitness.
ACSM is considerably cheaper than NASM in terms of up-front costs. However, you will have to purchase study materials separately from your exam.
There's also the caveat of membership costs, which can affect what you end up paying as well as what you end up having access to as an ACSM student.
| Membership Status | Cost |
| --- | --- |
| Member Candidates | $279.00 |
| Non-Member Candidates | $349.00 |
As you can see, the membership benefits bring the price down considerably, so it might be worth looking into the membership fees.
| ACSM Membership Package | Cost |
| --- | --- |
| Student | $10.00 |
| Alliance | $99.00 |
| Professional | $240.00 |
These are annual costs, so you can actually score big in terms of lowering your exam price without making much of a budget dent if you get the student option.
Get updated with the updated prices for ACSM-CPT here.
Quality of Study Materials
Knowing the upfront costs is one thing. Understanding their value is a totally different thing.
You'll often find that the dollar value of a product may not match the value of what you get in the box.
The same principle applies to personal trainer certs. You want to know that what you get in the package you've paid for matches what you get.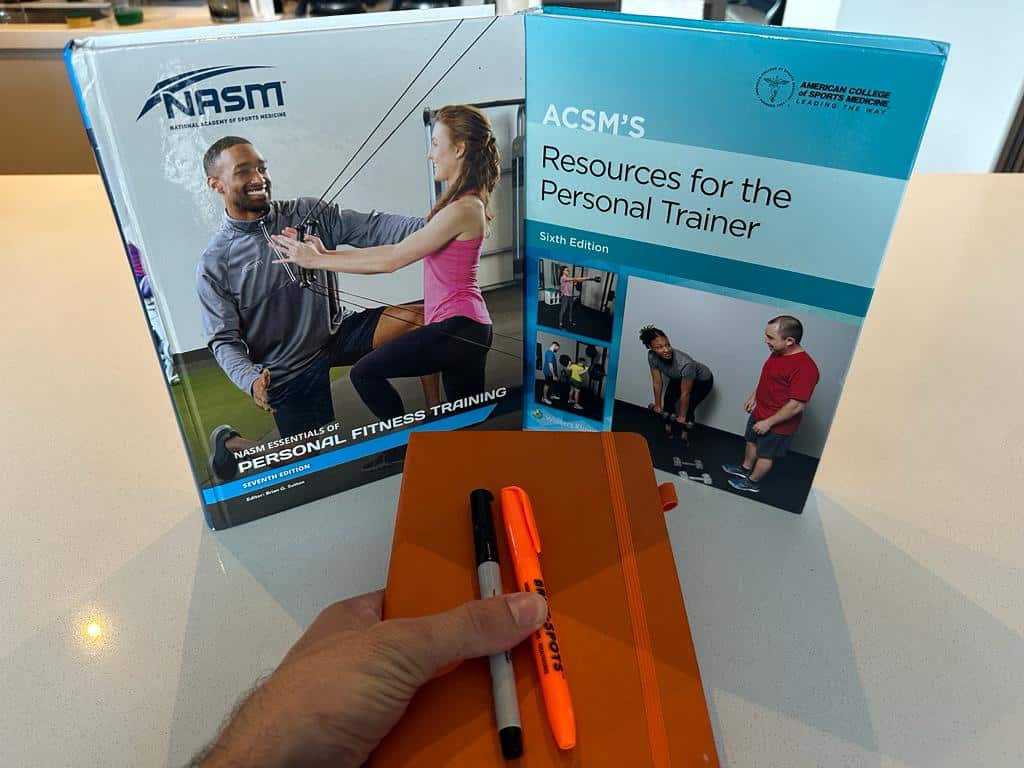 The NASM online certification offers a diverse and robust selection of exam prep material. These are available in four different packages, each varying in price based on the variation in what they contain.
On the lower end of the packages tier, you have the Self-study package.
This one is the bare-bones option when compared to the rest.
Here, you'll get exam registration, access to the digital textbook, some video lectures, and NASM certification practice tests.
This is the most basic you could ask for and might be enough to get you through the exam, although we suggest you bolster your efforts.
That brings us to the next three packages which each increase the amount and variety of what they bring to the table.
An All-inclusive tier is a great option and worth the hefty price tag in our opinion.
That's because it not only presents a large suite of useful study materials, it also comes with some amazing business and networking resources.
We can't stress enough how important it is to have a strong focus on entrepreneurship when it comes to personal training.
Simply knowing the technicalities and skills of a purveyor of health and fitness won't get you far.
True success in this game all boils down to business acumen, and NASM seems to have you covered with their All-inclusive package.
Another thing we found appealing with the top two packages (Guided Study and All-inclusive) was the inclusion of a hard-copy textbook.
While you will have access to a digital copy with any package, we feel having a hard copy on hand elevates your study options and effectiveness.
You can highlight and bookmark important sections and segments, something you wouldn't be able to do with the eBook.
Having a physical copy also means you're not limited by how operational your technology is.
Maybe your computer is in for repairs, or there's an internet outage.
Not a bother if you have a textbook on hand!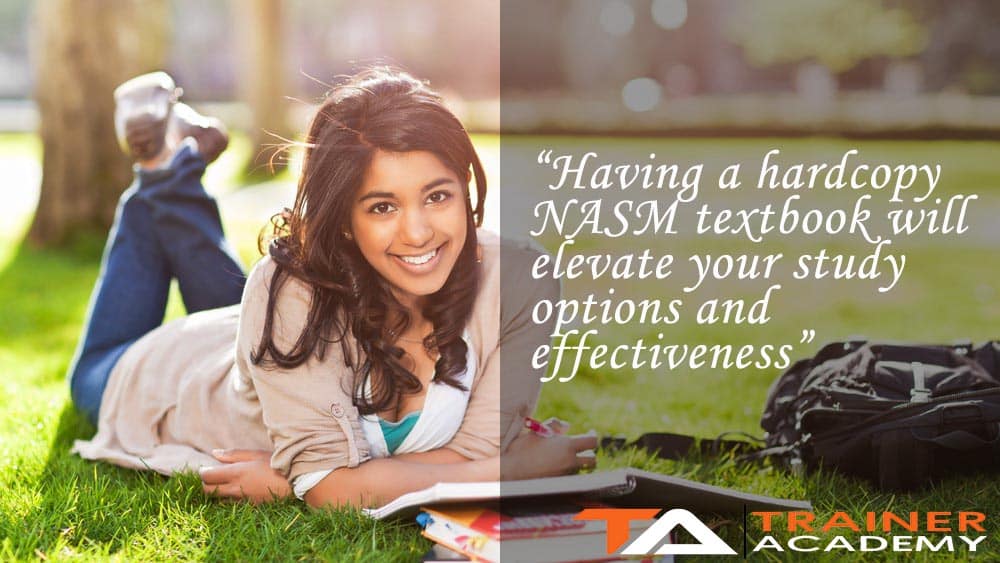 Let's take a look at NASM's study material options in more detail, shall we?
| NASM Self-Study | NASM Self-Study Premium | NASM Guided Study | NASM All-Inclusive |
| --- | --- | --- | --- |
| 100% Online Course | 100% Online Course | 100% Online Course | 100% Online Course |
| NCCA Accredited Exam | NCCA Accredited Exam | NCCA Accredited Exam | NCCA Accredited Exam |
| NASM-CPT Digital Textbook | NASM-CPT Digital Textbook | NASM-CPT Digital Textbook | NASM-CPT Digital Textbook |
| Content Learning Videos | Content Learning Videos | Content Learning Videos | Content Learning Videos |
| Exercise Video Library | Exercise Video Library | Exercise Video Library | Exercise Video Library |
| Practice Exams & Quizzes | Practice Exams & Quizzes | Practice Exams & Quizzes | Practice Exams & Quizzes |
| | Exercise Coaching Demonstrations | Exercise Coaching Demonstrations | Exercise Coaching Demonstrations |
| | Job Guarantee | Job Guarantee | Job Guarantee |
| | One-year NASM EDGE Trainer Plus | One-year NASM EDGE Trainer Plus | One-year NASM EDGE Trainer Plus |
| | | 10-Week, Instructor-Led Course (Optional/Flexible) | 10-Week, Instructor-Led Course (Optional/Flexible) |
| | | Certification Exam Retest | Certification Exam Retest |
| | | NASM-CPT Hardcopy Textbook | NASM-CPT Hardcopy Textbook |
| | | Access to Fitness Experts | Access to Fitness Experts |
| | | Business Accelerator | Business Accelerator |
| | | | NASM EDGE CPT Exam Prep |
| | | | Recertify for Life |
As you can see, the NASM personal training certification offers top-notch study material options, and job guarantees, and as we said, the top-tier, All-inclusive option is well worth it if you take it upon yourself to fully utilize all the resources.
And that brings us to another argument some would make…
This being that NASM personal trainer certification may be a bit too resource-heavy, making it confusing to understand what to use and, therefore hard to truly take advantage of your investment.
We suggest you do a bit of research into each resource in each package. That way you can actually figure out what would work for you.
However, if you need a simpler and smarter way to study rather than using the whole NASM study materials, Trainer Academy has got you covered with its MVP study package.
It is a perfect choice for everyone who has limited time for studying, wants a 99% pass rate, and comes with a money-back guarantee offer.
Enjoy the benefits of the NASM MVP study package here.
Wondering how to study for ACSM-CPT exam?
The study material options ACSM offers are best, though a bit tricky to conclude.
That's because when you sign up and purchase your ACSM-CPT course, you are only paying the ACSM-CPT exam cost.
All ACSM-CPT study materials, such as ACSM-CPT practice questions, and the ACSM-CPT study guide come separately.
That means you have to know what you need and then pay for it separately.
This sounds a bit tedious, so let's do a little breakdown and make things easier.
Let's look at what you should aim for in a complete, basic study package. In our professional estimation, a decent study package should include the following:
Latest edition textbook
Corresponding workbook or study guide
Practice exam, quizzes, or assessments
Lecture or workshop based resources
Latest Edition Textbook
Corresponding Workbook or Study Guide
Practice Exam, Quizzes, or Assessments
Lecture or Workshop Based Resources
Resources for the Personal Trainer, 5th Edition
ACSM Exam Content Outline
PrepU Quizzes
Available for students and members
Divided into 6 exam-relevant domains
Secondary resource that offers effective navigation of the course curriculum
Adaptive learning and teaching platform that uses analytical data to provide further support for students based on learning and assessment outcomes
Aimed at experts and research-centric individuals with an academic passion for health and fitness
Cost:
$79.99 (Hardcopy)
$72.93 (Digital)

Provides an adaptive experience that enhances your ability to successfully engage with the exam
Counts towards your CEU credits with each session providing 1.5 ACSM CECs
Provides a set of relevant questions and test your ability to remember the answer
Cost:
$45.00 (Individual Session)
$240.00 (6 Sessions)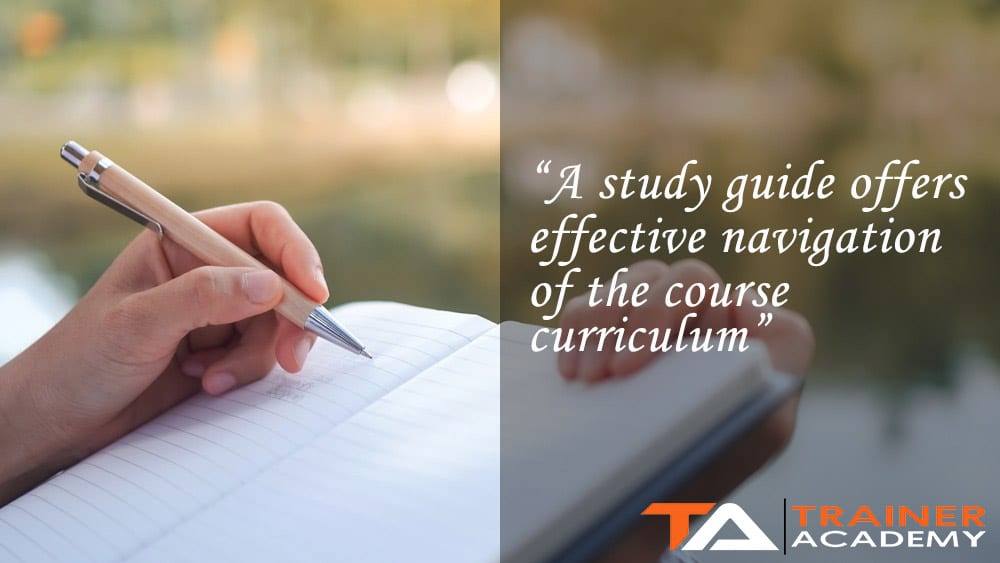 That can be shown by the various study package offerings and many other aspects as you will soon learn.
To increase your chances of success with ACSM, I'll recommend the MVP study package from Trainer Academy, it is loaded with resources and study techniques that have been tested and trusted.
The aim is not only to help you learn how to pass the ACSM-CPT exam but to help you retain useful knowledge when you start dealing with clients.
You'll be getting a good deal if you opt for the ACSM MVP study package.
Exam Layout and Passing Grade
So you've gathered all your required prep material and are neck-deep in your study plan, but what are you actually planning for?
How is the fitness trainer exam laid out and where do you need to focus?
That's where understanding the exam layout comes in.
It's great to be familiar with the course content and curriculum, but exams hardly ever represent an even distribution of all concepts and learning outcomes.
So let's take a look at each exam, break down how it is structured and administered, and provide insight as to how you will pass it.
The NASM personal training test questions are laid out across all 6 domains of study you'll become familiar with through the textbook.
The NASM certification exam questions are spread across 120 multiple-choice questions, which you will have 120 minutes (2 hours) to answer.
The way each of these domains counts towards the final mark is not even.
They are weighted differently according to what NASM deems to be the hierarchy of importance when it comes to health and fitness principles.
The exam breaks down as follows:
| Weight in NASM-CPT Exam | Domain |
| --- | --- |
| 10% | Professional Development and Responsibility |
| 12% | Client Relations and Behavioral Coaching |
| 17% | Basic and Applied Sciences and Nutritional Concepts |
| 18% | Assessment |
| 21% | Program Design |
| 22% | Exercise Technique and Training Instruction |
If you consider the essential activities a health coach would need to undertake as a professional, the weighting of the domains does make sense.
Having program design and technique, and instruction as the most prioritized aspects play well into the necessary day-to-day skills a PT would need to engage.
In our opinion, the business aspect of personal training is often overlooked, as is the case with the NASM exam.
From a professional standpoint, we would hope to see this area more represented.
NASM exams are administered either on-site at an approved PSI testing center, or via remote virtual proctor as an online exam.
Before you choose your exam date, We advise you to make this free NASM study guide and NASM practice test a regular companion.
They are prepared to help you have a real feel of the exam format before the real deal.
The ACSM-CPT exam questions are laid out across 4 domains of study known as Performance Domains.
These domains are distributed over 150 questions. Of these questions, 30 are unscored.
Unscored questions are such that they don't count towards the final grade you will achieve.
So why are they even included, you may be wondering?
They use unscored questions to measure the viability and feasibility of future test questions.
The tricky thing about these unscored questions is you'll never be able to identify which ones they are, so your best bet is to answer all questions to the best of your ability.
You'll be given 165 minutes to complete the ACSM-CPT test.
Back to the domains, or rather "Performance Domains" in this case. Just like NASM, the ACSM domains are not evenly represented.
You'll find some to have a heavier weight than others. The weighting of each domain according to ACSM is as follows:
| Weight in ACSM-CPT Exam | Domain |
| --- | --- |
| 10% | Legal & Professional Responsibilities |
| 20% | Exercise Leadership Client Education |
| 25%  | Initial Client Consultation and Assessment |
| 45% | Exercise Programming and Implementation |
As with most reputable CPT certification exams, the main areas of focus are in the assessment, programming, and implementation categories.
This, as we've stated, forms the bulk of activity concerning a career as a fitness instructor.
As always, Trainer Academy has a plan in place to help to be a step ahead of your peers and examiners always.
There's no doubt you'll go above the ACSM-CPT passing score!
Check out the ACSM study guide and practice test to help you pass in flying color.
At Train Academy we're committed to giving you the best tools to succeed.
We also have ACE practice tests along with ACE study questions, NSCA CSCS study material and practice CSCS questions along with more helpful info.
Exclusive TA Offers



Most Popular Cert

Great Option

Best Cert for you?

Good Option

Good Option

Good Option

Exam Difficulty and Pass Rate
Knowing what the exam looks like is one thing, understanding how much it will challenge you is also important.
When comparing ACSM vs NASM certifications with regards to exam level of challenge, both seem to be on par with each other.
ACSM and NASM both have a 65% pass rate. This makes either exam neither easy nor difficult.
They are, however, both relatively difficult if you look at some of the other certs out there, such as the ISSA CPT with its notorious 89% pass rate.
So your odds of passing are fairly high, but your odds of failing either one are not to be ignored.
So what happens if you do find yourself as one of the unfortunate 35%?
Let's find out, shall we?
When you fail a certification exam your first time, you'll typically be provided with the opportunity to re-sit the exam.
This usually comes at an added cost as well as a cool-down period between your first try and the retake.
When it comes to NASM, the retake policy will have you pay $199 for the opportunity. You will then have 365 days to retake the exam.
ACSM provides failing candidates with a retest voucher that can be redeemed for a resitting 15 days after the initial attempt.
The ACSM exam FAQ page does not express the need for a retest fee, so we'll assume it's free.
Click here to access the study materials and kickstart the learning process.
Knowing how popular certification is may not seem like a crucial metric, but it kind of is.
The popularity of a certification isn't merely a vanity metric, it also indicates what sort of career prospects you can look forward to once you've obtained a certain certification.
For this, we're going to base popularity on enrollment figures as well as google search data.
| Certification | Enrollment Number |
| --- | --- |
| ACSM | 5,226 |
| NASM | 22,304 |
| Certification | Search Data |
| --- | --- |
| ACSM | 390 |
| NASM | 1,600 |
From this data, it's plain to see that NASM is the clear favorite as far as popularity is concerned.
This can also be owed to the fact that NASM is a for-profit organization with a massive marketing machine behind it, while ACSM is a non-profit organization with its roots in academia.
It's still a big influence when opening up the discussion of whether ACSM or NASM is the best option as it will play into your job prospects in many cases.
Expected study time can help you decide which is the best option for you based on how much time you can commit.
So how long does it take to be a personal trainer with NASM or ACSM?
One important thing to consider when looking at study time for both ACSM and NASM is the difference between how much time you need and how much time you'll get.
As far as how much time you'll get, you're looking at the enrollment period.
The period of time between the moment you sign-up and purchase your CPT course to the date and time you will need to have written your exam.
For ACSM, you will have up to 24 months to complete the course and final exam.
NASM, on the other hand, allows for a maximum of 6 months.
How much time you will need will depend on your circumstances as well as your time management skills.
That's why Trainer Academy study packages include a Study Blueprint. A template for study time management you can implement to suit your requirements.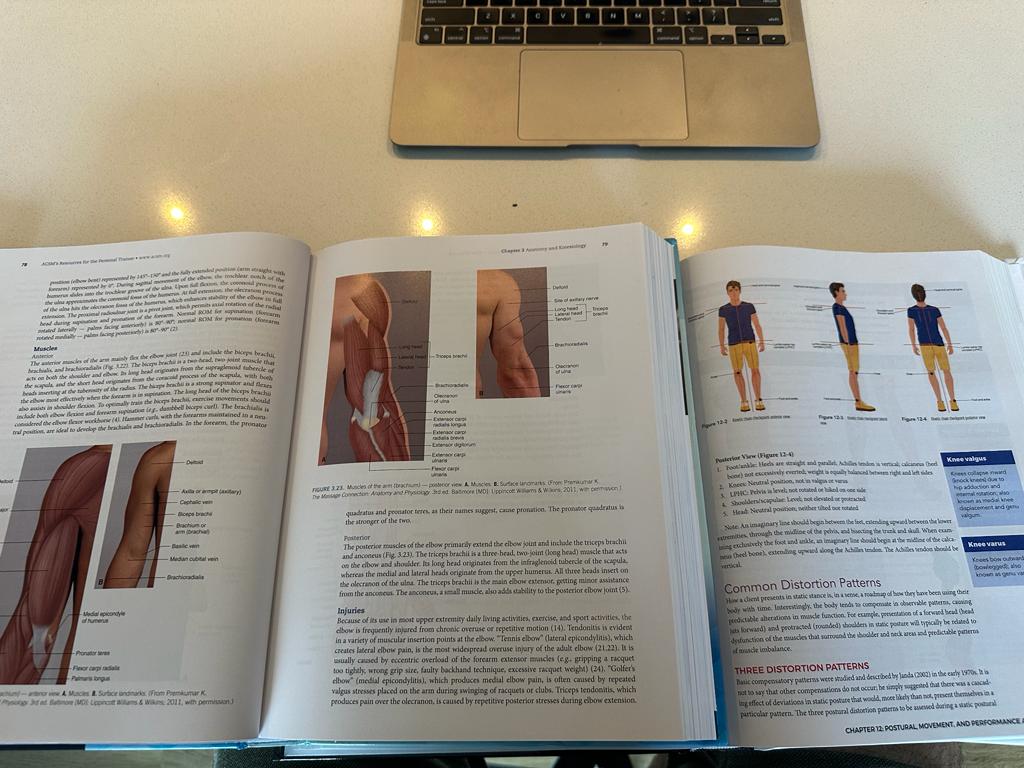 So, ensure you are among those to make and also exceed the pass rate by using the study techniques outlined in the premium study packages from Trainer Academy below.
The average income statistic is one I'm sure you've been looking forward to. Being a trainer is a business, and business is about making money.
Income is also influenced by the type of employment, such as commercial gyms, health clubs, studios, online, or independent.
In this category, NASM certification salary shines, but we can't say ACSM is terrible either in terms of personal training pay.
| Certification | Average Annual Income |
| --- | --- |
| ACSM | $38.739.00 |
| NASM | $41.598.00 |
Personal trainer income really varies depending on many factors besides certification.
If you want to learn how to make more money as a personal trainer, we always recommend having a good business and marketing strategy, investing in further education, and learning how to become an online personal trainer where the market is much bigger.
Other popular types of fitness certifications include a strength coach certification, yoga instructor certification, group fitness certification, and becoming a certified health coach.
Primary Focus of Certification
Each certifying agency has its niche. A direction towards which it points its health and fitness principles of a field of focus it aims to equip its trainers to handle.
Knowing the primary focus of the cert will also allow you to determine if it's the right career move for you.
NASM's focus is primarily on corrective exercise techniques through functional performance enhancement.
This is encapsulated in the NASM Optimum Performance Training (OPT) model.
The OPT model engages the principle pillars of strength, stability, and power and directs them toward optimizing functional capability.
NASM works well for trainers who aspire to work with the general population.
ACSM's primary focus is entrenched in its organizational mandate and mission to provide resources as a leader in the field of sports medicine and exercise science.
As an ACSM-certified trainer, you will be equipped with second-to-none knowledge of deeper training concepts making you more versatile than most trainers.
ACSM trainers will also have a much broader focus on movement sciences and kinesiology.
If you intend to go into a more medical or clinical setting, then ACSM trumps NASM, like if you're looking into exercise science jobs.
This is provided you have a firm grasp of the technical aspects of fitness instruction, of course.
If you decide later on to move on to other specialized areas of personal training, you should check out the links below:
All good things must come to an end, and the same goes for your newly obtained PT cert.
That's because each certification will expire after a given period (2 years in most cases).
After that, you will need to recertify and to be eligible for this, you will need to pay a nominal recertification fee as well as submit the required amount of continuing education credits or units (CEUs).
Continuing education units, also known as continuing education credits (CEUs/CECs), may be earned by taking online courses, attending webinars, and live workshops.
You might opt for specializations, such as becoming a Group Fitness Instructor, special populations, nutrition coach certification, or Conditioning Specialist, which, as we mentioned above, is a great way to boost your future personal training, but with this, you actually get education credits.
Let's take a look:
| Certification | Recertification Period (Years) | CEU Requirements (Hours) | Recertification Fee |
| --- | --- | --- | --- |
| ACSM | 3 | 45 | $35.00-$55.00 |
| NASM | 2 | 20 | $99.00 |
As you can see, ACSM is the most demanding in terms of CEU requirements but also the most relaxed when it comes to the certification period.
The recertification fee is also considerably cheaper with ACSM than it is with NASM.
Frequently Asked Questions (FAQs)
What are the NASM certification requirements?
In order to be considered eligible to enroll in the NASM-CPT certification program, you must be at least 18 years of age or older, have a high school diploma or the equivalent (i.e. GED), and you must have current, valid CPR and AED certification.
What are the ACSM-CPT requirements?
Similar to becoming NASM certified, requirements for the ACSM-CPT program are that you must be at least 18 years of age or older, and you must have current, valid CPR and AED certification.
How hard is the ACSM-CPT exam?
The ACSM-CPT exam is quite the challenge, which prepares you for a career as a fitness professional, and the pass rate is roughly 68%. This means that you are more likely than not to pass on your first try. However, it is still recommended to take the practice ACSM-CPT test!
Is NASM certification worth it?
The NASM certified personal trainer certification is totally worth your while if you plan on becoming a fitness professional within a general population. It is a highly respected certification, and you will have many great specialization opportunities as well.
Which is the better certification NASM or ACSM?
NASM certification reviews tend to be very positive, as are ACSM-CPT reviews. While the NASM-CPT exam has fewer questions than the ACSM-CPT exam, both are challenging and prepare you for work in the fitness industry. You are required to fulfill CEUs every two years for NASM, and every 3 years for ACSM. In the end, the better certification is the better certification for YOU!
Both ACSM-CPT and NASM-CPT are the gold standard, nationally accredited personal training certifications.
Each has its merits and shortcomings.
As a fledgling trainer dipping your toes in the industry, we suggest going with NASM; it's more recognized and will get your foot in more doors at the beginning of your career.
For seasoned and experienced trainers or those with deep academic learning, ACSM is a great choice.
Not only does it equip you with the relevant skills you'll need as a trainer, but it's also a portal into some great resources if you take on the membership option.
We hope this has helped you form a well-rounded opinion of these two powerhouse certs as you decide which one is best for you.
Trainer Academy has a few more breakdowns for anyone deciding between certs, including our look at NASM vs ACE, NASM vs ISSA, ACSM vs ACE, and NASM vs NSCA.