The NASM certification leans toward corrective exercise with its Optimum Performance Training (OPT) model while the ISSA certification focuses more on training athletes and programming. The National Commission for Certifying Agencies (NCCA) accredits both personal trainer certifications, which most employers require.
Let's see which one is best for you.
Hey everybody, and welcome to a Trainer Academy Personal Training Certification shootout!
We will discuss a certification review of the NASM vs ISSA fitness training certifications.
These two certs sit at the pinnacle of the fitness industry in terms of popularity and industry recommendation.
This article will cover the following information:
NASM and ISSA general information
Relevant statistics
A thorough examination of the CPT courses
Each CPT exam, study materials, and costs
After this article, you will know the differences and similarities that exist between these two competing certifications that sit at the top of the fitness industry.
We highly recommend that you take our helpful quiz to find the best personal trainer certification for you.
So without further ado, let's jump right into it!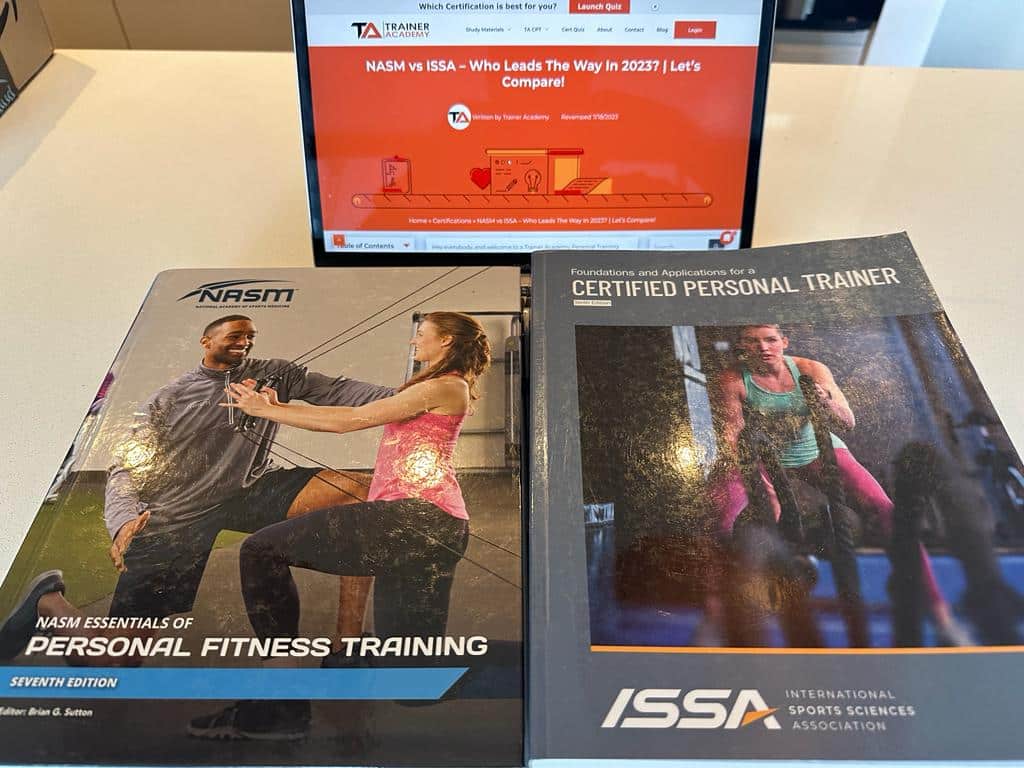 CPT
ACSM vs ACE Quick Breakdown
Features
Price
NASM CPT

Focus on corrective exercise
Groundbreaking OPT Model
More expensive
Difficult exam

View on NASM Website
ISSA CPT

Solid technique and programming
Excellent business skills
Comprehensive skillset
Internationally recognized
Best cert bundle deals in the industry

$828.00 for ISSA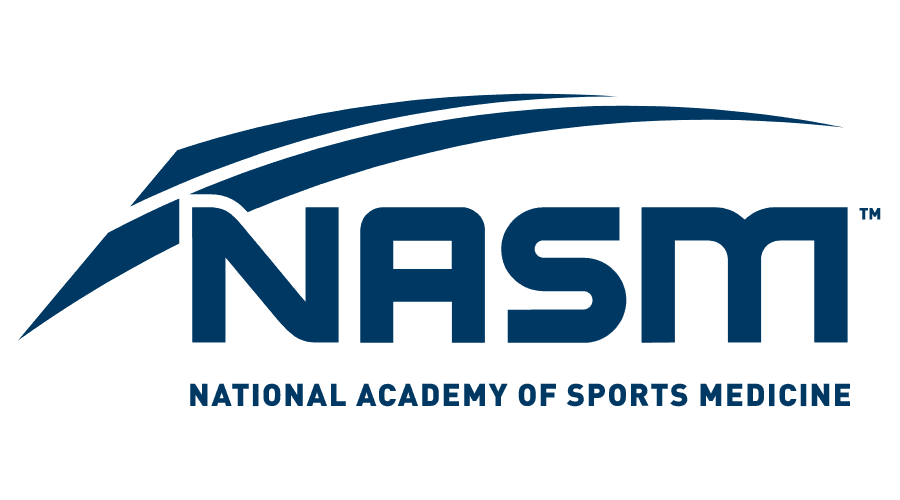 NASM CPT
Exam cost: $599
Study Material Cost: $699-999+
Prerequisites: High School Diploma, CPR/AED Certified
Exam Passing Score: 70%
Exam Pass Rate: 78%
Average Completion Time: 3 to 6 months

ISSA CPT
Exam cost: $828
Study Material Cost: $828
Prerequisites: High School Diploma, CPR/AED Certified
Exam Passing Score: 75%
Exam Pass Rate: 90%, 70% (NCCA version)
Average Completion Time: 2-4 months

Trainer Academy Guides
Complete, efficient study system
Audio guide, flashcards, and mnemonics
850+ practice questions
99% pass rate
Exam pass guarantee
Affordable

Provider Materials
Curriculum study preparation
Includes text, graphics, and videos
200+ practice questions
No exam pass refund guarantee
$828-950 for ISSA starter package
$699-999 for NASM starter package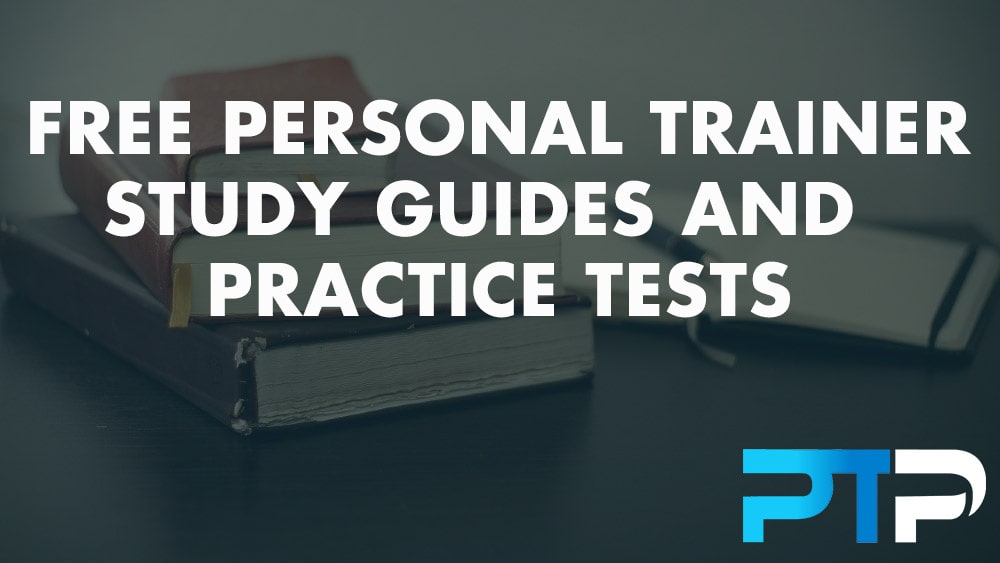 Free Study Guides
Curriculum material overview
Complete chapter breakdowns
60 practice questions
130 flashcards
Exam cheat sheet
Free from PTPioneer and Trainer Academy
As a trainer, you want to be able to deliver results for your clients.
We all know if you want to transform your body, you need a well-programmed workout routine and a focus on nutrition.
Most personal trainer certifications offer a bit of nutritional content, but if you want to really be able to give your clients the full scope of information, you're going to need a nutrition certification.
As a trainer, you're not fully qualified to structure a full meal plan or solely advise someone on their diet.
This is why we highly recommend getting both a CPT cert and a nutrition certification when you start out.
With both of these together, you can give a higher quality of coaching to your clients and earn more every month with two skills instead of one.
Nutrition coach salary can be quite lucrative, especially if you combine it with training income.
Both NASM and ISSA have excellent packages which give you both these qualifications at once at an inexpensive price, which is a big lifesaver.
The ISSA option is a bit cheaper at $828, or $69/month for 12 months.
NASM's Nutrition and Fitness bundle is $999, which is still a great rate.
Double-check that these deals are still running on the ISSA website or NASM page, because if they are, you are in luck.
We also have an excellent ISSA Nutritionist vs NASM CNC article that may be of interest to you if you are deciding between these deals.
Exclusive TA Offers



Most Popular Cert

Great Option

Best Cert for you?

Good Option

Good Option

Good Option

NASM and ISSA are two of the best personal trainer certifications on the market.
When comparing certifications, there's one primary attribute you should always consider, and that's accreditation.
Think of it this way, a certification grants you the authenticity to pose and work as a trainer, while accreditation grants your certification the authenticity to be…well…a certification. A personal trainer certification accreditation.
You should only go for accredited certifications when considering jumping into the industry.
That's because a good personal trainer certification accreditation is a seal of approval from the highest authorities, letting you and anyone you deal with know that they're getting the best from the best.
In the case of North American PT certification, you'll be looking out for an NCCA accreditation.
NCCA stands for the National Commission for Certifying Agencies.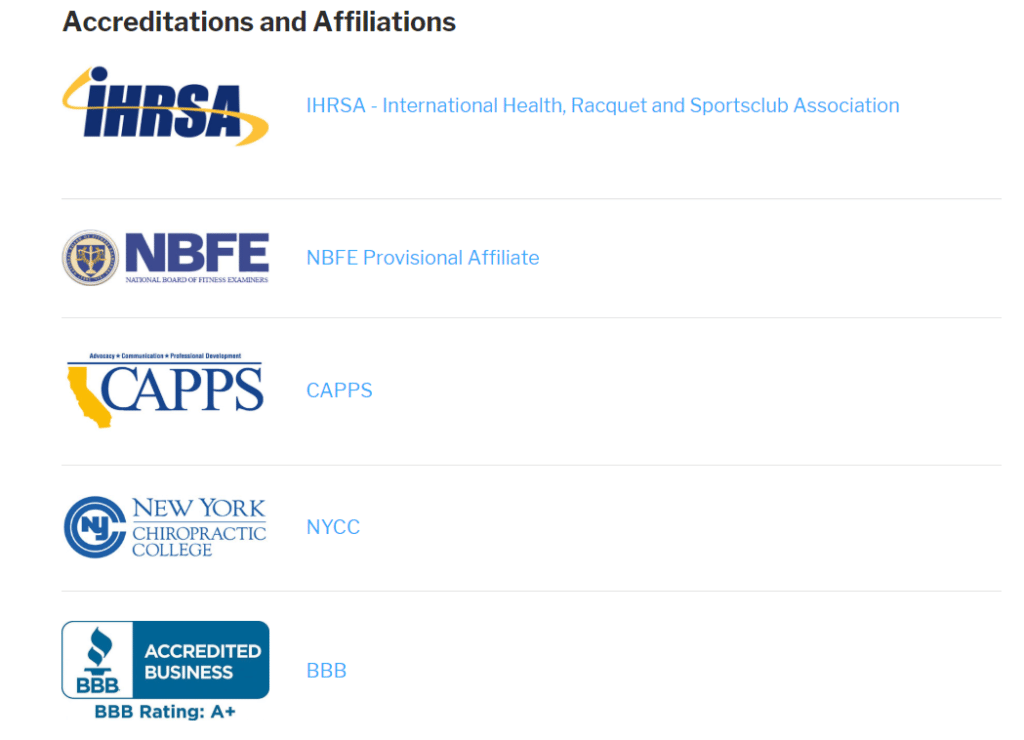 NASM and quite recently ISSA, are accredited by this accrediting body.
NASM stands for National Academy of Sports Medicine.
ISSA stands for International Sports Sciences Association.
We say recently with ISSA because they were once exclusively accredited by DEAC. or Distance Education Accrediting Commission.
That's because ISSA is the leader in distance learning when it comes to personal training certifications.
ISSA has since acquired the NCCPT to include NCCA accredited programs as part of their offer.
This doesn't mean they are now fully NCCA accredited, but rather that they have a strong affiliation through their subprograms.
Whatever the case may be, you want to make sure your cert is accredited.
Not only to make sure you get with the good but also to weed out the bad.
You see, the fitness certification business is rather lucrative, and where the opportunity lies you will find opportunists. Many of them are willing to cut corners and make false promises to turn a buck.
These scams are even more rampant with the progressive adoption of digital economies and online training.
So the best way to not only ensure quality education, but also to maintain safety from online scams is to go with an accredited cert, and these two sure are.
A lot of the decisions we make in life hinge on how much things cost.
What does the NASM CPT cost?
And, what does the ISSA CPT cost?
In the case of personal trainer certs, the cost is a major consideration, especially when your are first becoming a personal trainer.
Sometimes the cheapest personal training certification is what you have to go with.
Your financial circumstances or set budget will affect what you can ultimately choose, which has the potential to set the tone of your career.
When it comes to price, you'll find that NASM and ISSA have two vastly different approaches.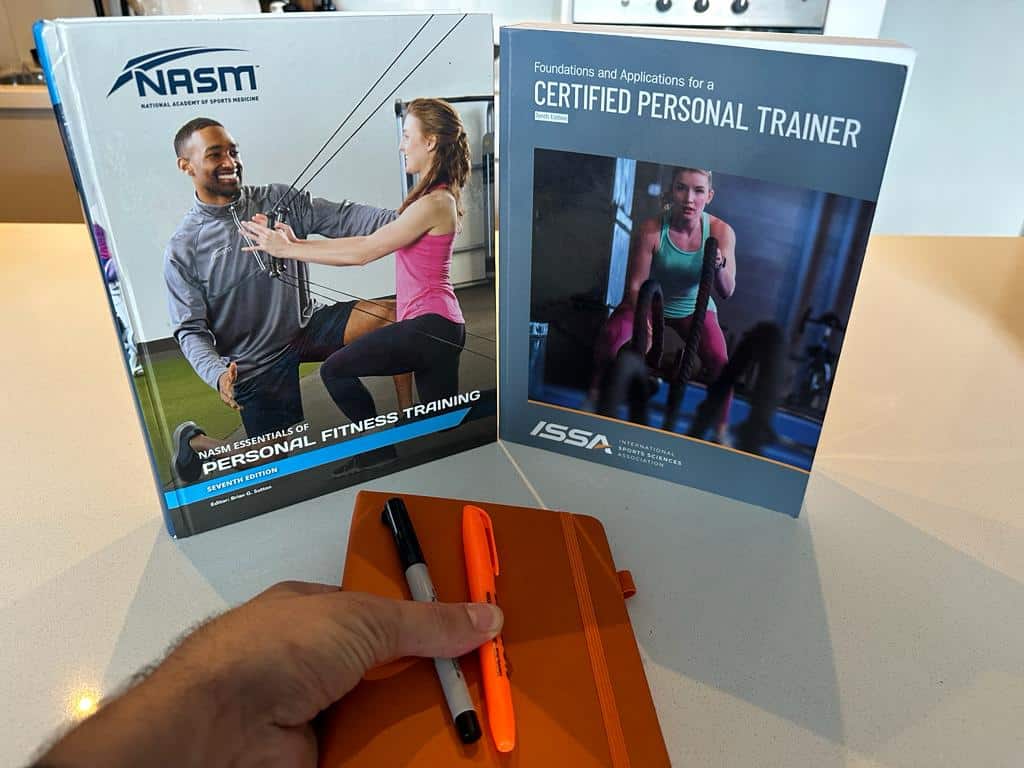 ISSA offers just one study package, practice exam, and practice ISSA CPT exam answers, which are often bundled with a second certification such as Nutrition.
This package includes all relevant and available study material and costs a standard $799.
NASM, on the other hand, comes in 4 study packages for their NASM CPT certification, all with varying amounts of hardcopy and online study material and priced accordingly.
Of course, the NASM CPT textbook, other NASM CPT books, the NASM CPT practice exam, and the NASM CPT exam costs are included.
Get updated with the latest discounts on both certifications here.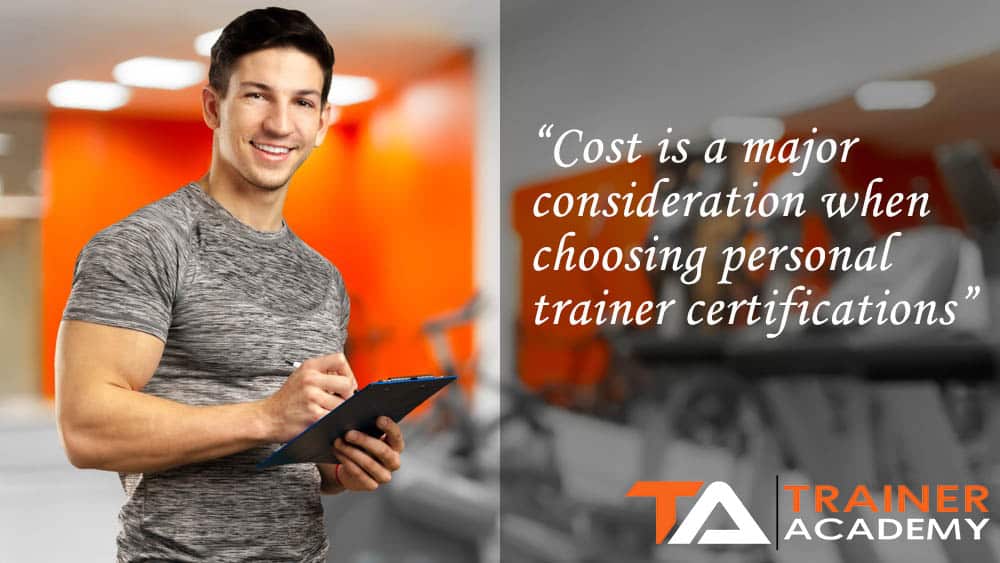 NASM is options heavy and material dense, while ISSA takes a very streamlined approach.
This may be because ISSA, being an international cert, is aiming to capture as much of the global market in a way that isn't too complex.
Countries across the world all have different educational practices and market economies, so keeping things simple and cheap might be more of a strategy than it seems on the face of it.
NASM's approach allows it to be more robust and come with more bells and whistles simply because it is aimed at the North American market.
A market where the educational standards and market buying power are fairly strong.
Let's take a look at the data for each cert and see how the cost breaks down:
| Package Tier | Cost (ISSA) | Cost (NASM) |
| --- | --- | --- |
| 1 | $799 | Self Study ($799) |
| 2 | | Self Study Premium ($1099) |
| 3 | | Guided Study ($1124) |
| 4 | | All-Inclusive ($1539) |
So there you have it, ISSA is by far the cheapest, allowing it to win out when it comes to the competitiveness of the pricing.
The price however is only relevant to the value.
However, the ISSA CPT course offers more value if you purchase the Elite Trainer Package(3-in-1 Combo), comprising of a personal trainer cert, nutrition cert, and any other certification of your choosing all at a discounted rate of $999.
You can see that it is very cheap.
Adding a specialization is one of the best ways to increase your earning potential and your value as a trainer.
With any business, finding your niche separates the wheat from the chaff, and will give you an edge.
The ISSA Elite Trainer package is hands down the best deal you can get for the price for three different certifications.
NASM also has a very attractive 6-in-1 offer for up to six different certifications at a very low price, the NASM Elite Trainer bundle, which should also be considered. So if you're interested in how to become a group exercise instructor or how to become a strength and conditioning coach look at this option. It also enables you to become a "master trainer".
We feel that ISSA is perhaps the cheaper deal overall, but NASM is a leader in the fitness space so choose wisely based on your needs.
So let's take a deeper look at what is on offer in terms of study materials and see if that justifies the price.
Quality of Study Materials (1-10)
Exclusive TA Offers



Most Popular Cert

Great Option

Best Cert for you?

Good Option

Good Option

Good Option

NASM's study materials are numerous, especially compared to most other certs out there.
Taking a NASM CPT practice exam as part of your study materials is key to making sure you are prepared.
The top tier package from NASM, the All-inclusive, sports 17 different study and trainer support materials.
The density of resources can be both a blessing and a curse. It can get confusing to understand what to use and how to use it with such an overload.
But with correct use, NASM study materials are an excellent option, although we might urge you to get your hands on something a bit more streamlined, which you can find here at Trainer Academy.
The premium study package will save you the stress of sweating through all its study materials because the whole materials have been compressed into an easy to comprehend format.
Thus, your study time will be reduced by 50%, use to tested and tried study techniques that will certainly guarantee you a 99% pass rate in your first attempt.
If otherwise, our undisputable money-back guarantee offer is available to give you peace of mind.
So, what are you waiting for?
Click on the link here to access the NASM MVP study package.
Let's have a look at NASM's study suites for a clearer idea:
| NASM Self-study | NASM Self-study Premium | NASM Guided Study | NASM All-Inclusive |
| --- | --- | --- | --- |
| 100% Online Course | 100% Online Course | 100% Online Course | 100% Online Course |
| NCCA Accredited Exam  | NCCA Accredited Exam  | NCCA Accredited Exam  | NCCA Accredited Exam  |
| NASM-CPT Digital Textbook | NASM-CPT Digital Textbook | NASM-CPT Digital Textbook | NASM-CPT Digital Textbook |
| Content Learning Videos | Content Learning Videos | Content Learning Videos | Content Learning Videos |
| Exercise Video Library | Exercise Video Library | Exercise Video Library | Exercise Video Library |
| Practice Exams & Quizzes | Practice Exams & Quizzes | Practice Exams & Quizzes | Practice Exams & Quizzes |
| | Exercise Coaching Demonstrations | Exercise Coaching Demonstrations | Exercise Coaching Demonstrations |
| | Job Guarantee  | Job Guarantee  | Job Guarantee  |
| | One-year NASM EDGE Trainer Plus  | One-year NASM EDGE Trainer Plus  | One-year NASM EDGE Trainer Plus  |
| | | 10-Week, Instructor-Led Course (Optional/Flexible)  | 10-Week, Instructor-Led Course (Optional/Flexible)  |
| | | Certification Exam Retest | Certification Exam Retest |
| | | NASM-CPT Hard copy Textbook | NASM-CPT Hard copy Textbook |
| | | Access to Fitness Experts  | Access to Fitness Experts  |
| | | Business Accelerator  | Business Accelerator  |
| | | | NASM EDGE CPT Exam Prep  |
| | | | NASM EDGE CPT Exam Prep  |
| | | | Recertify for Life  |
Pretty dense with features, resources, and materials as you can see, but is it worth the price?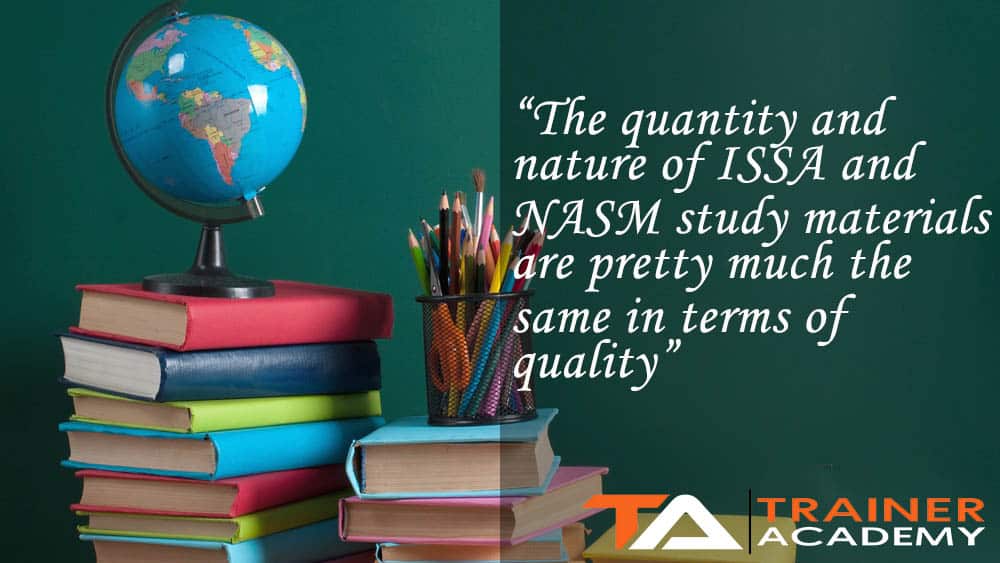 The only way to tell is by comparing it to what ISSA has to offer.
ISSA Materials
Current Edition Textbook
Online Practice Tests, Exams, and Quizzes
Audio and Video Lecture Options
Online Study Guide and Workbook
Online Student Forum
Online Exam
As you can see, what ISSA offers is significantly less than what NASM generally offers. In fact. ISSA costs as much as NASM's most basic tier.
This makes sense since the quantity and nature of the materials included are pretty much the same.
So what does this mean in terms of quality?
Well, one thing we can say is that as little as is on offer from ISSA, the stuff you do get is amazing.
With an 89.9% pass rate ( something we'll get into soon), it makes loads of sense that ISSA has some great quality options.
Not to be outdone, NASM trumps variety.
Their lowest tier has pretty much the same format as ISSA's entire program, and going up, things get bigger and better.
Overall the quality metric for both comes pretty close, so close, in fact, that we've had to score them the same.
ISSA comes through with highly effective simplicity, while NASM comes in with the value of variety.
Because of this, both certs get a 7 out of 10 Trainer Academy rating.
Or so you would think.
ISSA is actually better for business. With the $799 price, you will get all the listed study materials as well as tons of business resources.
While NASM does boast some career advancement resources, ISSA has a more focused approach, even including a business-specific textbook called Fiscal Fitness. Knowing basic business structure is one of the secret skills needed in the personal trainer job description.
For all that, we give ISSA the edge with an 8/10 rating.
Fitness is a business, after all, and business is taken into consideration by ISSA.
Of course, if you want to go all the way to the top and guarantee success, just check out one of our structured study packages for ISSA.
We also have study resources for other certifications:
If you decide you want to pick the ACE CPT, there's an ACE study guide and an ACE practice exam to help you pass the test.
For those interested in the much harder NSCA CSCS, we've created a free CSCS practice test and CSCS study guide, which will be essential tools for you.
Of course there's a NASM study guide as well.
Exam Layout and Passing Grade
The layout of both certification exams is fundamentally the same, although that wasn't always the case.
ISSA used to have quite an interesting exam layout that included long essay-style case-study questions.
This is no longer the case, and the ISSA exam has since adopted a more traditional multiple-choice-only format.
But that, ladies and gentlemen, are where the similarities end.
NASM and ISSA have 120 and 160 exam questions, respectively, but 40 questions aren't really what separates the two.
NASM requires a 70% minimum to pass, while ISSA needs you to score at least 75%.
The way the exams are administered is way different.
NASM is a proctored exam. It is conducted through select PSI testing facilities dotted across the North American region.
In recent times, however, NASM has taken up the mantle for remote live testing by using your computer's webcam as a monitoring device.
This had also opened NASM up to international candidature, whereas before, the cert's reach and relevance were confined to the US and Canada. This is similar to what ACE has done as well, so if you compare NASM vs ACE, they both can be taken online now.
ISSA, on the other hand, has always maintained a distance-based, online-only approach with no physical testing locations.
This is what has allowed them to grow into the international force they are recognized as.
Now let's look at the structure of the individual tests.
NASM is broken down into 6 sections.
These are:
Professional Development and Responsibility
Client Relations and Behavioral Coaching
Basic and Applied Sciences and Nutritional Concepts
Assessment
Program Design
Exercise Technique and Training Instruction
These sections are all weighted differently meaning the total value of the score they contribute towards the final grade differs.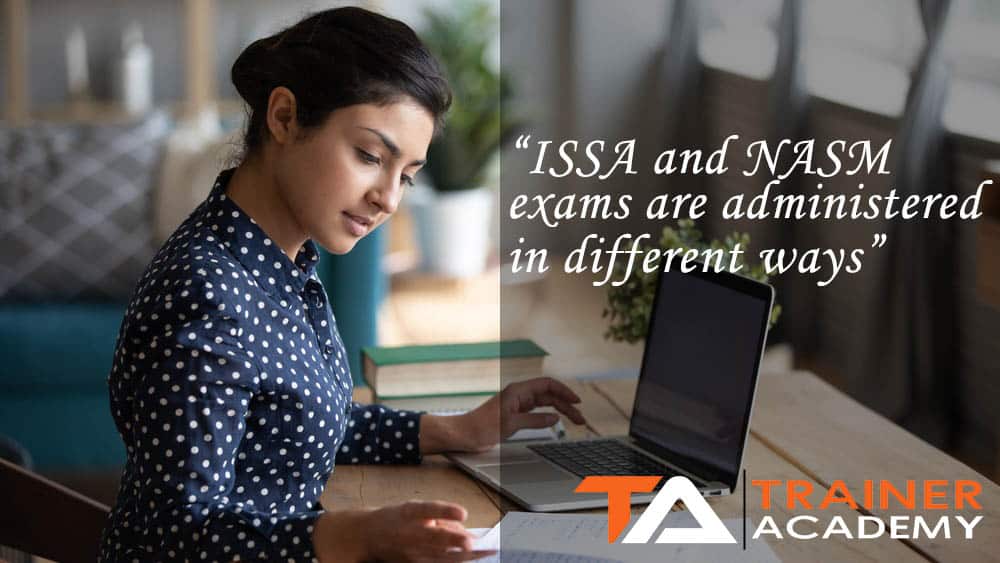 Looking at this, you get a pretty good impression of where to focus on exam prep.
| Weight in Exam | Section |
| --- | --- |
| 10% | Professional Development and Responsibility |
| 12%  | Client Relations and Behavioral Coaching |
| 17%    | Basic and Applied Sciences and Nutritional Concepts |
| 18%  | Assessment |
| 21% | Program Design |
| 22%  | Exercise Technique and Training Instruction |
As you can tell, the focus is set on the more practical applications of personal training, whereas the actual online course material introduces candidates to a lot of the scientific and theoretical principles of health and fitness, such as anatomy and kinesiology.
These are essential, of course, but the exam is geared towards solidifying the hands-on work you will be conducting as a certified trainer.
ISSA has a similar approach in that it guides you toward the more practical side of things.
The only difference is that ISSA does include more scientific theory than NASM CPT. It also includes the business and nutrition aspects of personal training which are super important.
Nutrition and business application are too often overlooked when it comes to concepts essential for success as a PT, so it's great that ISSA actually has a focus on these.
| Weight in Exam | Section |
| --- | --- |
| 9% | Special Populations |
| 10%  | Professional Practice, Drawing-in Phase, Fiscal Fitness |
| 17%    | Assessment |
| 19%  | Nutrition |
| 22% | Basic and Applied Science |
| 23%  | Program Design |
Now besides a few differences in structure, layout, and areas of focus, the real kicker is in the way the exams are administered.
The NASM CPT exam is traditional. As we mentioned, the exam is conducted with a live proctor, either in a real-world setting at a PSI testing facility or remotely via webcam monitoring.
The ISSA CPT exam, however, blows this method out of the water with a self-paced, open-book exam.
You can take as long as you want from the moment you start the exam to the time you finish, even allowing you to save, log out, and log back in to resume the test.
Next, we'll take a look at the difficulty and pass rates, which will give you an idea of what this actually means.
So when looking at the two exams, we can see a few distinct differences.
Both have their pros and cons.
While ISSA has in the past done well with having a self-paced, open-book style exam, its current multiple-choice setup makes it a bit unnecessary.
That's because with the long easy-type case studies, having an open book meant nothing if you didn't have a firm understanding of the concepts being assessed.
In the same regard, having the test self-paced was necessary since the questions would have you conduct real-world research in some cases.
It would be better with a multiple-choice-only structure to have some control barriers to exam success.
For that reason, NASM takes the crown on this one.
The NASM exam is comprised of 120 multiple-choice questions.
Exam Difficulty and Pass Rate
The exam difficulty is another metric that varies wildly between these two certifications.
Our NASM review describes how the NASM CPT has been known to present a notable degree of challenge.
Its level of challenge however isn't too crazy, like say, the National Strength and Conditioning Association, NSCA-CSCS which is pretty high on the difficulty scale.
The NASM CPT pass rate is 78%. That means most candidates are successful, but a significant amount fails the first time.
With adequate prep, practice questions, and even flashcards, this shouldn't pose any major headaches, but don't be fooled into believing you'll just magically fall into the 64.3% winner's circle.
As for ISSA, the pass rate is a whopping 89.9%!
That makes it the easiest exam to pass out of all the major certs we will be recommending.
The stat totally makes sense considering the relaxed attitude towards exam administration.
There is still that 10.1% chance you might fail, and although relatively small, it's still crucial that you prepare to the best of your ability. There's no such thing as doing too well.
To avoid being among the percentage that will fail, you should be conversant with and also make use of the free study guide and practice test from both NASM and ISSA.
Click on the links below to get started.
Now we get to that dreaded scenario… what happens if you fail.
Well, like most personal trainer certification programs, failing your exam the first time affords you the option of retaking the exam.
In most cases, you will need to pay a retest fee and perhaps even wait for a predetermined cool-down period meant to allow you to prepare again.
You are allowed to retake the NASM CPT test upon a failed attempt at the added cost of $199.
ISSA, on the other hand, allows you one free second chance. What's more, you get to focus on just the questions you failed, allowing you to maintain previously correct answers.
If you happen to fail a second time, then you will need to pay, but even then, it's just $50 you'll be forking out.
This is comparatively low compared to other major certs.
For that reason, ISSA's training program takes the win.
To avoid any form of failure, your best bet is to use the premium MVP study packages from Trainer Academy. Check them below.
Both of these certifying agencies are pretty popular and highly regarded within the industry.
That being said, NASM is leagues ahead when it comes to this statistic.
For this, we will be looking at two stats, enrollment figures and search data.
Enrollment simply shows how many people purchase or register for each respective cert.
Search data shows us how many daily searches are run by people querying each respective certification.
Let's see how it all boils down.
| Certification | Enrollment Number | Search Data |
| --- | --- | --- |
| ISSA | 10,696 | 590 |
| NASM | 22,304 | 1600 |
From this, we can tell that NASM is the clear winner. It has more than double ISSA's enrollment stats and almost 3 times the search data.
NASM does indeed have the lion's share of attention and reputation in the industry. It is the most widely preferred certification.
ISSA is certainly up there but has nowhere near the same level of reach, despite being more globally widespread.
Read more about what makes each certification tick by clicking the links below:
The amount of time you will need to study and take each respective exam is dependent on the enrollment period.
This is the amount of time from purchasing/registering for the cert to the deadline for the final exam sitting.
In this regard, both NASM and ISSA have a 6-month window in which enrollment runs and allows you to complete the course.
If you fail to meet your objectives within that time, you will need to re-enroll.
ISSA allows you to do this free of charge by extending your enrollment period by a further two months.
NASM will allow an enrollment extension of 90 days which you will have to purchase.
You will need to check out their website to determine the current re-enrollment fees since this often changes.
Now, the enrollment period is one thing, but how much time do you actually need to prep and pass the final exam?
How long does it take to become a personal trainer with NASM or ISSA?
We say 3 months should be adequate. That means halfway into your enrollment period for either certification; you should be test-ready.
This will, of course, depend on your personal time management and circumstances regarding all other life commitments.
Another thing that matters is the depth of the study materials and how much you need to know to pass the certification exams. Both are quite in-depth and require a good amount of study commitment.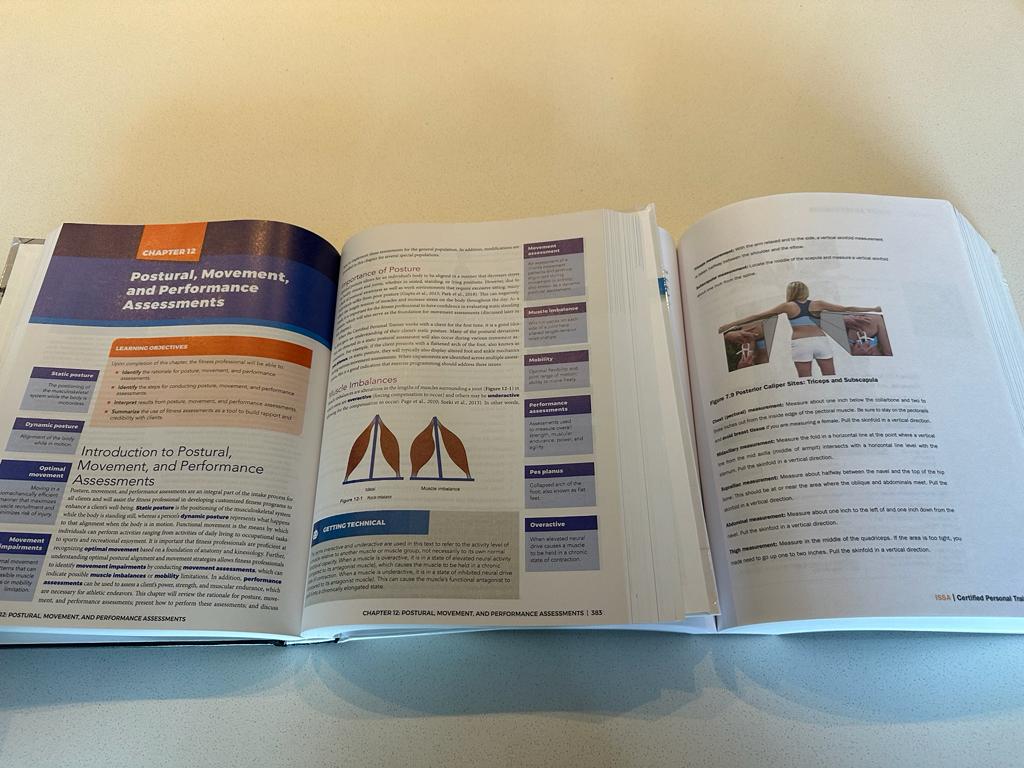 ISSA makes this easier by including a 10-week guided study plan that will have you writing your final by week 10.
This is a great way to structure your studying in a way that requires less input and stress from you.
However, if you really, really want to get an edge on your study time management, why not grab one of Trainer Academy's MVP packages for either NASM or ISSA.
These packages include a study blueprint that will help you divvy up your time management through various time scales depending on how much you can realistically commit.
Making use of either the NASM MVP Study package or the ISSA MVP Study package will be a win-win for you in the long run. You should trust the process.
Since both have the same enrollment window, we can chalk it up to a tie in this category.
As a certified PT, you are a walking, talking business. And businesses are there to make money.
It's an important consideration when choosing any career path.
That's why we've gathered up some stats to show you what the average personal trainer salary looks like for trainers who certify with both.
| Certification | Average Income |
| --- | --- |
| ISSA | $36,235 |
| NASM | $41,598 |
As you can see, there's not much that separates the two, but of course, NASM has the edge.
Statistically speaking, NASM coaches are the top-grossing if using certification as the only variable.
Also, with NASM, there is always a job guarantee, and when you're first figuring out how to make money as a personal trainer, that may be very valuable.
Primary Focus Of Certification
Each certification has somewhat of a niche. Ultimately they all teach you to be a good personal trainer, able to handle general health, wellness, and fitness prescription, but at the core of each lies a primary focus.
For ISSA, that focus is on programming principles.
The art of designing well-thought-out and comprehensive programs is the hallmark of ISSA training.
This is evident in the focal concepts of the exam, especially when looking back at the old format.
NASM is more geared towards corrective exercise.
These methods of training are aimed at enhancing biomechanics through the prevention and alleviation of imbalances and deviations in the musculoskeletal system.
NASM carries this approach through their OPT model or Optimum Performance Training.
This model inherently requires an astute understanding of programming principles so for that reason we'd say NASM is a more complete option.
Are you interested in other offerings by both certifications? Click on the links below to learn about these specializations.
Also, take a look at the group instructor, senior fitness, or exercise specialist certifications.
Both NASM and ISSA require you to renew your certification every two years.
This may be done by obtaining CEUs, or continuing education units.
Fitness professionals must keep their skills sharp and with the current scientific and industry trends.
To qualify for recertification, you will have to submit CEUs as well as pay the required recertification fee.
Both ISSA and NASM certifications require 2.0 CEUs for recertification, which amounts to 20 hours of continued education.
Use this link to access the study materials and get started to become a personal trainer.
NASM vs. ISSA Roundup
Certification
Cost
Prerequisites
Exam Pass Rate
Completion requirements
Online/In person
NASM
1. Self Study: $799
2. Self Study Premium: $1099
3. Guided Study: $1124
4. All-Inclusive: $1539
1. High school diploma or equivalent
2. Current and valid CPR/AED certification prior to sitting for the exam
64.3% pass rate
1. All course work
2. Pass your exam
Both
ISSA
$799
1. Must be 18 years old
2. High school diploma or equivalent
3. Current and valid CPR/AED certification
4. Proof of government issued ID
89.9% pass rate
1. All course work
2. Pass your exam
Online
Frequently Asked Questions (FAQs)
Is ISSA or NASM the better personal trainer certification?
Both the ISSA and NASM CPT certificates offer their own unique values. While NASM offers higher-quality study materials, ISSA offers a comprehensive program that can be completed in less time. Though both certifications are accepted by employers, NASM-certified trainers may be paid a higher salary. 
Which is the more respected personal trainer certification?
Although both NASM and ISSA CPT reviews tend to be very positive., the NASM CPT is the more respected certification than the ISSA CPT. This is because of its NCCA accreditation and high-quality CPT course content.
How much does an ISSA certification cost?
The ISSA CPT costs $799.00.
How long does it take to become an ISSA-CPT?
Typically, students in the ISSA CPT program will spend roughly 8-10 weeks. However, you will have a full calendar year before you must take the exam.
Do gyms accept ISSA certification?
Gyms and most health and fitness clubs will accept ISSA CPT certificates. Keep in mind that it is not accredited by NCCA and that you may want to look into obtaining ISSA's free NCCA accredited exam. Employers respect NCCA accreditation a whole lot more!
Is NASM a good certification?
NASM is considered the best fitness trainer certification program in the fitness industry.
How long does it take to get NASM certified?
Students in the program will generally take approximately 120-180 days.
How much does it cost to get NASM certified?
Students in the NASM CPT program will have four options to get NASM certified. The Self-Study option costs $799.00. The Premium Self-Study costs $1099.00. The Guided Study costs $1124.00. And finally, NASM's All-Inclusive program costs $1539.00.
ISSA vs NASM?
Decisions, decisions…
Picking the best personal training certification can be tough!
Both NASM and ISSA are great options. Each has its strengths as well as its weak points.
In an overall sense, we rate NASM just a bit higher than ISSA. It may have certain aspects that lag behind,
But at the end of the day, it's the certified personal trainer certificate that will get you through most doors and earn you the most money.
That being said, it's always good to look at your options. In order to help you with that we also have articles comparing ISSA vs ACE, NASM vs ACSM, and NASM vs NSCA. Each of these organizations have their own pros and cons and we want to help you make an informed choice so you can have a good personal trainer career outlook and a wealth of knowledge for the future.