Hey everybody, and welcome to yet another Trainer Academy certification review.
Today our focus is on the National Strength and Conditioning Association's Certified Strength and Conditioning Coach (NSCA-CSCS) certification.
What is CSCS certification?
In this article, you'll learn:
CSCS certification requirements
Cost and quality of CSES study materials, CSCS exam study guide, and CSCS PT exam
CSCS salary
CSCS careers
CSCS continuing education
Also, we threw in some descriptive insight as well as some statistical data so that you can gain a well-rounded picture of what you're dealing with.
We highly recommend that you take our helpful quiz to find the best personal trainer certification for you.
So with that said, let's jump straight into the details.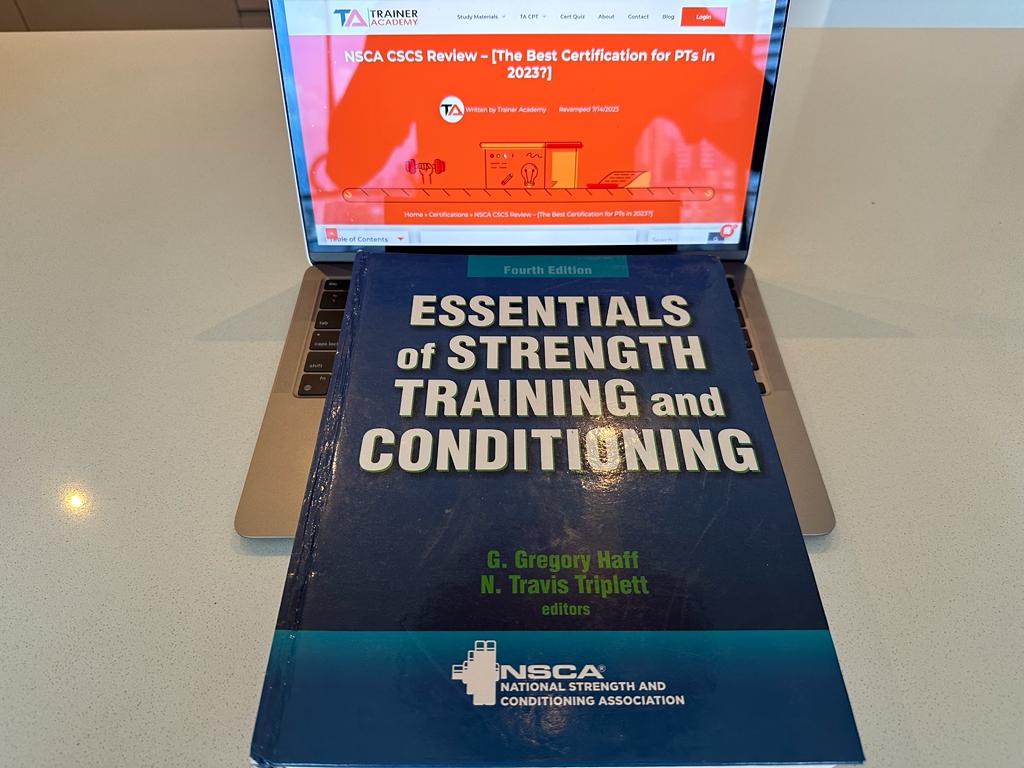 Exclusive TA Offers



Most Popular Cert

Great Option

Best Cert for you?

Good Option

Good Option

Good Option

If you don't already know, NSCA is one of the longest-standing certifying agencies around.
Unlike many of the ones you'll encounter, the NSCA, short for National Strength and Conditioning Association, is a non-profit organization.
That means their entire operation is based on furthering research and education in the fields of sports science, health, and fitness.
It was founded in 1978, at a time when sports science was beginning to tap into new levels of research and knowledge.
Today, it is one of the gold standard certs and has an impeccable reputation amongst qualified trainers and the industry as a whole.
As for the CSCS (Certified Strength and Conditioning Specialist) program, it is one of the most highly regarded specialist qualifications in the industry.
This isn't your typical personal training certification, it is aimed at equipping top-tier trainers with the knowledge, skills, and tools to take unique and challenging situations.
This usually means working in the high-performance field with elite professional athletes.
To this end, the CSCS doesn't have your standard prerequisites.


You will need to have a bachelor's degree in a sports science program or related program to qualify for entry into the CSCS program.
If you are considering this as an option, we can assume that you're no mere fledgling trainer and are dedicated to a serious commitment in the field of elite fitness science. If you want to have the tools to learn how to become a strength and conditioning coach, this is one of the better options.
Accreditation is an essential consideration to look at when you are becoming a personal trainer or an athlete coach.
You want to have a certification that has been approved by a recognized national authority.
When it comes to health and fitness certifications, there is one gold standard, and that is the NCCA, or National Commission of Certifying Agencies.
It is essentially a certification for certifications.
Run by a panel of experts and leading organizations, NCCA helps you determine the authenticity and quality of a cert through its seal of approval.
Other than providing a show of quality, accreditation also helps you avoid many of the scam courses floating around.
You may have stumbled upon ads and banners on the internet and social media. Ads that advertise online fitness courses with a guaranteed pass and certification within 24 hours in some cases.
These are simply cash grabs, and even in cases where they might provide a reasonable degree of fitness-related knowledge, they typically have no industry recognition.
That means you're simply wasting your time and money when you go for a non-accredited course.
With that said, the NSCA CSCS is indeed one of the NCCA accredited certifications.
There are other notable certifying bodies that are highly recommended also in terms of strength and conditioning certifications.
Click the links to get more info on them
Exclusive TA Offers



Most Popular Cert

Great Option

Best Cert for you?

Good Option

Good Option

Good Option

The next important aspect you will need to consider when registering for a cert is how much it costs.
In the case of the CSCS, the cost can be a bit tricky to figure out.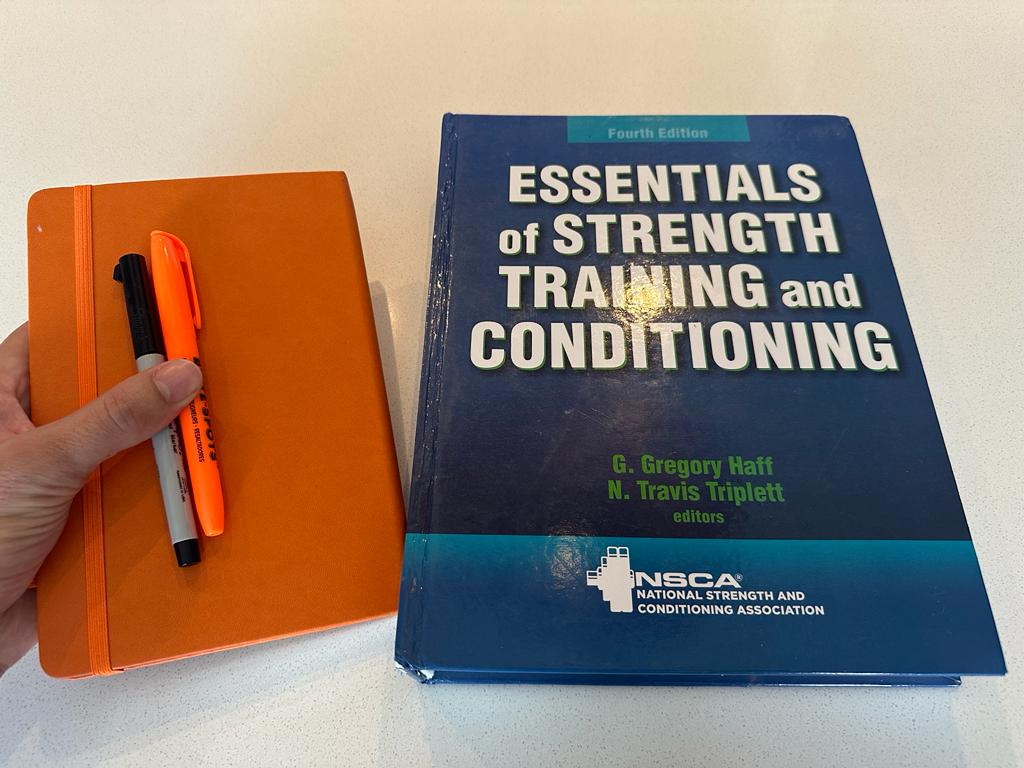 Firstly, when it comes to NSCA programs, you're only paying for the exam registry. This excludes any study materials which you will need to buy separately.
Secondly, the cost you will ultimately deal with depends on whether or not you are a member, which itself comes with an additional annual fee.
Let's see how it all breaks down:
| | Member Fee | Non-Member Fee  |
| --- | --- | --- |
| Registration Fee | $340.00 | $475.00 |
| CSCS Essential Package | $258.00 | $313.00 |
| CSCS Essential Plus Package | $472.00 | $532.00 |
| CSCS Digital Package | $162.00 | $215.00 |
From this, we can see that NSCA CSCS has some very competitive pricing on its complete packages.
The most you can pay for an exam registry and top-tier study package (essential package) is $788.
Get updated with the latest deals on NSCA CSCS by clicking the link here.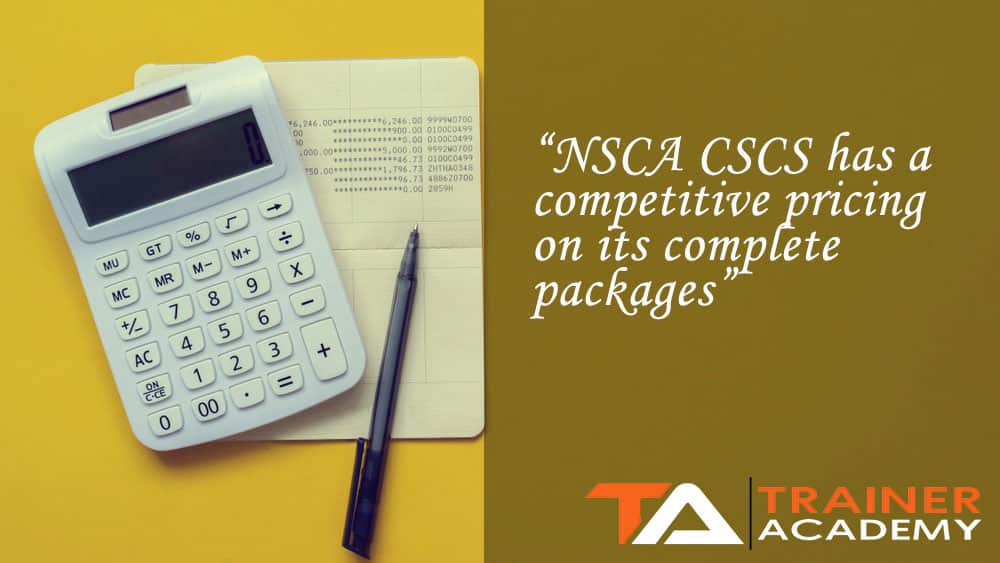 To put that into perspective, the NASM CPT certification on its lowest tier would go for $799.
You're paying less for a qualification that allows you to train athletes than you would pay for one that just allows you to be a gym trainer, pretty sweet.
The three study package tiers come down in price when membership is at play.
Let's see what being a member actually costs:
| Type of Membership | Cost Per Year |
| --- | --- |
| Student Membership | $65.00 |
| Professional Membership | $120.00 |
| CPI Membership | $349.00 |
Note that these are annual fees, so membership can be a great deal if you consider the savings as well as the access to awesome resources.
Members get not only a discount on the test but on CEUs as well.
Quality of Study Materials (1-10)
Now that we know how much the stuff costs, let's look at the nuts and bolts of the study materials.
These include online practice exams with detailed answer explanations, online study guides, and CSCS books.
While the practice questions are very helpful, the most important book to review is NSCA's Essentials of Strength Training and Conditioning 4th edition.
You also want to review the NSCA exercise technique manual and sport psychology section.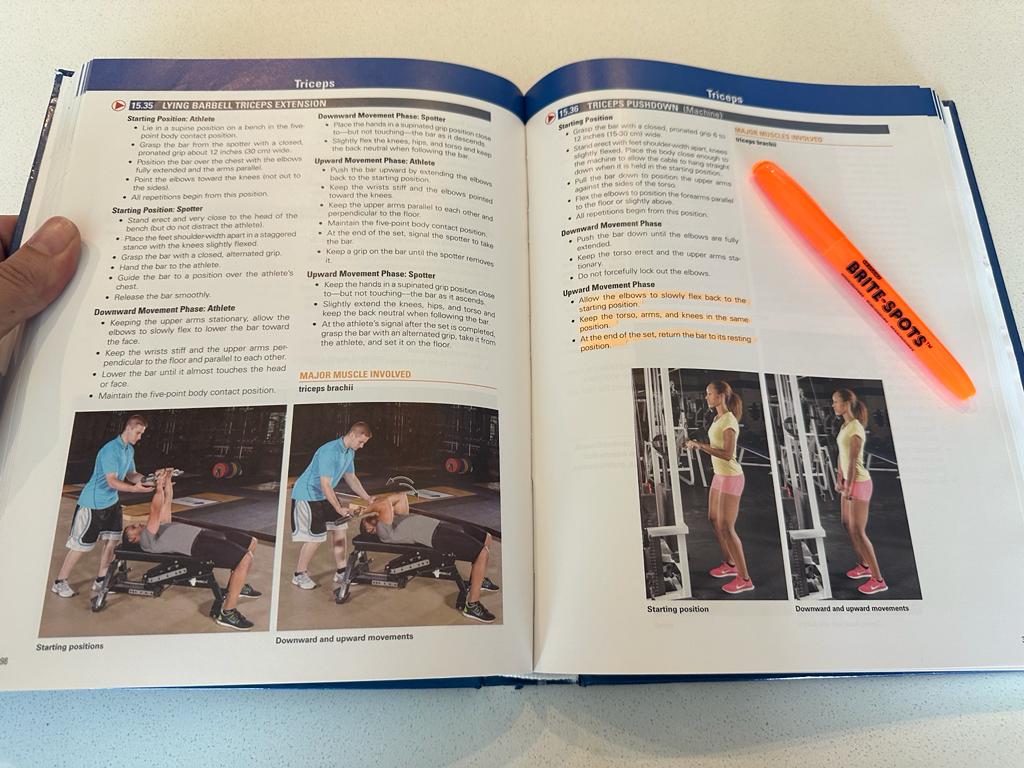 Students can purchase the NSCA CSCS study guide on Amazon if need be.
Also, you know you can access a CSCS practice exam free, right?
Well, now you do!
The NSCA CSCS practice exam is a great way to increase the chances of passing your CSCS exam. We also have some great free CSCS study materials.
With the exam registration out of the way, you will have three separate study packages available, which include the CSCS Digital Package, CSCS Essential Package, and CSCS Essential Plus Package.
Let's explore what each one includes:
| CSCS Digital Package | CSCS Essential Package | CSCS Essential Plus Package |
| --- | --- | --- |
| CSCS Study Guide | Essentials of Strength Training, 4ed | Exercise Technique Manual, 3ed |
| More than 200 Online Practice Questions | CSCS Study Guide | Essentials of Strength Training, 4ed |
| | More than 200 Online Practice Questions | CSCS Study Guide |
| | | More than 200 Online Practice Questions |
| | | And More!  |
We know what you're thinking, that these study packages are pretty bare bones.
The first tier doesn't even include the textbook!
But what you have to remember is that this is a cert for established trainers, ones who have college degrees and a few years under their belt.
The need for a hefty suite of support materials should not be necessary once you've achieved the level and credentials that even allow you to take this exam.
And the price you will pay is reasonable considering all this, especially with membership perks included.
In any case, we can objectively say that the study material options you can get for the NSCA CSCS are a bit lackluster in terms of quantity and variety.
We would like to imagine there would be a bit more academic support, even without membership privileges for a potential candidate.
As you will soon learn, the CSCS is one of, if not the hardest exams you can take for certification. The information and content NSCA covers includes a lot of topics and great detail.
To make the exams easy to pass, Trainer Academy has its premium MVP study packages ready to give you an exam pass guarantee.
Using the study techniques such as spaced repetition flashcards, mnemonics, and practice test questions to help you learn at your pace and reduce your study time by 50%.
Make use of the link here to access the NSCA CSCS MVP study package.
We also have free guides if you pick the NASM or ACE CPT, like a ACE study test and ACE practice test, along with a NASM practice test and free NASM study guide.
Exam Layout and Passing Grade
The Pearson Vue CSCS exam is structured in a sort of unique way. Here's the basic NSCA CSCS exam info for you.
The NSCA CSCS exam is divided into two sections, which people have to pass individually to achieve an overall pass.
This essentially makes it two exams in one, or rather, two subtests that constitute one exam.
The exam's sections represent the two fundamental aspects of being a professional fitness coach, Scientific Foundation, and Practical/Applied.
The scientific foundation assesses a candidate's knowledge of the theory and concepts that govern human physiology as it relates to physical or athletic performance.

The total number of test questions is 220.
110 of these are found in the Practical/Applied section, while 80 are in the Scientific Foundation Section.
The remaining 30 are non-scored questions spread evenly across both sections.
These questions are included to assess their viability for future iterations of the CSCS exam. They are not easy to identify, so do your best to answer all the questions if you want to ensure success.
As you would expect, the exam sections each have areas of focus, and these are weighted according to relevance. Let's take a look, shall we?
| Section 1: Scientific Foundation | |
| --- | --- |
| Domain   | Weighting  |
| Exercise Science | 55% |
| Sport Psychology | 24% |
| Nutrition | 21% |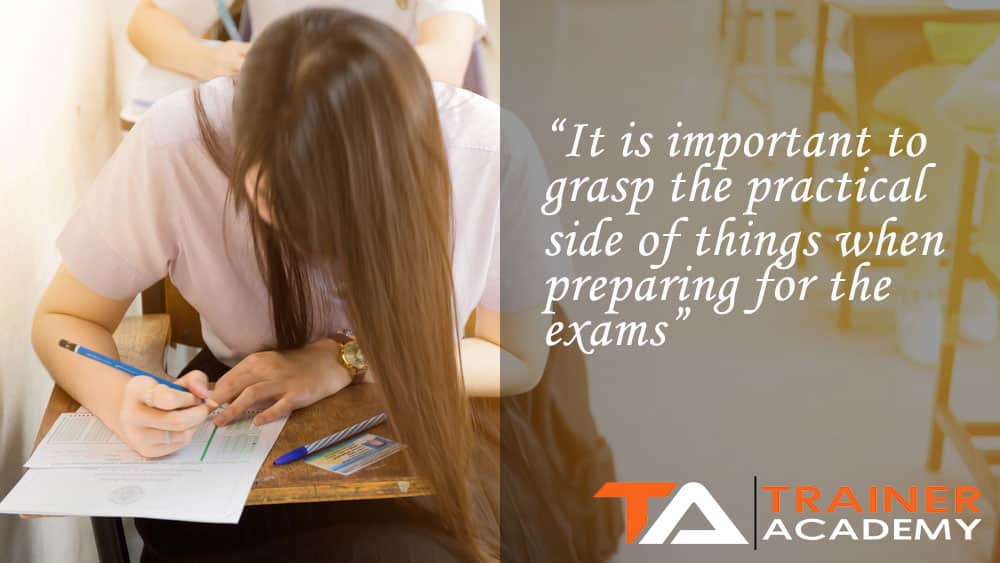 | Section 2: Practical/Applied | |
| --- | --- |
| Domain   | Weighting   |
| Exercise Technique | 36% |
| Program Design | 35% |
| Organization and Administration | 11% |
| Testing and Evaluation | 18% |
As you can see, the two sections deal with the two halves of the fitness prescription whole.
In our opinion, the most important aspect to grasp is the practical side of things. The scientific theory is important too, but can easily be back referenced and brushed upon as you work in the field.
The CSCS has decided that the best approach towards proper assessment is to address both areas of learning, but they have placed priority on the Practical/Applied section, and rightfully so.
The entire test is 3 hours long and runs through a PSI test facility of your choice upon registering or via remote live proctor if you choose to do it online, similar to the NSCA CPT exam.
I'll advise you to take advantage of the free NSCA CSCS study guide and practice test to get familiar with the exam structure and stay on track with your exam prep.
Exam Difficulty and Pass Rate
Now here's where things get interesting. The NSCA CSCS exam difficulty is one of infamy. It is known as the toughest test in fitness certification.
Aside from being tough to prepare for, skimping on offered study resources, it is long, intricate, and tricky.
It is designed to separate the wheat from the chaff and does so effectively.
That's why CSCS certified trainers are amongst the most sought-after in the industry.
As mentioned above, each question on the final test is multiple-choice, and you must get a passing score on both sections to pass.
Despite its notoriety as a difficult cert, it has bumped up in pass rates as of writing.
From a CSCS pass rate that hovered in the mid 50% range, we now have a pass rate of 63%.
This still makes it pretty tough, but much more manageable–still tougher than a cert like the ISSA CPT.
We find the overall difficulty to be necessary since the aim of a CSCS certified instructor is to work with very sensitive population groups.
The barrier of entry, therefore, translates into good quality professionals entering the field.
Since failing the CSCS exam is a very possible reality, you will need to strongly consider your options in case you do fail.
Luckily, just like any other certification, the CSCS has a retake policy.
If you fail, you will need to wait 90 days before you can retake the exam.
This cool-down period is set to allow you to prep for the exam retake adequately.
As we mentioned, the CSCS exam is divided into two individually scored sections. That means you might pass one section and fail the other.
You will need to pass both, but if you happen to fail just one, the passed section will be maintained as successful, meaning you will just need to retake the failed section.
The retake fees are quite prices compared to what most certifications charge for retakes.
Below is a breakdown of what you will need to fork out should the situation arise.
| | Member | Non-Member |
| --- | --- | --- |
| Cost for Two Sections | $340.00 | $475.00 |
| Cost for One Section | $250.00 | $385.00 |
So in conclusion, you really don't want to fail this exam, the odds are fairly high, so your best bet is to make 100% sure you're ready to the best of your abilities.
Here at Trainer Academy, we've got you covered with some premium study materials that will give you a serious edge in passing this challenging paper.
It's totally your call, but given the bare-bones nature of what NSCA provides in terms of study materials, we strongly recommend you get yourself some expert assistance from others who've already conquered this beast.
Click on the NSCA CSCS MVP study package link here.
The NSCA CSCS is a very sought-after certification for top-tier trainers or those with lofty career aspirations.
This however doesn't translate into massive popularity.
That's because the majority of personal trainers are just that, personal trainers.
The CSCS is aimed at and designed for fitness practitioners in the realm of elite performance prescription.
The strength and conditioning coach job description, after all, does come with a higher level of education required.
The prerequisite of requiring a college degree also limits the enrollment pool quite considerably.
In comparison to other certs such as the NASM or ACE CPT, with yearly enrollments in the tens of thousands, CSCS comes in with just 1344 candidates according to 2019 figures.
You also need to remember that the NSCA CSCS is a specialist cert, it's not a generic PT certification, so the popularity will be much lower regardless of the entry barriers and difficulty.
This places the cert in a unique position of being super famous and reputable within the industry, but also relatively unpopular with trainers seeking credentials.
We say go for it!
If you have all the prerequisites in place and have a passion for focused sports science service delivery, it will certainly place you head and shoulders above most of your peers, although many trainers will find they also want a nutrition certification to augment their fitness knowledge as well.
Kickstart your personal training career by clicking the link here.
The amount of study time you will realistically need and the amount you will be allowed vary in most cases.
What you are allowed is squarely based on the enrollment period.
This is the amount of time from registration that you are allowed to prepare before you actually have to sit and take the exam.
In the case of the CSCS, the enrollment period from exam registration is 120 days. That's roughly 4 months!
4 months is much lower than many certs will allow, which typically ranges from 6 to 12 months. How long to become a personal trainer varies depending on study habits and so will the time to become a strength and conditioning specialist.
In any case, with adequate preparation and good time management, it shouldn't take you more than 3 months to be test ready.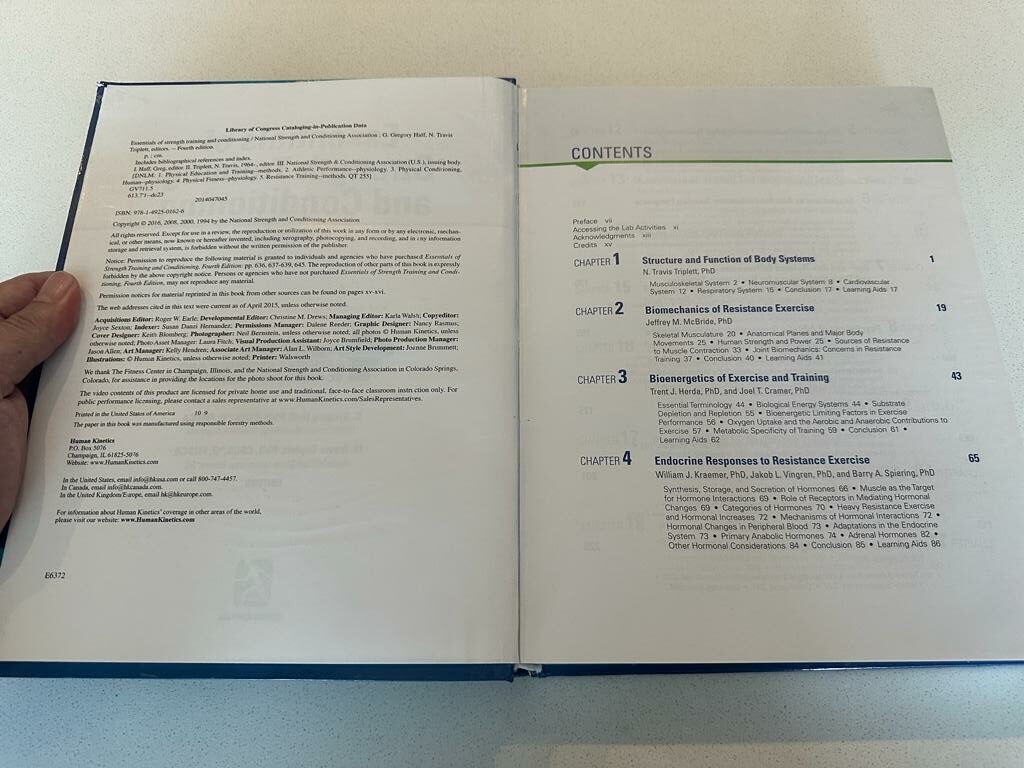 This of course depends on your time management skills and study dedication.
Many factors can affect this including ongoing commitments and emergencies.
That's why we've developed a full-proof Study Blueprint that you can use to structure your study commitments around your existing schedule and any unforeseen events.
You can grab your Trainer Academy study pack here by selecting the NSCA CSCS MVP package to gain access to the Study Blueprint and cram guide, guaranteed to shorten your study time considerably.
As you might imagine, with the level of experience, the career angle, and the nature of credentials a CSCS certified trainer would carry, the average income figures are considerably high.
The annual average income for a CSCS certified coach is $57,866/year.
The income stats go up as high as $90,000.00 and as low as $40,000.00 annually.
This means that even at the lowest end, the income figure of a CSCS trainer contends with the annual average personal trainer salary from recognized organizations like ISSA or NASM.
This high-income stat could also have something to do with the fact that CSCS trainers hold a college degree by default.
Having a degree has been statistically shown to boost trainers' potential income. In fact, trainers with degrees are the top income earners.
The CSCS income statistics we've presented might simply be a reflection of this, but having this certification is certain to open up more doors for a higher earning potential in our estimation and a higher strength and conditioning coach salary.
Another potential reason behind these stats is the fact that a college degree typically means the financial resources a trainer has to obtain that level of education, are also inputs towards accelerated career growth versus the typical personal trainer job outlook.
But how to make money in fitness is going to vary from individual to individual so all these figures could be different for you.
Primary Focus Of Certification
Let's give you some background about the CSCS.
Every certification has a niche, even if the end goal is generally the same when it comes to providing health and fitness.
When it comes to it, the name kind of spells it out. Certified Strength and Conditioning Specialist is pretty self-explanatory.
But let's just take a quick second to go into what it's all about so you get a better picture.
The CSCS's primary goal is to equip trainers with the capability to enhance performance, recovery, and injury prevention in athletic population groups.
This may be at an amateur or professional level, but as long as elite performance is involved, CSCS serves to provide adequate training, to help teach the newest wave of strength and conditioning coaches.
Exclusive TA Offers



Most Popular Cert

Great Option

Best Cert for you?

Good Option

Good Option

Good Option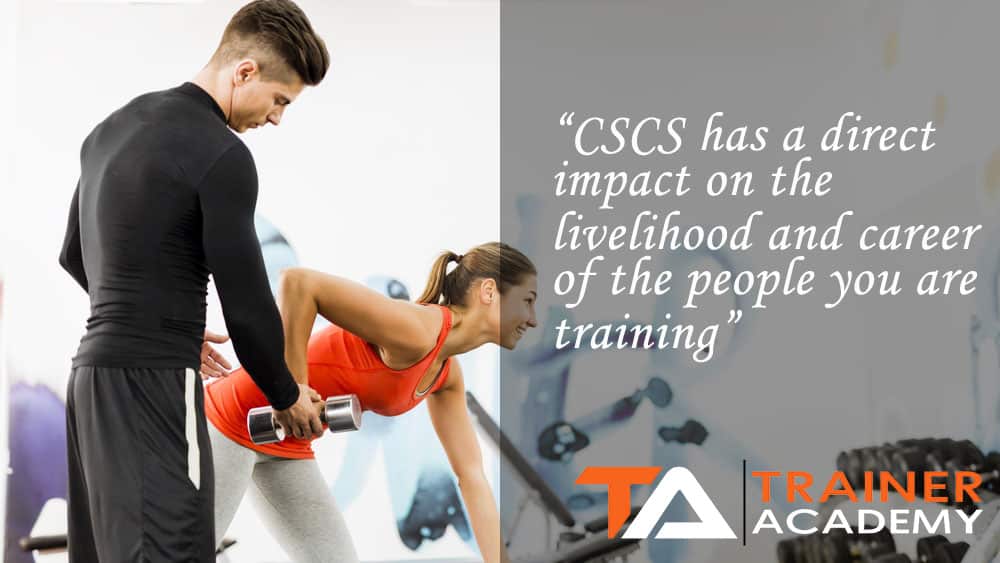 This is the main reason why a degree is required as a prerequisite. Unlike your run-of-the-mill CPT cert, this specialist field has you dealing with people's livelihoods and careers.
The way you train these clients directly influences their ability to make a living.
And when it comes to big sporting leagues such as the NFL or NBA for example, there is a lot more at stake than athlete salaries. You are there to help the team thrive.
Your ability to deliver effective performance-enhancing protocols can have an impact on entire businesses, and even affect the culture and pride of an entire nation! Just let that sink in.
The CSCS teaches individuals detailed subjects like programming guidelines, the role of the strength coach, the science behind weight lifting, and much more.
Each of these topics should prepare you to be ready to enter the fitness industry with the prerequisite knowledge.
You must anticipate the needs of athletes. That requires specificity. Sports like sprinting, rowing, bodybuilding, powerlifting, and crossfit all need various preparation phases and phases of training. Each workout needs a purpose as part of an athlete's development.
In addition, coaches need to be able to balance sports-specific practice with strength and conditioning exercises in the training cycle.
But that's the focus of one certification. What about the NSCA as a whole? How do they position themselves?
NSCA seems to have a strong leaning towards the fundamentals of exercise, both from a theoretical and practical perspective.
That means the organization is focused on providing meaningful insight into sports sciences as it applies to fundamental biomechanics.
As an NPO, they are a research forward institution which is why the NSCA network is comprised of leaders in the field of sports science and sports medicine as it relates to exercise mechanics, professionals with careers in exercise science.
This take is aimed at enhancing general lifestyle goals such as corrective exercise, injury rehab, and independent longevity as well as more specialized goals such as athletic performance. If you are interested in how to become a nutrition coach with an eye towards athletic performance, you may want to also consider a sports nutrition certification as a resource.
As you might know, getting certified isn't a one-off affair. Your certification kicks at the moment you pass your exam, but from there, the clock starts ticking towards its expiration.
You will need to recertify every couple of years or so. Keep that in mind.
This is done to ensure you keep ahead of the curve in terms of best practices as a trainer as well as research and trends.
Many certifications require renewal after a period of two years.
In the case of the NSCA CSCS, renewal happens after 3 years, giving learners enough time to prepare for the recertification.
Another standard consideration with recertification is the CEU requirements.
Continuing education units are time-measured credits that indicate that you have kept up with training and educating yourself in the relevant field.
The CSCS CEU requirements are 6.0 credits, which amounts to roughly 60 hours' completion.
This is a considerable amount of credits to have to rack up compared to other training courses which ask for 20 hours in most cases.
It does however, make sense considering the specialist nature of the NSCA CSCS and also on account of the fact that it's a longer recertification period.
NSCA provides plenty of CEU opportunities through approved credit providers. You can check them out on their company website. We recommend getting a head start on your recertification because often life events happen and 3 years can go by in the blink of an eye. 
The pros and cons box are below:
What we liked:
Highly respected certification
Great certification for working with athletes
Great NSCA membership benefits
Opens the door to a very lucrative career
Opportunities to earn CEUs
Online options
NCCA accredited
What we didn't like:
Pricey retake fee
63% pass rate
A college degree is required for most higher-paying jobs
Frequently Asked Questions (FAQs)
What is a CSCS credential?
The CSCS credential stands for Certified Strength and Conditioning Coach. The CSCS program equips CSCS personal trainers to work in the sports performance field with elite professional athletes.
How do you qualify to get a CSCS certification?
In order to become eligible for a CSCS certification, you must meet CSCS requirements. These are as follows: have a bachelor's degree in exercise science or a related field, have experience with CSCS personal training, and successfully pass your CSCS certification exam.
What can you do with a CSCS certificate?
If you have a CSCS certificate, you may be able to work among high-performance, professional athletes. You may also be able to find other jobs for CSCS certification, such as in universities or colleges and in high schools.
How much can you earn with a CSCS certification?
Your income as a CSCS personal trainer depends on many things. Your level of education, experience, location, place of employment, full-time versus part-time status, and other credentials and certifications are all factors that influence the amount of money you earn.
Is the CSCS a good certification?
If you desire to work among athletes to improve sports performance, then yes, the CSCS is definitely a good certification! If your primary focus is just to train general populations, then you'd be better off pursuing a CPT than being a NSCA certified strength coach. 
What is the difference between CSCS and NSCA-CPT certification?
While the CSCS, or Certified Strength and Conditioning Coach is mainly geared toward working with athletes to improve sports performance, the NSCA-CPT is more geared toward working with general populations.
How long does the NSCA CSCS certification last?
Your NSCA CSCS certification will last for 3 years. Be sure to keep up with your CEUs in order to remain certified! Anyone can do this by taking online courses, attending seminars, webinars, and even live clinics. NSCA has hundreds of CEU opportunities each year, so this shouldn't be a problem for you if you don't slack on it. 
Do you need a degree to be a CSCS?
Yes, in order to be eligible for a CSCS personal training certification, you are required to have at least a bachelor's degree in exercise science, kinesiology, or a related field. Originally, you just needed to have a bachelor's degree in any field, but everything has changed recently with the new requirement. 
What is a certified strength and conditioning specialist?
A certified strength and conditioning specialist is a fitness professional who works primarily with athletes in universities, high schools, or elite professionals to improve their sports performance and help prevent injury.
How long should I study for the CSCS certification?
If you are wondering how long you should study for your CSCS strength and conditioning certification, it's however long YOU feel you need to study before you are ready to take the exam. Once your understanding of the text is complete, and your answers line up with the practice test, schedule your exam. Though make sure that it is within the given period of time you have before you must test.
What does CSCS stand for in physical therapy?
In physical therapy, CSCS also stands for the certified strength and conditioning specialist. Some physical therapists may have CSCS certification.
The NSCA CSCS is a prime example of shooting for the top.
It is designed and designated for elite trainers who want to deal with elite athletes. The principles you will learn can be applied in a general sense, but what would be the point?
Before taking this course, it is advisable that you clearly map out your career objectives. We would imagine you have based on the entry criteria and prerequisites.
We give the CSCS high ratings for all the above reasons mentioned in the article, but it's not for everyone. That's why we cover each strength and weakness of every certification, so you can make the right choice.
The NSCA CSCS is totally worth it if you are looking at an illustrious career in athlete management that will take you through some unique and interesting milestones.