Hello everyone, and welcome to the Trainer Academy NASM vs. ISSA Comparison Article.
This is going to be a general overview of the pros and cons of the two nutrition certifications from both ISSA and NASM, which are considered two of the best fitness organizations.
Throughout this article, you will learn:
General Nutrition Certification Knowledge
The Study Packages Offered By Both Organizations
An Evaluation Of The Quality Of Study Materials
The Answers To The Most Frequently Asked Questions
Both of these organizations are excellent choices for your career in fitness, but if you happen to be on the fence between these two, you will surely be able to decide once you have read this article.
We highly recommend that you take our helpful quiz to find the best nutrition certification for you.
Let's dive in and see what these two certs consist of!
CPT
ACSM vs ACE Quick Breakdown
Features
Price
ISSA Nutritionist

Best online certification organization
Unlimited retakes for exam
Excellent nutritional information
Great CEU opportunities
Good support services
Textbook feels a bit dated

View on the ISSA website
NASM CNC

The most popular and recognized certification providers in the world
Excellent cutting-edge knowledge
A good match-up with the CPT cert
Great for newcomers and seasoned professionals
You have to re-take exam every two years

View on the NASM website

ISSA Nutritionist
Exam cost: $799 (with study materials)
Study Material Cost: $799
Prerequisites: High School Diploma, CPR/AED Certified
Exam Passing Score: 75%
Exam Pass Rate: 70%
Average Completion Time: 2-4 months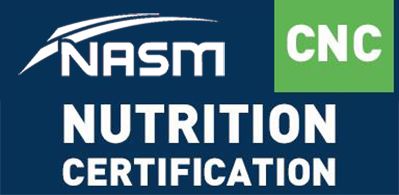 NASM CNC
Exam cost: $599
Study Material Cost: $539-899
Prerequisites: High School Diploma, CPR/AED Certified
Exam Passing Score: 70%
Exam Pass Rate: 64%
Average Completion Time: 1-3 months

Trainer Academy Guides
Complete, efficient study system
Audio guide, flashcards, and mnemonics
850+ practice questions
99% pass rate
Exam pass guarantee
Affordable

Provider Materials
Curriculum study preparation
Includes text, graphics, and videos
200+ practice questions
No exam pass refund guarantee
$799 for ISSA starter package
$539-899 for NASM starter package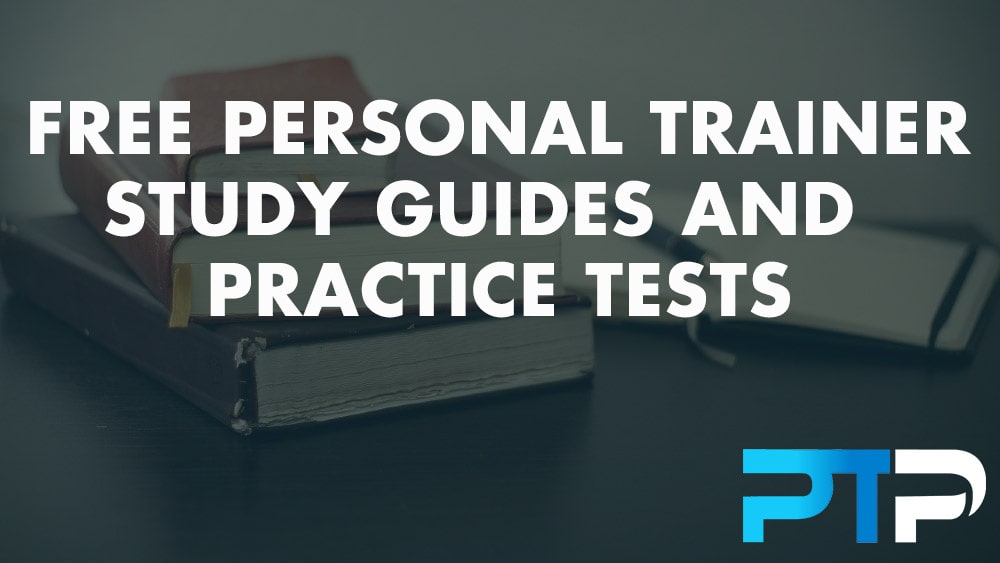 Free Study Guides
Curriculum material overview
Complete chapter breakdowns
60 practice questions
130 flashcards
Exam cheat sheet
Free from PTPioneer
Exclusive TA Offers



Most Popular Cert

Great Option

Best Cert for you?

Good Option

Good Option

Good Option

What is a Nutrition Certification?
Nutrition certifications can be a stand-alone certification or, as is much more common, it goes along with one of the many personal training certifications in the fitness industry on the road to becoming a personal trainer.
If you are in the first category and seeking to learn how to become a nutrition coach as a main career then know that ISSA and NASM are excellent choices and you can achieve other fitness certs with the same companies later on.
If you are in the second category, then it is good to know that Nutrition Specialization is the most popular specialization for current personal trainers in their exercise science career. It is also the most popular addition to bundles for certifications, with the second most popular option being health coach certs.
Specialization in nutrition can help answer many of the important questions that clients have for their personal trainers. You will be able to improve your nutritional advice and the results your clients inevitably achieve.
All of these improvements lead to better training and an increased salary for nutrition coaches and personal trainers.
In a nutrition certification from NASM and ISSA, you will expand upon the nutrition foundations touched on within the certification for personal training offered in these two organizations.
Both NASM and ISSA offer NCCA Accredited certifications, which speaks to the level of quality in research and presented information throughout their materials.
This review for the nutrition certifications is similar to the Certification for Personal Training ISSA vs NASM review. The ISSA CPT and NASM CPT are some of the best options for personal trainers.
Combining certs is one of the easiest ways to immediately earn more income and train more clients.
If you are able to give someone both a nutrition program and a workout program to follow, that's automatically more work for you.
Then, when you apply to work at a gym you are more of an attractive candidate than someone with just one cert, because you are more qualified to work in multiple areas of fitness.
Over time you will also be able to raise your rates once clients realize the high level of quality you can provide for them in terms of comprehensive coaching.
In addition to these benefits, both ISSA and NASM have great deals when it comes to getting both CPT and nutrition certifications at the same time.
ISSA's buy-one-get-one offer basically gives you the other certification for free as it's only $828 for both, the best combo price-wise. Run over to their website to make sure the offer is still around because sometimes these quality deals have an expiration limit.
NASM's nutrition coach and personal trainer certification combination is currently $999, which is good value, although it is a bit more than ISSA.
You could also compare NASM vs ACE if you want to add another great organization to see how it differs.
Let's look at the basics for these two great organizations before diving into the meat of the versus article!
Organization Introduction
Let's start with ISSA, which stands for the International Sports Sciences Association, and they have had a presence in fitness since 1988.
They currently offer the most fitness certifications and specializations of any of the other primary organizations.
The ISSA has an amazing certification for personal training, as well as many other niche areas for a professional to focus on.
The Nutrition certification from ISSA that we are going to do a deep-dive for is known as the ISSA Nutritionist.
Currently, the ISSA Nutritionist certification is one of the best nutrition certifications that you can strive for, and its most direct competition is from the NASM.
NASM stands for the National Academy of Sports Medicine, and they are a top fitness organization that was established one year earlier than ISSA in 1987.
NASM is most known for its personal training certification but also has a great reputation with specializations like nutrition, performance enhancement, and corrective exercise.
The Nutrition certification from NASM is titled NASM-CNC, or Certified Nutrition Coach.
The CNC is a gold-standard nutrition certification for most of the industry, so it is a good idea to compare the other top certification.
Next, let's dive in and check out the packages more closely with their prices.
Some of the decisions for specialization will come down to which organization costs the least or what they may bundle together with the desired certs.
Both of these organizations offer great value, but which one is best?
Let's dive into the start of our more direct comparison to see!
Let's start by looking into the cost of the ISSA Nutritionist and some popular bundles from ISSA.
If you want to just purchase the ISSA Nutritionist Certification, then a stand-alone purchase would cost $799 without any form of a discount from ISSA. This is a pretty standard nutrition certification price.
This $799 base bundle package for the ISSA Nutritionist includes these materials:
Online Course Textbook
Practice Exams and Section Quizzes
Nutritionist Education Bootcamp
Library of Client Forms
Online and Home Study Exam
Online Student Forum
Free Professional Website
Unlimited Educational Support
The ISSA Nutritionist certification is easy to enroll in, an average cost, and it allows you to study at your own pace.
Many trainers will be seeking out this specialization for their personal training business, but some future trainers may be searching for a bundle of certifications to increase the value and get multiple certifications all in one.
ISSA offers the most value in all certification routes with their bundles. They really choose to stand out in comparison to other certifications by offering the best deals for multiple certifications.
The first bundle from ISSA that could be an ideal group of certs is the BOGO offer for the Certified Personal Trainer Certification and Nutritionist Certification.
You are getting two excellent certifications for the price of one; buy one get one.
The BOGO offer stands at $69 per month for a year or a one-time price of $828.


The second option for an ISSA fitness certification is the ISSA Elite Trainer package, which includes three total certifications, and is actually the most popular option.
The ISSA Elite Trainer: Buy One Get Two offer is the most valuable certification bundle between these two organizations, and it is one of the most popular options throughout the fitness world.
The Elite Trainer Bundle includes the Certification for Personal Training, Nutritionist, and Strength and Conditioning Coach certifications. So, the outstanding ISSA CPT cert along with two of the best specialization options.
The Elite Trainer Bundle: Buy One Get Two costs right at $83.25 per month, or a one-time payment of $999.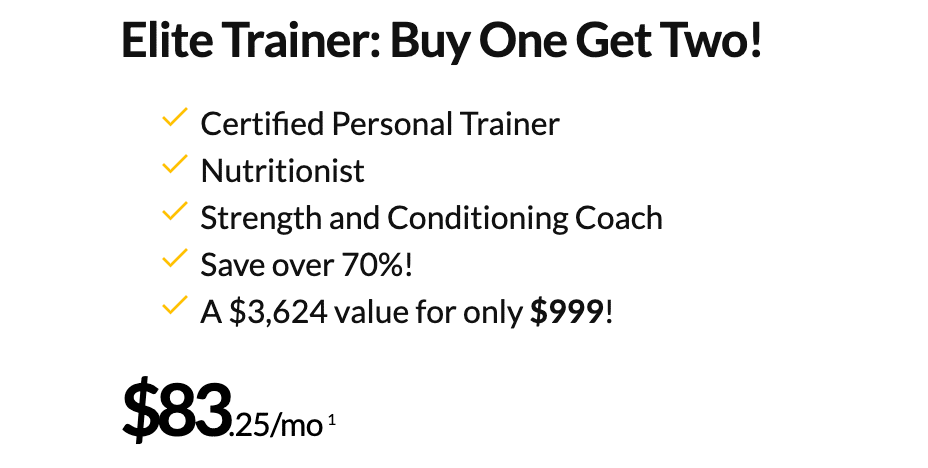 Those are the basic costs of the ISSA Nutritionist and popular bundles, which also include the Nutrition cert.
Exclusive TA Offers



Most Popular Cert

Great Option

Best Cert for you?

Good Option

Good Option

Good Option

NASM and the CNC certification they offer is of outstanding value, and we are going to briefly look at what all a standard package includes along with bundle options.
If you wish to purchase the NASM CNC as a stand-alone certification, then it is going to cost a total of $899 without any existing discounts applied.
The standard Certified Nutrition Coach cert is going to include these materials:
24 Chapter Textbook
Downloadable PDF Textbook
Over 40 High-End Lecture Videos
High-Quality Downloadable templates and Infographics
Knowledge Checks
Chapter Quizzes
Practice Exams
Online Final Exam
High-Quality, Digital Course Portal
For other future trainers, a bundle might be a better option. This is likely for someone who does not yet have their certification for personal training and is searching out all their options for getting into NASM.
Partnering a CPT with a Nutrition cert is, again, one of the most popularly grouped certifications. NASM, like ISSA mentioned before, has a great set of bundles, albeit not quite as cheap.
The first option for a bundle package from NASM is the same type of bundle as the first ISSA one discussed. This is called the Nutrition and Fitness Coach Bundle.
Included in this package will be the NASM Personal Trainer Certification along with the NASM Certified Nutrition Coach.
These two come together for a price of $999.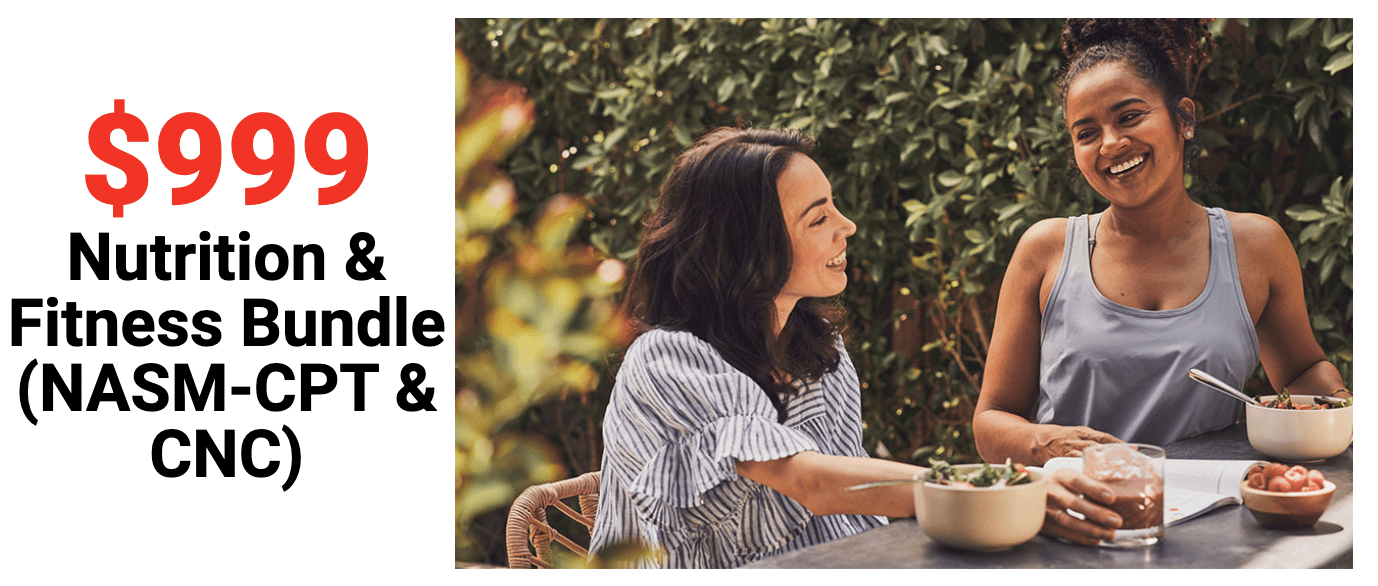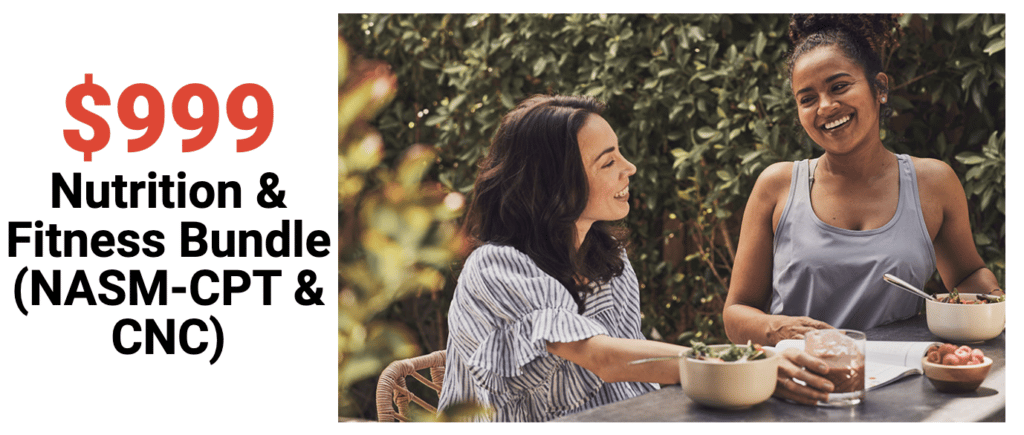 This CPT + CNC bundle above is the more popular option with NASM, but they have other bundle options like their own NASM Elite Trainer Bundle.
The NASM Elite Trainer bundle is different in price and inclusion of 6 total certifications. Included within this are these certifications:
Certified Personal Trainer
Corrective Exercise Specialization
Certified Nutrition Coach
Performance Enhancement Specialization
Behavior Change Specialization
Certified Group Fitness Instructor
This package comes in at $2,999 or $270 per month.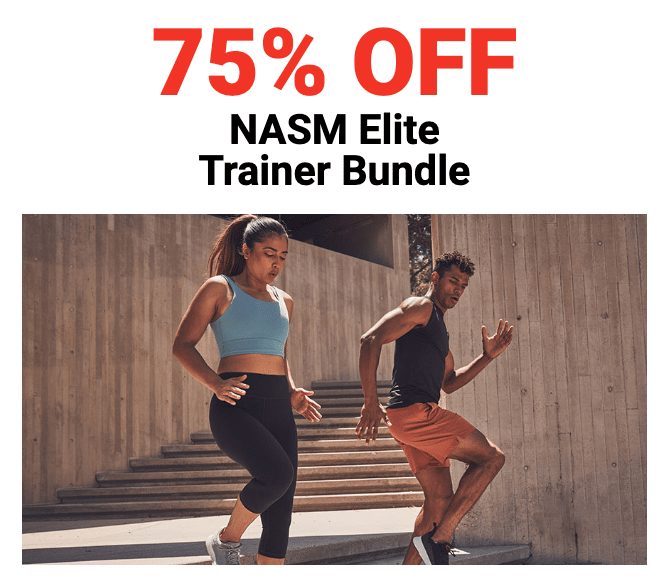 Altogether, these are great certification bundles for anyone that is searching for a path to get into fitness and become successful.
In terms of overall value and from the point of view of many of our readers and studies, ISSA wins when it comes to bundling options.
But, neither of these organizations are slacking in regard to what they offer learners.
Quality of Study Materials
Let's look into the study materials offered and see how the two organizations' materials compare.
ISSA Nutritionist Study Materials
The ISSA Nutritionist course teaches the science of food intake in addition to a deep dive into the aspects of behavior change for clients.
You will learn how to use food as fuel and many of the psychological strategies behind food selection and habits.
A nutritionist has the job of making lasting changes in clients' lives, and this particular part of fitness enhances everything taught in the personal trainer certifications.
The main topics for the ISSA Nutritionist will be:
Macronutrients and Micronutrients
Lifestyle Changes and Strategies
Client Assessments and Goal Setting
Product Labels and Claims
Dietary Guidelines and Applications
Trending Diets and Myths
Supplementation
Business of Nutrition Coaching
There are a total of 18 chapters spread throughout the program in the online format.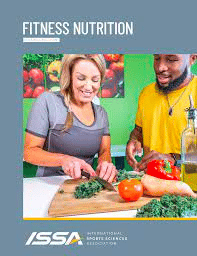 The format of the text is a bit dated compared to their well-done CPT certification, so that is one of the main complaints.
All in all, the text still covers all of the main points of fitness coaching clearly and concisely; it could just be updated to a study portal similar to other programs.
The quality of the assessments, however, is equal to the competitor, NASM.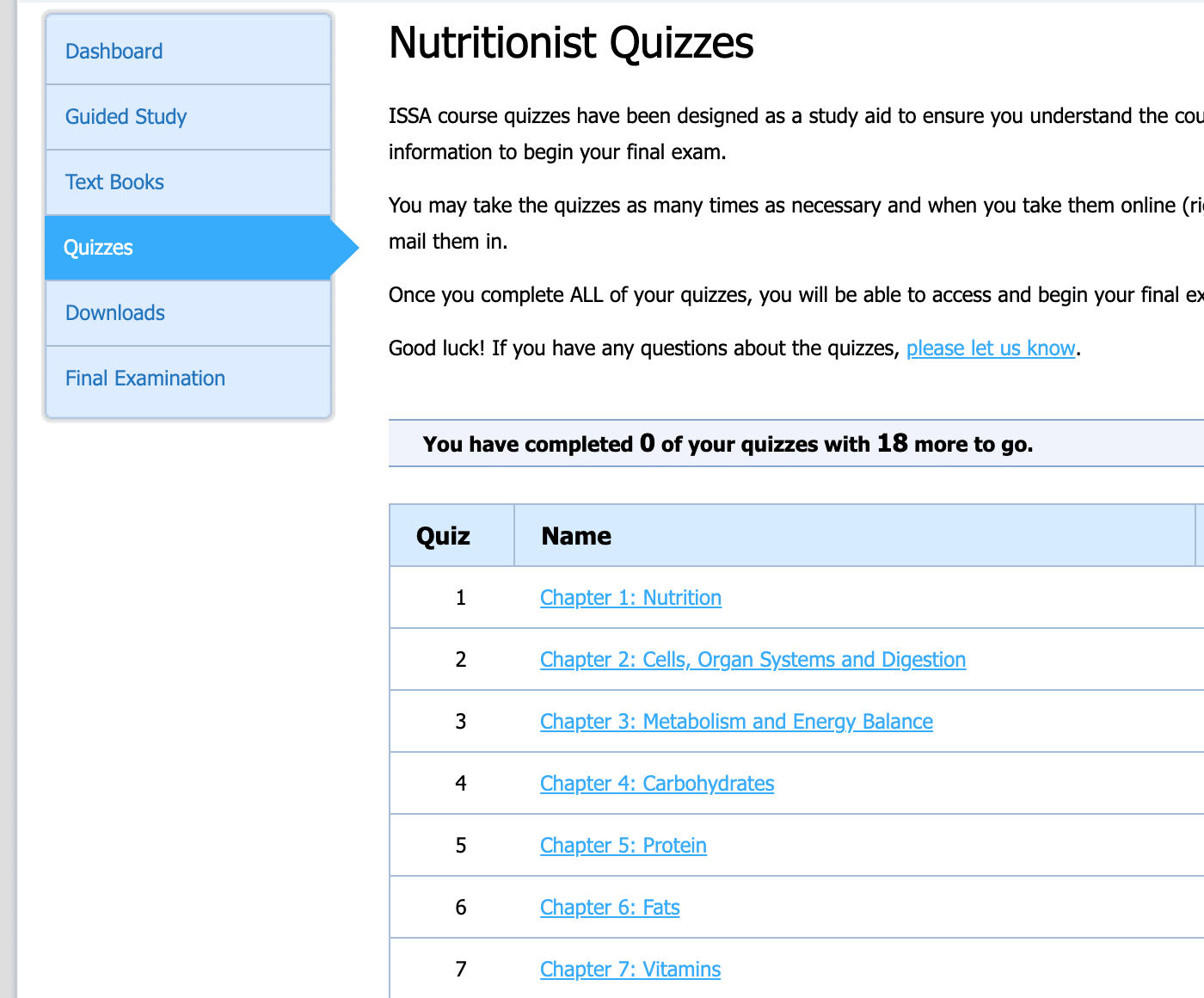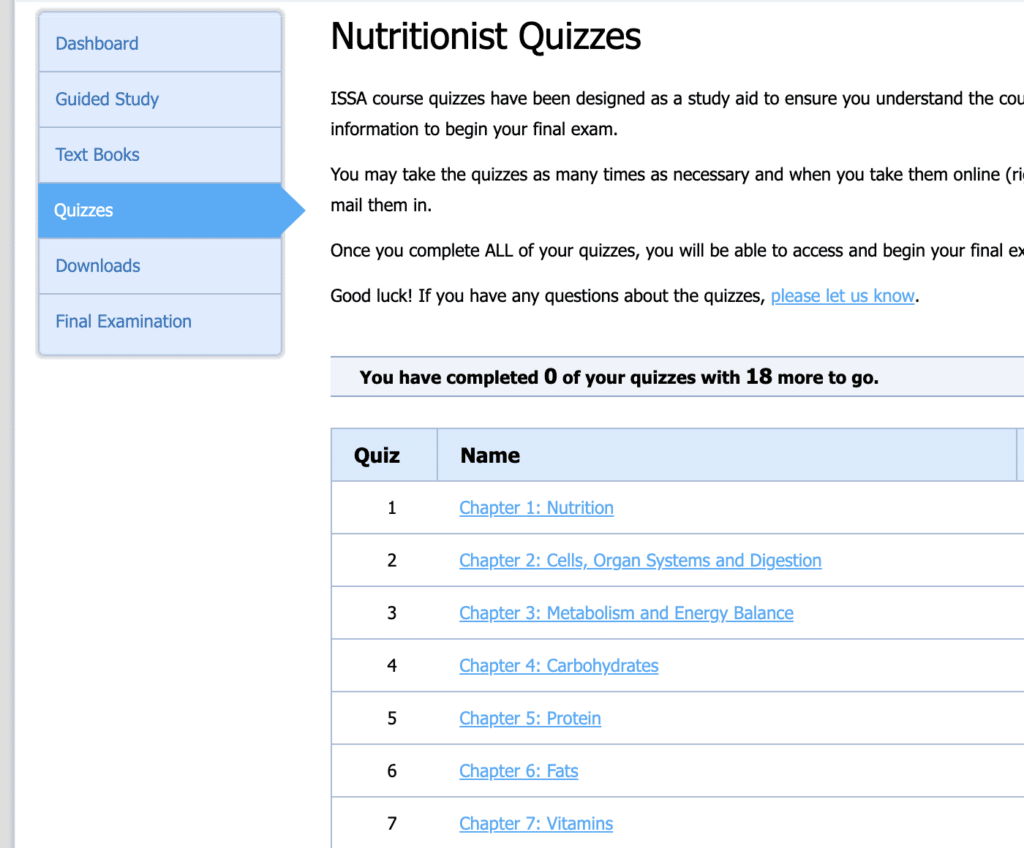 Upon logging in to your study system, you will find all of the quizzes and tests in one section and they perfectly cover the materials in their associated chapter.
A significant standout feature for ISSA is their inclusion of all forms a trainer/coach may need throughout their career, especially when starting out. These are all downloadable and easily utilized in PDF format.
Not all organizations add this handy feature of downloadable client forms, which speaks to the amount of thought for the trainer that ISSA puts in. It is minor in the grand scheme, but it is a significant positive addition.

Other PDF downloads help with small bits of potential topics with clients, such as the micronutrient facts sheet. Definitely a great quick cheat sheet to answer and even hand out to clients when they might need help on their own outside of sessions.
Keep in mind that you also have the ability to take the final exam through the same online portal, which is convenient, but we will have more on that within the exam section.
That wraps up an overview of the high-quality ISSA study materials. All in all, they offer an excellent but slightly dated study portal that teaches all of the valuable information found throughout all nutrition certifications. ISSA also offers some standout downloadable to enhance and kickstart your career once you complete the program.
You can't go wrong with the ISSA nutritionist, but let's see how the direct competitor fairs in comparison.
The NASM CNC helps us as trainers to teach that living healthy is not just about physical activity but that what we put in our bodies and fuel them with is just as important, if not more.
The NASM has spent many years developing its evidence-based certified nutrition coach program, and its materials emphasize this.
This course and its study materials provide a comprehensive nutrition certification that teaches you the facts you need to help clients make real changes that last a lifetime.
The NASM has three main sections of nutrition coaching that they break down. These three sections of the information are:
Nutritional Science
Behavior Change Strategies
Nutrition Coaching
In total, the text has 24 in-depth chapters that make up these three sections.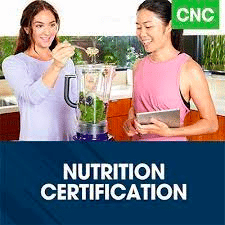 The online study portal from NASM is the best in the fitness industry. It is the most modern study format, hands down, and most organizations are playing catch up.
This is a standout when compared side-by-side to the ISSA nutritionist and how these two organizations handle the textbook when trying to go from section to section.
The ease and fluidity of flying through the textbook are unmatched as of now.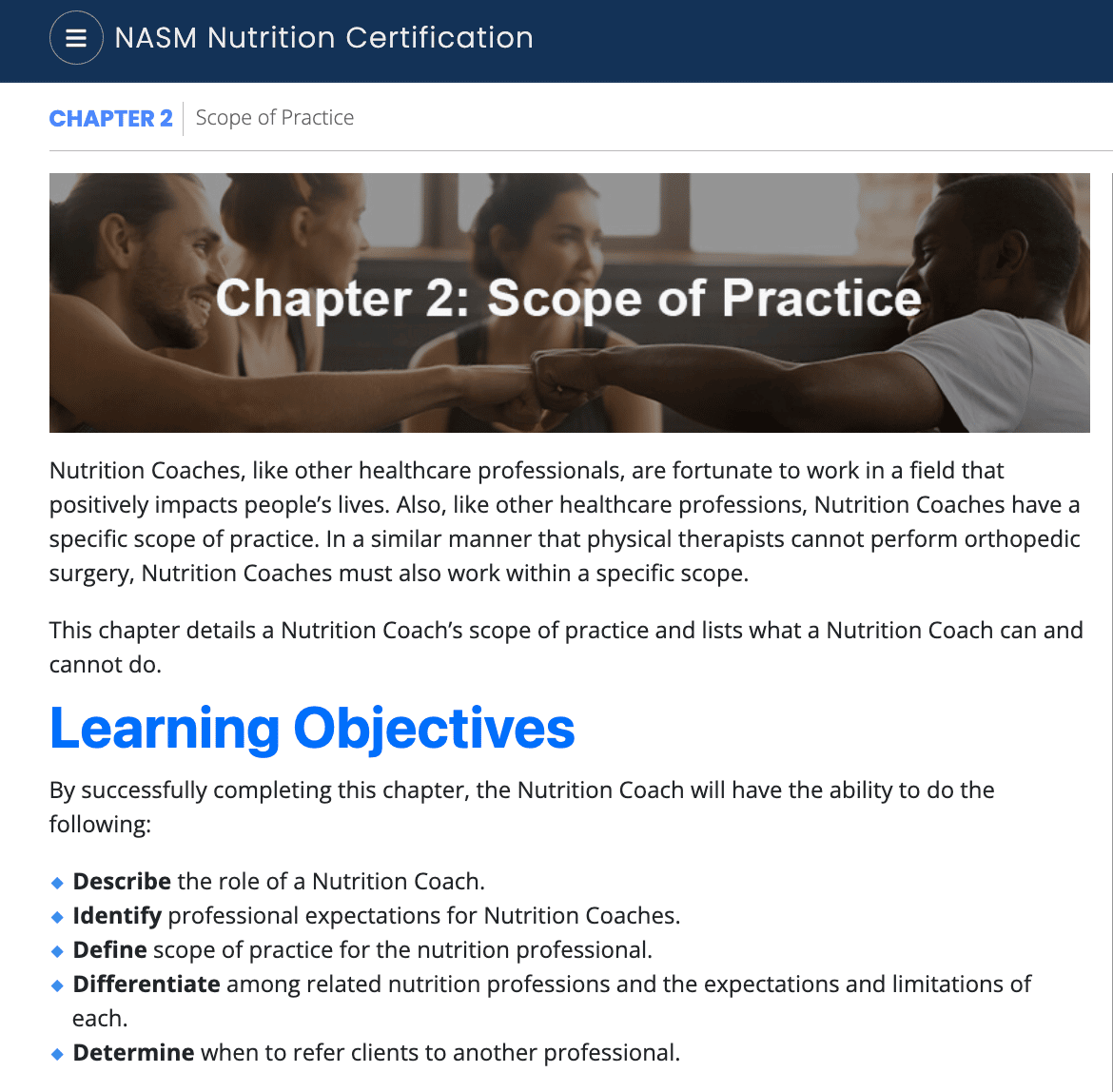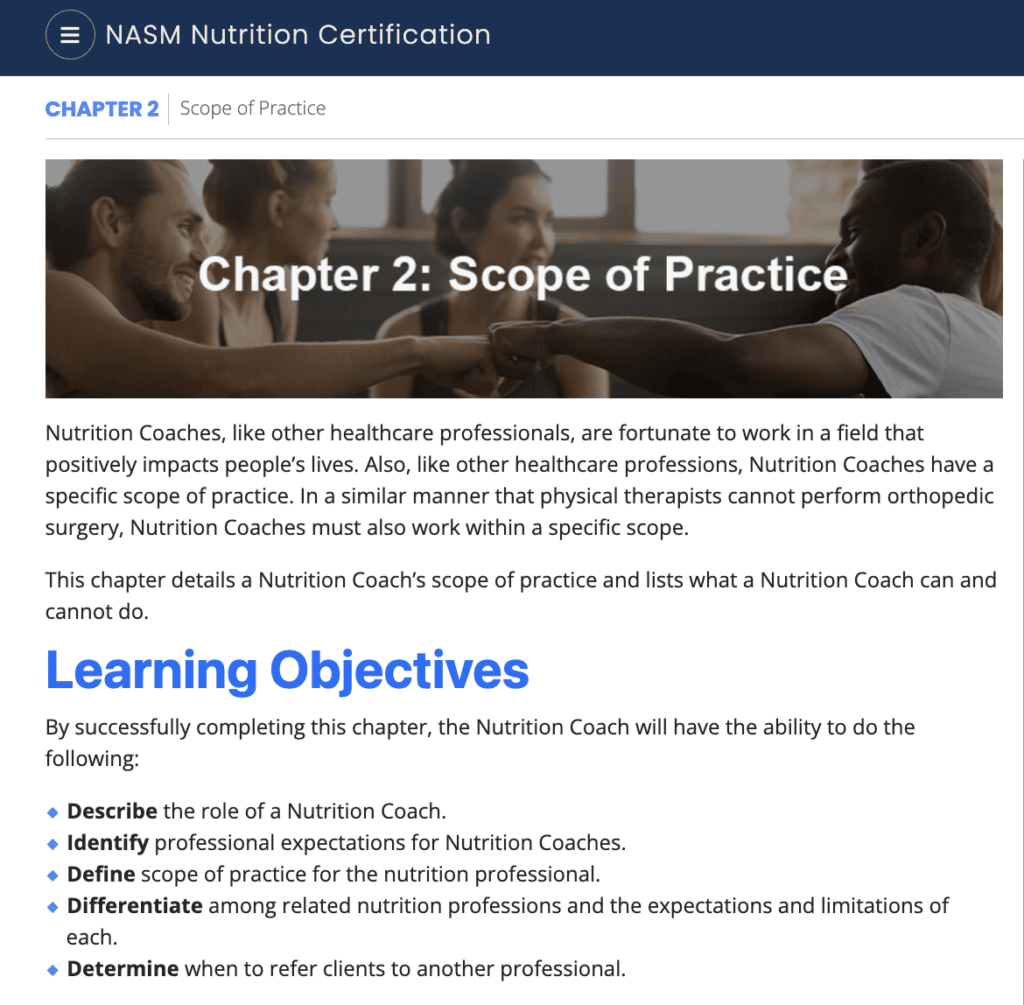 The text sets the mood for what is to be learned throughout each chapter by highlighting the learning objectives in the order they will be learned. Each section hits the nail on the head by covering more than what is expected.
NASM follows through with its evidence-based research in every one of its sections, as it does with all of its certifications.
Even though their offerings for the textbook are above the rest, the NASM does not offer many extras for immediate and convenient download.
Though it is minor, it would be nice to see a download package similar to ISSA for a quick start to your coaching career.
We find that the quizzes in the NASM study portal are much more convenient to utilize during your studies. This is because they are built into the chapters directly, so you can take a quiz over what you just read as soon as you reach the end of the chapter.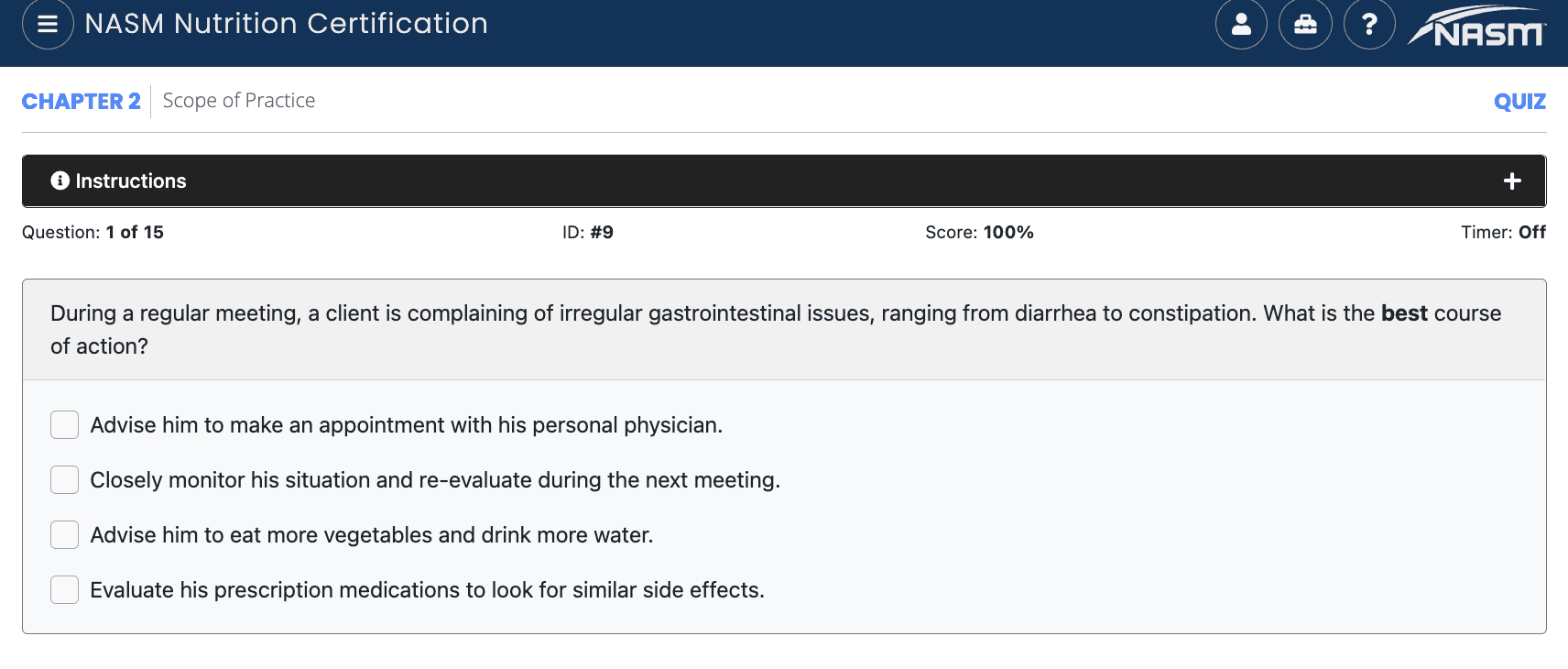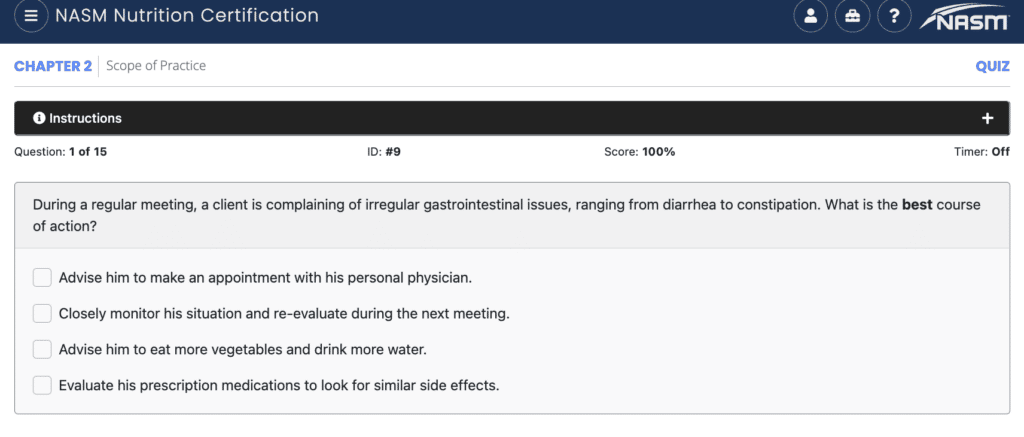 The quizzes throughout ISSA are found in a separate location in the website study portal, and this is less convenient in comparison to this NASM study system.
Altogether, both quiz offerings are similar when you look at how well they test what needs to be learned.
Both sets of quizzes will appropriately test you over the chapters' information and prepare you for the final exam.
You could never go wrong with choosing this excellent NASM CNC program.
At the end of the day, when put next to one another, NASM has slightly superior study materials as it edges out ISSA by being more modern and quickly navigated.
ISSA and NASM both teach the fundamentals of nutrition coaching at an equal level, as these are the two top Nutrition Certifications in fitness and should be expected to uphold the quality of teaching expected.
You will become a successful nutrition coach with either of these two options.
Next, let's dive in and look at the layout for the exams and what all that involves to become a certified nutrition coach from ISSA or NASM.
Exclusive TA Offers



Most Popular Cert

Great Option

Best Cert for you?

Good Option

Good Option

Good Option

Exam Layout and Passing Grade
Both NASM and ISSA have similar exam layouts for their nutrition certifications, so not much of a decision can be made with this info.
NASM and ISSA both allow their exams for the nutrition certification programs to be taken online and at home with an open book, but you can optionally do this at a proctored site if online is not possible for some reason.
Since these can be done in the comfort of your own home, there is not too much worry about in terms of difficulty.
This is pretty typical for nutrition certifications in all organizations in fitness.
The ISSA exam has over 200 multiple choice and true/false questions and one short essay/case study scenario to go over.
There is no limit for time with the ISSA, which is a slight positive on the side of ISSA, but since both exams have such high pass rates, it doesn't seem to matter unless you happen to be super busy the day you choose to sit for the exam.
The NASM exam is a 100 multiple choice exam with a 90-minute time limit. You also get a total of 3 attempts, and the questions are rotating from a big pool of questions, so if you need to retake, you won't have the same test twice.
You are required to get a 70% or better on both organizations' exams.
Thankfully, both certifications exams have a pass rate of around 90%, and if you consider retakes that are included, it is a near guarantee that you pass.
Neither of the organizations beats the other in the exam layout and pass rate. They should both be passed with relative ease due to how well-done the programs are and how lenient the exam process is compared to personal training certification exams.
Your salary expectations can vary quite a bit for nutrition coaching and personal training with a nutrition specialization.
For both NASM and ISSA, you can expect to make an average of $41,000 per year based upon an average pay of $790 per week.
This has a lot of variances still, as location, full-time status, and other services offered all factor into how much a nutrition coach would make.
If the nutrition coaching is done as a self-employed worker, you will typically see a salary of about $50,000 on average.
If you are a certified personal trainer with a nutrition credential, wellness credential, or any of the other many forms of certification courses added on to your main cert, you should increase your salary expectations as you will offer more services.
Some other specializations can equally increase your salary, like Group Fitness Certifications, Strength and Conditioning Certifications, and even specific ones, like Yoga and Pilates Certs.
Frequently Asked Questions
Which nutrition training program is best for fitness professionals?
Both NASM certification and ISSA certification with their fitness nutrition certification is highly valued and will serve as useful for sports nutrition. Certified trainers will add to their hands-on abilities and increase the value they offer to their clients.
What prerequisites exist for Nutrition Certification?
Nutrition certifications will typically require less than the CPT certifications. This means you are not required to have CPR and AED certification, you just need to have graduated high school.
Can Nutrition Certifications count as CEUs?
These certification specializations sometimes are pursued as a way to achieve continuing education credits or CEUs. Specializations add to specific areas for trainers so that they may do better with program design and other parts of a trainer's job.
Does ISSA or NASM offer physical study guides or textbooks?
Both organizations do not offer a physical hard copy of the textbook for sale as they do for their other fitness certifications. They do, however, offer a PDF version that is freely printable by anyone studying. For other study guide options, Trainer Academy offers materials such as nasm flashcards, nasm practice exams, and ISSA exam info, to name some of the typical offerings.
What other nutrition programs exist for trainers to choose from?
ISSA and NASM are the top choices, but some others offer good options for certifying. ACE, the American Council on Exercise, and ACSM, the American College of Sports Medicine, offer some great options for nutrition. another excellent option would be Precision Nutrition, which does have a partnership with ISSA.
When it comes to ISSA vs NASM, for us, the winner is dependent on the goal that a fitness trainer has in regard to their client's fitness training and how much of a focus they have on being a nutrition specialist.
These two certifications both allow for a tiny bit of nutrition program expertise while not being quite as valued as the course material in a dietitian's degree program.
We firmly believe that NASM edges out ISSA in this head-to-head battle for nutrition dominance, and this is mostly due to their slightly more modern self-study system that makes the process of studying a bit easier.
But, if you consider the bundles offered by ISSA, they would be the winner in the value department.
So, for someone with existing experience in exercise science, experience as a certified health coach, or a fitness professional with an NCCA accredited certification (National Commission for Certifying Agencies) for training, the obvious choice should be the NASM-CNC for Nutrition certification.
And then, for someone who does not yet have experience in personal training arenas or has yet to obtain a degree like in biomechanics, kinesiology, muscle imbalances, powerlifting, and more, the ideal choice would be ISSA's Nutritionist Program.
Here at Trainer Academy, we also offer other certifications, so make sure to check out our ACE study guide, NSCA CSCS Study Guide, and ACSM Study Guide, to name a few of the big hitters outside of ISSA and NASM.
We also have practice tests for organizations outside of the two in this article, like ACE, NSCA CSCS, and more.