The NASM certification focuses on programming and corrective exercise with its OPT (Optimum Performance Training) model while the NSCA CSCS certification focuses more on strength and conditioning and athletic performance. Both certifications are accredited by the National Commission for Certifying Agencies (NCCA).
Let's find out which one you should go with.
Hello, and welcome to the Trainer Academy NASM vs. NSCA comparison article.
Today we're going to introduce you to the personal trainer certifications offered by both by offering a contrasting view of what each brings to the table.
In this article, you'll learn:
The similarities and differences in these two excellent certifications for personal training
Cost and quality of NASM and NSCA
Expectations of study time
Requirements for certification and recertification
These two certifying agencies are considered a gold standard in the fitness industry and have a legacy of great trainers and high esteem in the industry.
Following this article, you will be able to differentiate and choose the best option for you when looking at the NASM and NSCA CPT certs.
We highly recommend that you take our helpful quiz to find the best personal trainer certification for you.
Let's dive in and look at these two amazing personal training certification choices!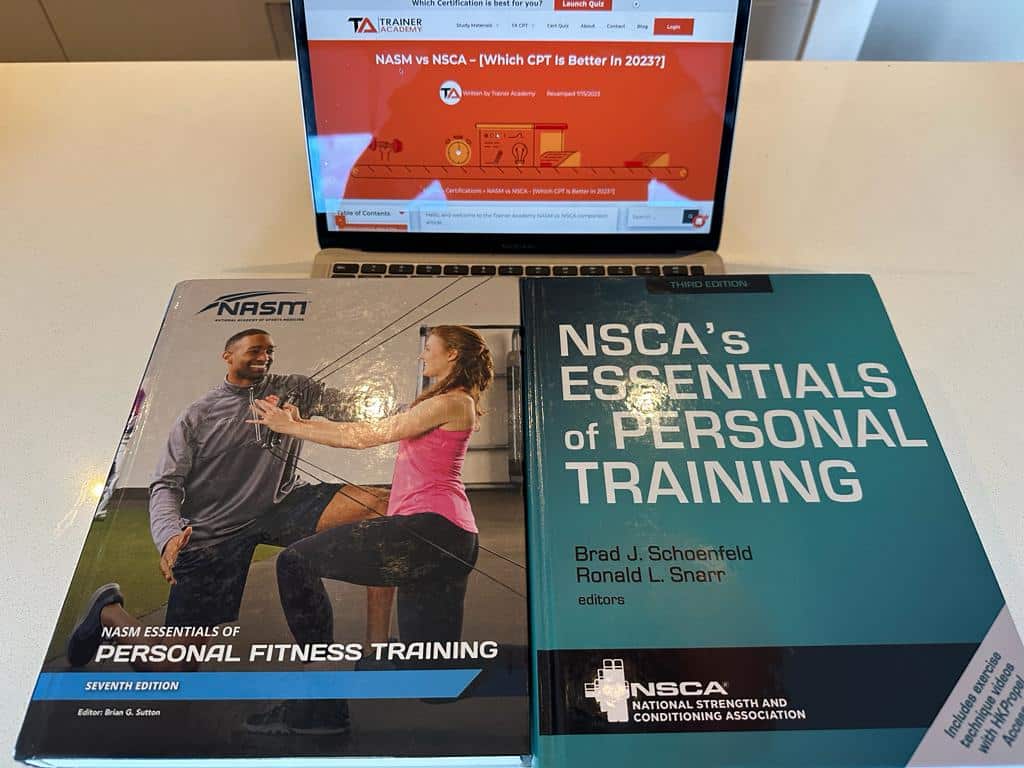 CPT
ACSM vs ACE Quick Breakdown
Features
Price
NASM

NCCA accredited program
The most popular and recognized certification providers in the world
Specializing in corrective exercise technique methodology
Great for newcomers and seasoned professionals
More expensive
Difficult exam

View on the NASM website
NSCA

NSCA accreditation
Huge NSCA network
NSCA clinics
NSCA accredited schools
Great CEU opportunities
Fair NSCA membership costs
Membership discounts and benefits
Access to the NSCA Journal of Strength and Conditioning Research
Lacks coverage on the personal training business, marketing, and sales
Some CPT exam prep material is inadequate

View on the NSCA website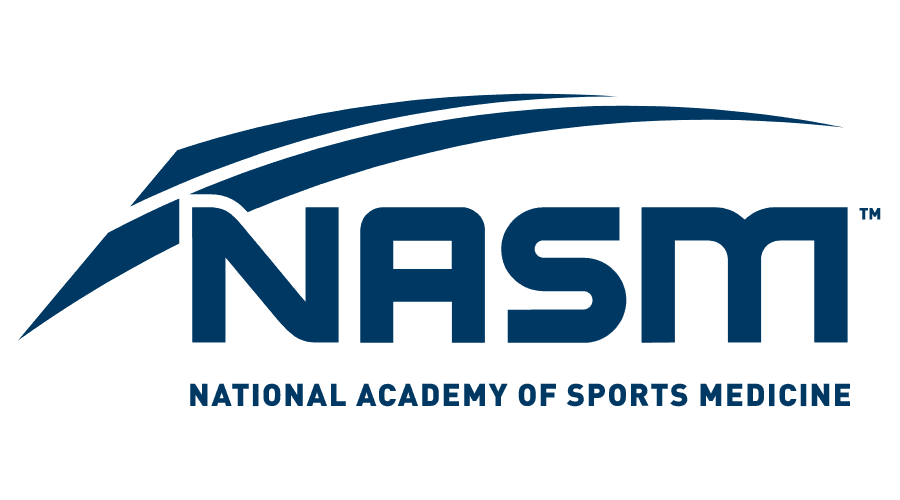 NASM CPT
Exam only cost: $599
Packages: $699-999
Requirements: CPR/AED, High School Diploma
Passing Score: 70%
Pass Rate: 60%
Average Completion Time: 3-6 months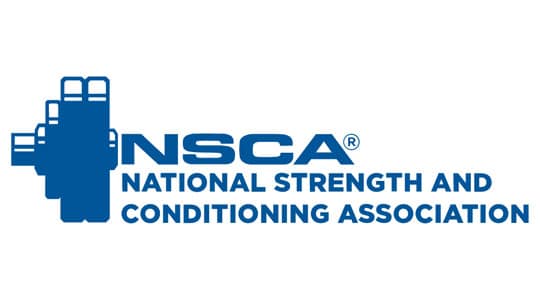 NSCA CPT
Exam only cost: $435
Packages: $511
Requirements: CPR/AED, High School Diploma
Passing Score: 70%
Pass Rate: 72%
Average Completion Time: 3-6 Months

Trainer Academy Guides
Complete curriculum study preparation
Audio guide, flashcards, and mnemonics
800+ practice questions
Exam pass refund guarantee
Cheaper pricing than premium materials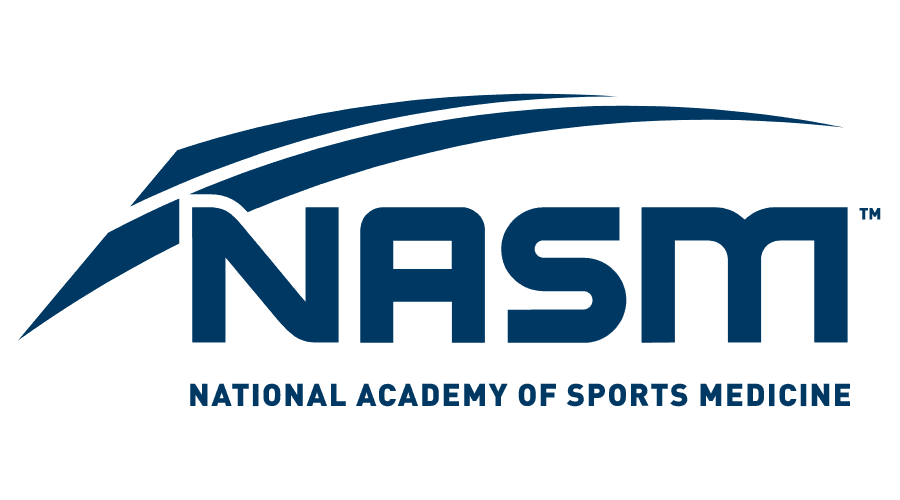 Provider Materials
Curriculum study preparation
Includes text, graphics, and videos
200+ practice questions
No exam pass refund guarantee
$300+ for NSCA textbook and prep course (exam not included)
$699+ for NASM starter package
Free Study Guides
Curriculum material overview
Complete chapter breakdowns
60 practice questions
130 flashcards
Exam cheat sheet
Free from Trainer Academy and PT Pioneer
Exclusive TA Offers



Most Popular Cert

Great Option

Best Cert for you?

Good Option

Good Option

Good Option

NASM vs NSCA: About the Certifications
Both the NASM Certified Personal Trainer and the NSCA Certified Personal Trainer certs are great, but what we want to do is provide some insight that will help you choose the right one for you.
To make this more accurate, we will be dealing with some official statistics as well as providing some anecdotal background into both. That way you can make more informed conclusions about NASM vs NSCA.
Both of these certification organizations rank up at the top of the list along with the likes of the American Council on Exercise and the American College of Sports Medicine.
For these certifications, there will be casual prerequisites, such as a high school diploma.
Let's go over some basic info before we decide which of these is the best personal trainer certification.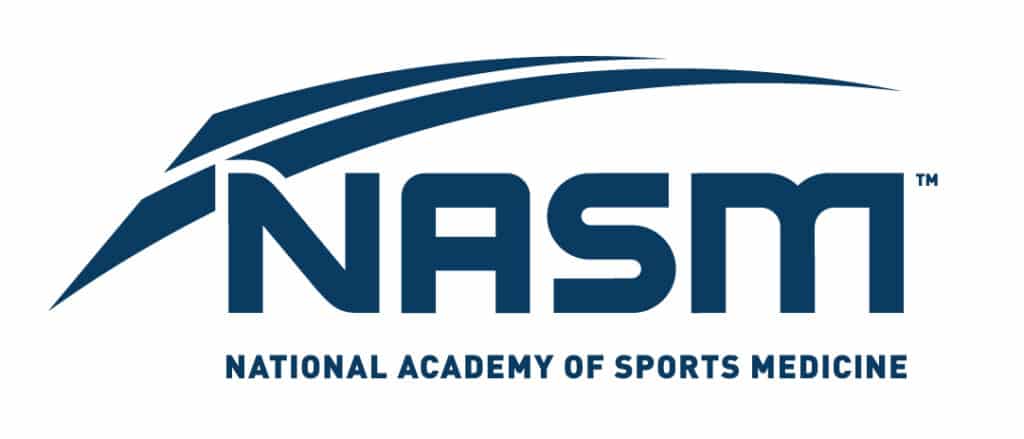 NASM stands for the National Academy of Sports Medicine and is probably the most popular and well recognized of the main certifying institutions.
NASM has been around since 1987, offering cutting-edge sports science education aimed at improving physical performance.
The NASM CPT certification ranks as the most popular nationally programs, a statistic we will analyze later. They also have popular certifications focusing on corrective exercise and special populations as well as nutrition certifications like the the NASM CNC.
NASM also makes it easy if you want to get multiple certifications at the same time.
If you want to give your clients the best results, you need to be able to teach them about training and also nutrition.
Whether they want to gain muscle or lose fat, or just be healthier and improve fitness, if you can tailor both a training routine and the proper diet recommendations you can help them get closer to those goals faster, and with greater ease.
Plus, once people hear about how great your are, you can raise your rates.
And if a gym wants to hire you, they can give you twice the number of hours and clients because you can be both trainer and nutritionalist.
With all this said, getting both certifications can be quite costly, but luckily NASM's Nutrition and Fitness bundle is actually quite reasonable. Check the website, but we believe it's currently only $999, which is a steal for what you get.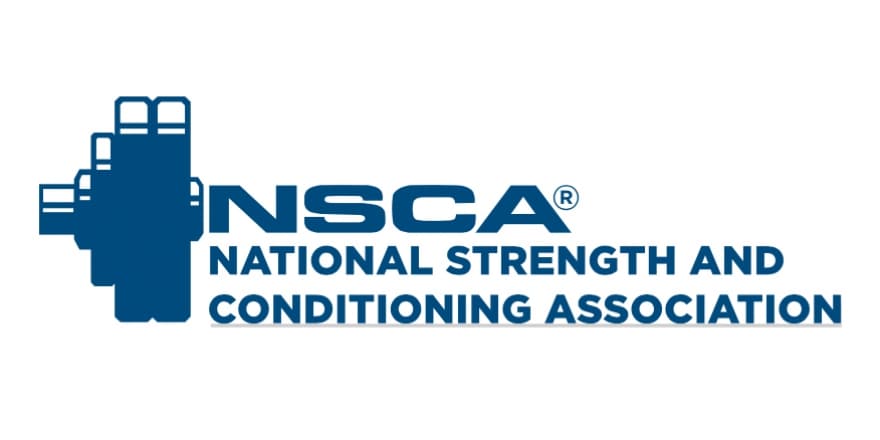 The National Strength and Conditioning Association, or NSCA, is a legacy institution focused on a deep academic understanding of sports science.
They have been around since 1978, making them almost a decade older than NASM.
NSCA is a non-profit organization that focuses on professional development and research. They are more well-known for their specializations like the NSCA CSCS certification (strength and conditioning specialist).
They may be less popular than NASM, but from an industry peer perspective, they are regarded as one of the pinnacles of excellence in the field of health and fitness. Their NSCA certification is quite a good value.
Because they are also so well-known for their strength and conditioning cert, so that would be something to consider if the route you wish to take is toward college athletics and other strength and conditioning fields, like if you want to learn how to be a strength coach for an organization.
Click here for more info about NSCA CPT.
If you go with the CSCS, Trainer Academy has some quality information to help you ace the test: CSCS study materials and CSCS practice questions
The first of the many checks and balances you should look at when deciding on certification is accreditation.
Accredited status is granted to only the best and most relevant certifying agencies.
This seal of approval is given to an institution by a commission of professional agencies and experts, thus authenticating it as academically competent.
Accreditation is granted based on the criteria of a certifying agency meeting two fundamental standards.
The first is the content of the curriculum, which is to say the stuff they teach.
The second is the method of delivery and administration, which means how it is taught and managed.
Meeting these two criteria is in the best interest of students and the market in which they will operate as fitness professionals.
There are two main accrediting bodies in the US: the NCCA, or National Commission for Certifying Agencies, and the DEAC, short for the Distance Education Accrediting Commission.
Both NASM and NSCA are accredited by the NCCA, making them nationally accredited personal training certifications.
This means that the personal training certificate comparison doesn't get differentiated yet, since they both receive the same accreditation.
| Certification | Accreditation |
| --- | --- |
| NASM Certified Personal Trainer | NCCA |
| NSCA Certified Personal Trainer | NCCA |
Accreditation will also help you separate the wheat from the chaff, so to speak.
That's because many not-so-worthy courses and certifications floating around can easily trap you and your hard-earned dollars with brilliant marketing and sales strategies.
But at the end of the day, you are left with a qualification that doesn't even register professionally and may be based on incorrect or outdated curriculum content.
It is, therefore, important to make accreditation the first thing you look out for.
Check out the links below for the current price, and more details.
The personal trainer certification costs associated with each certification and its study resources is another huge factor that could potentially influence your decision when you are taking the steps to become a personal trainer.
When it comes to cost, the dollar value can easily shift your perspective when weighed up against the content quality.
So let's look at what you can expect to pay for each cert.
| Package Tier | Cost (NSCA) | Cost (NSCA) w/ membership | Cost (NASM) |
| --- | --- | --- | --- |
| 1 | Exam ($435) | Exam ($300) | Self Study ($799) |
| 2 | Digital Package ($193) | Digital Package ($144) | Self Study Premium ($1099) |
| 3 | Essential Package ($290.70) | Essential Package ($240.30)  | Guided Study ($1124) |
| 4 | Essential Plus ($511) | Essential Plus ($455) | All-Inclusive ($1539) |
Overall, NSCA is the cheaper option, with the most expensive package and exam combination coming in at $946 in total.
NASM's All-inclusive package is $1539, making it significantly pricier.
On the cheaper end of the scale, NSCA wins again with the exam only coming in at $300 and the optional Digital package for an additional $144, bringing the total to $444.
This actually makes it one of the cheapest personal training certifications you can get in the whole industry.
In contrast, NASM's self-study option goes for $799.
NSCA has an interesting caveat of pricing being based on your membership status.
Membership is an annual fee that unlocks discounts like the ones indicated and well a host of other features, resources, and opportunities within the NSCA academic ecosystem.
The membership tiers are Student, Professional, and CPI, going for $65, $120, and $349 per year respectively.
In our opinion, membership is well worth it when you consider the numerous benefits.
At face value, NSCA seems like a better deal, but the cost of something is only justified by the quality and value it brings, so let's take a look at that.
Check out the current price of each certification by clicking the links below.
Exclusive TA Offers



Most Popular Cert

Great Option

Best Cert for you?

Good Option

Good Option

Good Option

Quality of Study Materials
Your ability to adequately and appropriately prepare for your final exam is the ultimate goal with any certification.
That all hinges on your diligence and dedication to learning, but at the same time, the resources you have access to will be a major determining factor.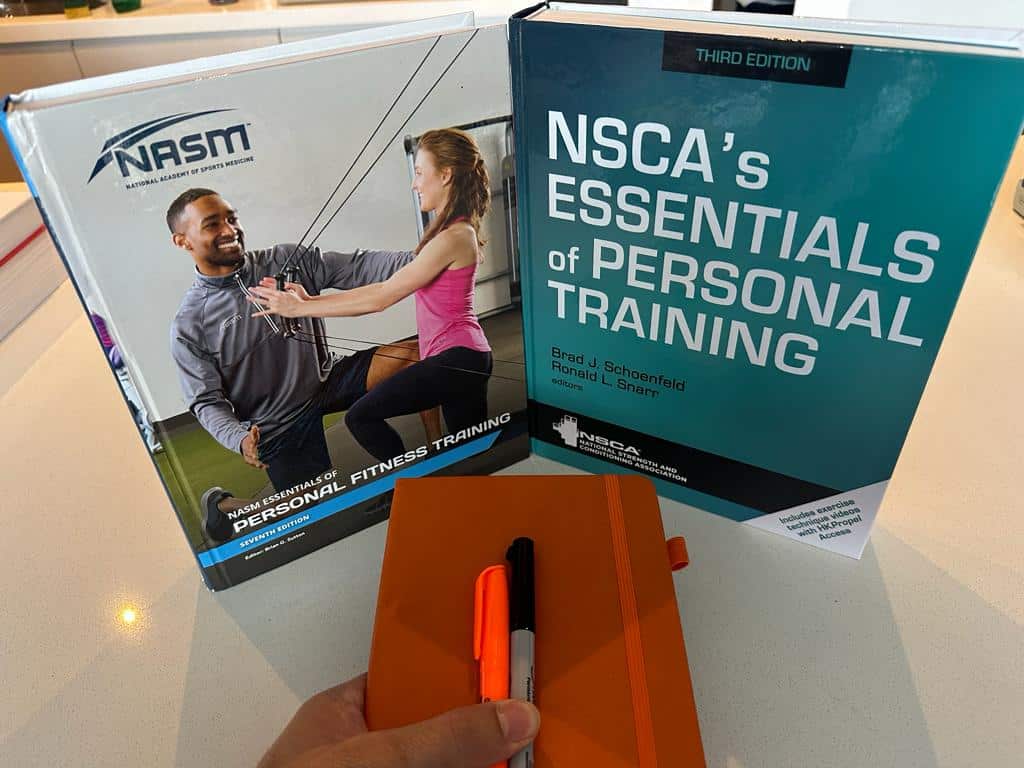 We will take a look at the study options for NASM vs. NSCA and see which one has the best quality in terms of study materials.
For this to be more clear, each will be scored out of 10, so let's take a look shall we:
NASM Study Material Breakdown
| Self-study | Self-study premium | Guided-study | All-inclusive |
| --- | --- | --- | --- |
| 100% Online Course | 100% Online Course | 100% Online Course | 100% Online Course |
| NCCA Accredited Exam | NCCA Accredited Exam | NCCA Accredited Exam | NCCA Accredited Exam |
| NASM-CPT Digital Textbook | NASM-CPT Digital Textbook | NASM-CPT Digital Textbook | NASM-CPT Digital Textbook |
| Content Learning Videos | Content Learning Videos | Content Learning Videos | Content Learning Videos |
| Exercise Video Library | Exercise Video Library | Exercise Video Library | Exercise Video Library |
| Practice Exams & Quizzes | Practice Exams & Quizzes | Practice Exams & Quizzes | Practice Exams & Quizzes |
| | Exercise Coaching Demonstrations | Exercise Coaching Demonstrations | Exercise Coaching Demonstrations |
| | Job Guarantee | Job Guarantee | Job Guarantee |
| | One-year NASM EDGE Trainer Plus | One-year NASM EDGE Trainer Plus | One-year NASM EDGE Trainer Plus |
| | | 10-Week, Instructor-Led Course (Optional/Flexible) | 10-Week, Instructor-Led Course (Optional/Flexible) |
| | | Certification Exam Retest | Certification Exam Retest |
| | | NASM-CPT Hardcopy Textbook | NASM-CPT Hardcopy Textbook |
| | | Access to Fitness Experts | Access to Fitness Experts |
| | | Business Accelerator | Business Accelerator |
| | | | NASM EDGE CPT Exam Prep |
| | | | NASM EDGE CPT Exam Prep |
| | | | Recertify for Life |
NSCA Study Material Breakdown
| Exam Only | Digital Package | Essential Package | Essential Plus Package |
| --- | --- | --- | --- |
| NSCA Exam | NSCA Exam | NSCA Exam | NSCA Exam |
| | Content Description E-Book | Content Description E-Book | Content Description E-Book |
| | 200+ Practice Questions | 200+ Practice Questions | 200+ Practice Questions |
| | | Essentials of Personal Training, 2ed | Essentials of Personal Training, 2ed |
| | | | Exercise Technique Manual, 3ed |
From this, we can already tell that the NASM-certified personal trainer course offers way more options in terms of study resources.
Both do have four available packages to choose from, but NASM has a wider variety of prep material.
For that reason, we will give NASM an 8/10 rating, while NSCA comes in with a 6.5/10 rating.
It's also important to mention that NSCA's study materials come separate from the purchase of the exam, while the NASM exam includes registration in all their package.
NSCA also has a membership structure that affects the pricing of its packages, which we'll get into next.
To ensure you get value from your choice of either NASM or NSCA, Trainer Academy is offering its premium MVP study packages, which have become a major gamechanger for lots of personal trainers.
Using the MVP study Packages gives you a 50% reduction in study time due to the use of study techniques like Spaced repetition flashcards, Cheat-sheet, Muscle coloring books, Mnemonics, etc., to not only assimilate but retain information.
Don't forget our exclusive 100% money-back guarantee offer if you didn't ace the final exams with flying colors.
You can opt for the NASM MVP Study Package or the NSCA MVP Study Package today; the choice is yours.
We also have some free resources to get you started: a free NASM practice test and a NASM CPT study guide.
Exam Layout and Passing Grade
Once you've decided on the cert you want and the study package that will get you certified, the next important thing is to analyze the exam and figure out its structure, layout, and expectations.
To do that insightfully, we will be looking at the question count, section, by section weighting, and the pass mark required for success.
Let's take a look at the weighting of each section first. Each exam has an uneven distribution of what areas of the curriculum it focuses on, with some having more significance than others in the exam.
Knowing this will help you form a more precise study strategy. Let's look at these personal trainer certification exams and personal trainer testing differences that may exist between these two.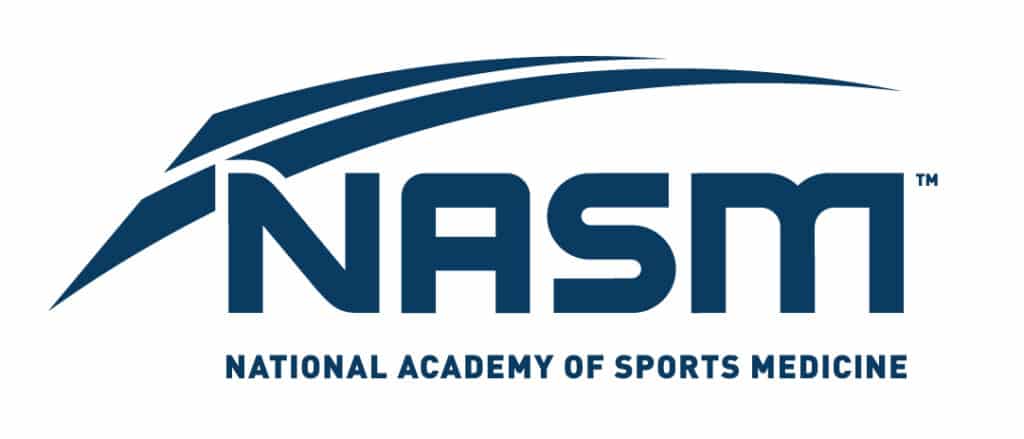 Here's the NASM CPT exam info.
NASM has six sections, referred to as domains in the exam and course content.
We've ordered them from least to most focused.
| Weight in Exam | Section |
| --- | --- |
| 10% | Professional Development and Responsibility |
| 12%  | Client Relations and Behavioral Coaching |
| 17%    | Basic and Applied Sciences and Nutritional Concepts |
| 18%  | Assessment |
| 21% | Program Design |
| 22%  | Exercise Technique and Training Instruction |
You can tell from this chart that Assessment, programming, and technique, and instruction are the highest scored domains.
These are also the most practical aspects of personal training.
Focusing on these during your studies is not only essential for exam success but is the basis for a successful career.
To get familiar with the exam layout and structure, the free NASM Study guide and NASM practice test come highly recommended.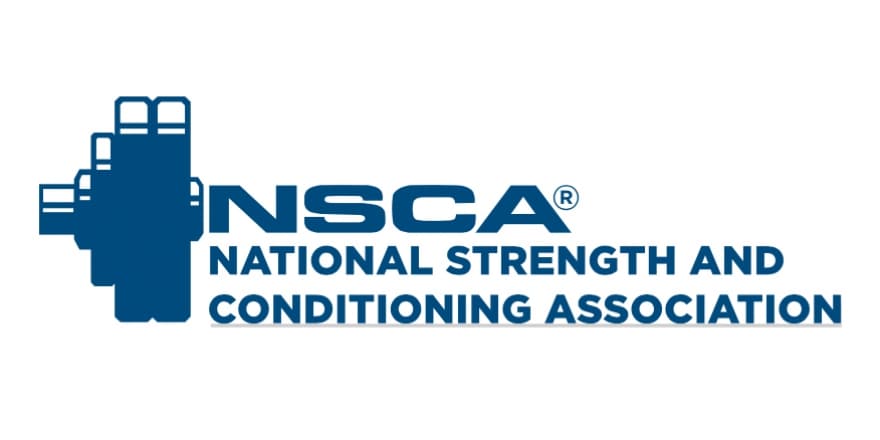 NSCA CPT has four sections in the exam, with the main focus being on the practical aspects of fitness instruction.
This is a common and welcome trend in CPT certifications.
The weighting of program design and exercise technique eclipses the other two sections, so it's great to primarily focus on these areas.
| Weight in Exam | Section |
| --- | --- |
| 11% | Organization and Administration |
| 18% | Testing and Evaluation |
| 35% | Program Design |
| 36% | Exercise Technique |
NASM's exam has 120 questions, which you will need to complete in 2 hours. NSCA consists of 125 multiple-choice questions to be completed in 2 and a half hours.
Both exams can be taken at physical venues or via live remote proctor as an online test.
One glaring difference is how the overall exam is scored. For NASM, you simply work through all the 120 questions until you've completed the test or time runs out.
The same thing goes for NSCA, except you will be scored based on your success in the two exam segments. Each segment is basically a mini-exam in that you have to pass both separately for overall success.
Doing really well in one and failing the other is an automatic fail.
On the same token, failing one section means you will only have to redo that section.
Both NASM and NSCA require a minimum grade of 70% to pass the exam.
Exam Difficulty and Pass Rate
Knowing your way around the exam content of either cert is important, but added to that is understanding the degree of challenge.
Both NASM and NSCA are known to give candidates a run for their money, but not in a prohibitive way.
All it takes is a reasonable amount of planning and focus when it comes to exam prep, and you should be fine on the personal trainer exams.
We've gathered data on the current pass rate statistics of each to give you a better understanding of the difficulty.
| Certification | Pass Rate |
| --- | --- |
| NASM | 65% |
| NSCA | 72% |
We can see that NASM has the most difficult exam based on pass rate stats. NSCA is much more lenient to candidates, while still providing a great certification and academic experience.
Some would argue that a higher pass rate is indicative of lower quality since the challenge aspect and success barrier of a difficult exam is considered a quality control.
It depends on how you look at it.
Become part of those to achieve a 99% pass rate by using the MVP Study packages especially, if you do not have much time to study tonnes of textbooks.
Click on the links below to get started.
If success is not achieved during your first run-through, you will have the option of a retake.
Retakes are normally conducted upon failure by submitting a request and then sometimes waiting for a cool-down period to lapse.
We will often also be required to pay a retake fee as an administrative cost.
Let's look at what each cert requires:
| Certification | Retake Fee |
| --- | --- |
| NASM Certified Personal Trainer | $250 (member) $385 (non-member) |
| NSCA Certified Personal Trainer  | $340 (member) $475 (non-member) |
As mentioned, the NSCA exam is based on your success in two separate sections. Passing both sections individually is necessary for overall success.
So when it comes to doing a retake, you'll find that you might only have to redo one section.
We also see how the membership benefits affect the retake fee for NSCA.
Overall, the NSCA retake policy is more taxing than NASM's, which only asks for $250 to redo the test.
Certification Popularity and Recognition
While this isn't necessarily a popularity contest, the level of interest and appeal a cert has within the fitness community, and the industry as a whole is a safe indicator of quality.
It also provides insight into the potential for your career to start and grow since popularity and recognition show us two important things.
They show us that it is highly recommended by trainers, and your peers in the industry, and it also shows that it is preferred by the market and prospective employers.
To capture the popularity and recognition in a quantifiable way, we've chosen two statistics: Google search data and enrollment figures.
| Certification | Enrollment Figures | Search Data |
| --- | --- | --- |
| NASM | 22,304 | 1600 |
| NSCA | 1,529  | 50 |
From the figures, we can see that NASM is miles ahead in terms of popularity.
It is THE most popular certification of the main ones featured in the world of fitness.
NASM has the highest enrollment and search queries between these two personal training courses and even when compared to all other qualifications in the same category.
This broad appeal has a lot to do with the marketing strategies NASM employs as well as the fundamental quality of its services.
NSCA is a non-profit organization, and its focus is more on elevating the academic and scientific standards in sports and exercise science careers as opposed to generating candidate leads.
Ultimately, both of these certifications exude quality and prestige, but the NASM name has a more familiar ring to it, which will provide more opportunity overall.
How long does it take to become a personal trainer with NASM or NSCA?
Well, the amount of time it typically takes to study and take an exam will vary from person to person.
We all have unique commitments in life, and the amount of time we get to distribute across all those will vary.
For some looking into a career as a professional trainer, getting certified might be the first consideration straight out of high school with no other serious responsibilities.
For others, getting certified might coincide with a pre-existing job or academic career, meaning there's less time to give.
Family and social commitments also come into play along with one's general ability to manage time.
Each fitness certification allows its candidates a certain time limit in which to study and take the exam.
This is known as the enrollment period and is often a generous amount of time in which one can complete their prep under normal circumstances.
| Certification | Enrollment Period |
| --- | --- |
| NASM | 6 months |
| NSCA | 4 months |
NSCA has the narrowest enrollment window of the two, coming in at just four months. NASM is more lenient and falls in line with the more common enrollment of six months.
The average amount of time the typical certification candidate would need for a reasonable amount of prep is between 10 – 12 weeks.
Both certs allow for that to happen, but the more flexible six-month period NASM offers wins out.
Click here to access these study materials and save cost and time.
Also, for anyone wondering, "do you have to be certified to be a personal trainer," the answer is, "in 99% of cases, yes."
It's super important to know what your income will look like as a certified trainer, or with any career for that matter.
That's why we're going to take you through some facts and figures and provide some insight into the earning potential each cert brings.
We will look at the average annual personal trainer salary and try and provide some nuance behind the figures presented.
NSCA edges out NASM as the top earner for certified trainers.
This stat surprised us if we're honest. So far, NASM has presented as the more attractive option in a majority of categories.
It's also the more popular of the two certifications, so why is it a lower income earner.
We estimate that it all depends on the level of trainer experience.
NASM is popular with the newbies, fledgling trainers just starting and dipping their toes in the game.
These trainers are typically in the lower-income bracket, working as gym employees or start-up fitness entrepreneurs.
The popularity of NASM's cert means it is saturated with lower-income trainers.
NSCA, on the other hand, is an institution popular in the fitness fraternity with seasoned veterans.
Expert trainers and sports scientists all hold NSCA in high esteem. It may not be popular by numbers, but the few who do recognize and prefer NSCA tend to be professionals with some skin in the game.
This translates to trainers and coaches in higher employment positions or more established businesses. Looking at it that way, it makes sense that NSCA nets a higher average income.
Let's also remember that making money as a personal trainer is influenced by many factors. Choosing the right cert helps, but it's just one part of the puzzle.
Primary Focus of Certification
Understanding the direction a certifying agency takes with its curriculum and course content will help you choose the best one for your individual career aspirations.
In the case of NASM and NSCA, we see two institutions with very similar areas of focus.
NASM, and its proprietary OPT model, focus on strength and conditioning for performance enhancement that improves general function and corrects dysfunction.
NSCA is a strength and conditioning-centric organization and even has it in its name.
Both of these offer a similar path in that regard.
If you are interested in a specialized field of personal training programs, NASM has niches carved out to suit your career choices.
Check them out in the links below:
We have a NASM CNC review as well as a comparison of ISSA Nutritionist vs NASM CNC to help you decide, if you want to become a nutrition coach.
Having a more specialized scope of knowledge on certain topics can be integral to your success as a trainer or coach. What separates you from the pack is your ability to help your clients get the results they want and inspire them further, no matter the type of client.
If you are working with someone with mobility restraints having a background in corrective exercises will be important. If you are hired to work with an athlete you need to understand performance as it relates to fitness. Each different client will need a different style of coaching.
That's where NASM's Elite Trainer bundle shines as it will give you 6 different certifications, including multiple specializations in several fields of fitness.
If you look at what you get for the price, it's a really great deal!
Exclusive TA Offers



Most Popular Cert

Great Option

Best Cert for you?

Good Option

Good Option

Good Option

Very few certifications are lifetime qualifications.
You will often need to renew your certification once every few years.
To be eligible for this process, you will need to submit CEUs or continuing education units, also known as continuing education credits.
These units are time-based credits earned by engaging in supplementary academic activities, enrolling and passing different certifications, or attending relevant workshops, all of which are offered by providers approved by the certifying agency in question.
Aside from providing the required amount of credits, you may also need to pay a recertification fee; let's take a quick look:
| Certification | CEU Requirements | Recertification Period |
| --- | --- | --- |
| NASM | 20 hours | 2 years |
| NSCA | 60 hours | 3 years |
NSCA has the most stringent recertification policy overall because even though you have a whole year extra to recertify in comparison, you also need 3 times the amount of CEUs as NASM.
The recertification fees for NSCA are between $60-$90 for non-members, and between $35 – $65 for non-members.
NASM recertification costs $99, making it the more expensive option.
| Certification | Accreditation | Lowest Cost | Pass Rate | Base Retake fee | Average Salary | CEU Requirements | Recertification Period |
| --- | --- | --- | --- | --- | --- | --- | --- |
| NASM | NCCA | Exam only ($435) | 65% | $250 | $44,619 | 20 hours | 2 years |
| NSCA | NCCA | Self Study ($799) | 72% | $340 | $45,509 | 60 hours | 3 years |
Whether you choose NASM or NSCA, both are undeniably great as certifying agencies. The legacy and heritage of NSCA and the attention to progressive professionalism of NASM all have something to offer the modern PT.
Objectively speaking, we would be more inclined to encourage trainers towards the NASM option, simply because it is a more welcoming approach when starting your personal training business and want a safe start towards your future personal training.
NSCA is one we would recommend if you are already an experienced trainer, looking to add another top-tier credential to your title.
The debate will rage on as we compare the PES from NASM and NSCA CSCS, but that's for a different article.
There are also some other quality certifications to look into for your PT cert, including the ISSA personal training certification and the ACE fitness certification. We have a comparison of ACE vs NASM as well as ACE study questions and an ACE guide to help with that test alongside comparisons of ACE vs ISSA and ACE vs ACSM so that you can make sure you choose the right CPT cert for you!
Frequently Asked Questions (FAQs)
Is NASM a good certification?
Yes, the NASM-CPT is actually the best personal trainer certification program in the fitness industry. It is NCCA accredited, contains high-quality content to prepare for your exam, is cost-effective, offers unique specialization options, and contains the least amount of questions on the exam. Also, a job guarantee is included in the NASM-CPT program!
NSCA vs NASM; which is the best personal training certification?
So the NSCA and NASM are both among the top personal trainer certification programs in the industry, but NASM takes the crown! However, see which accredited program is best for you. The best personal trainer licenses will always be the one that's right for you.
What's the difference between the NASM-CPT and the NSCA-CPT?
While the NASM-CPT is more geared toward corrective exercise and the use of the OPT model, the NSCA-CPT is more geared toward working with general populations and the use of their model, but the CSCS is a promising additional cert which is highly valued in strength and conditioning.
Should you get an NSCA certification or a NASM certification?
This really all depends on your career path and goals. If you want to work with general populations, NSCA will suffice. Whereas, if you want to focus more on corrective exercise techniques, then NASM would be a better option.
Which is more recognized for jobs as a personal trainer; NSCA or NASM?
While both personal training certifications are recognized and accepted by employers, fitness professionals with the NASM-CPT earn higher recognition.
Which personal trainer certification is more preferred; NASM or NSCA?
Quite honestly, both online personal training certifications look great on the resume, but the NASM-CPT will always get more attention and have more employers drooling. But again, both of these certified trainer programs are at the top and include solid information in the realm of performance training, resistance training, senior fitness, biomechanics, kinesiology, injury prevention, and more.
What prerequisites are required to become a NASM personal trainer?
NASM certification requirements are that you must have a high school diploma or GED. You also need to have a current and valid CPR certification and AED certification as well.
Is the NASM certification worth it?
YES! NASM certification is definitely worth it. Take advantage of the NASM online certification and become certified at your own pace!