When it comes to the best nutrition certification programs, the Precision Nutrition Certifications are at the top of the list for fitness professionals.
In this nutrition certification review, we're going to take a deep dive into the nuts and bolts of this famous nutrition course and help you decide if Precision Nutrition is the right coaching certification to add personalized nutrition guidance to your coaching business.
There are several Precision Nutrition courses, but today we're only going to deal with the Precision Nutrition Level 1 certification, which is the first level of the precision nutrition system certification.
In this article, we critically review Precision Nutrition Level 1 along with the following guidelines:
The Precision Nutrition approach
The Science of Nutrition
Working through the Precision Nutrition coaching process
By the time you finish reading this Precision Nutrition review, you will know exactly whether Precision Nutrition is the right certification for your nutrition coaching business.
On a side note, questionnaires can provide a good starting point to help you understand what you're looking for.
We highly recommend that you take our helpful quiz to find the best nutrition certification for you.
Now, let's dive in!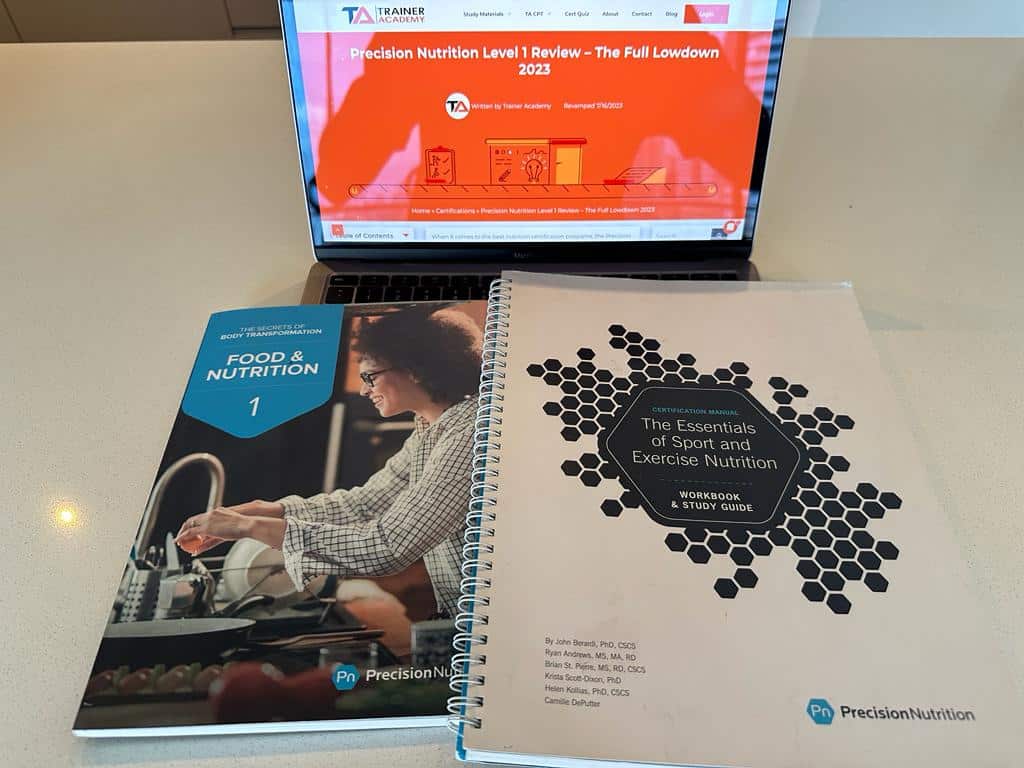 Precision Nutrition Information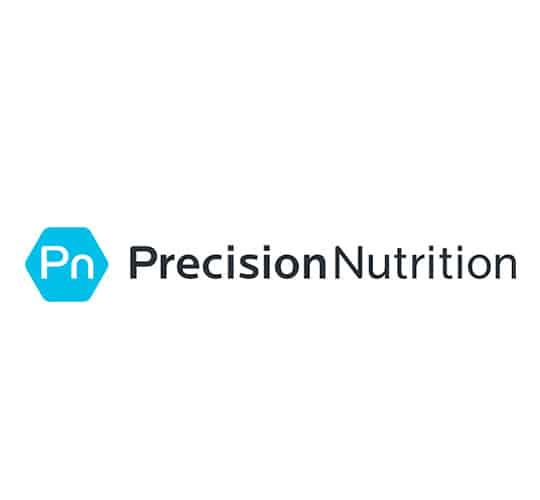 Exam cost: $999
Study material cost: $99/month for 12 months
Prerequisites: High School Diploma, CPR/AED
Exam pass rate: 70%
Average completion time: 2-6 months
Pros
Excellent online tools
Great practical nutrition knowledge
Highly respected organization
Cons
Not accredited by NCCA or DEAC
There's often a waitlist to join
Expensive compared to other nutrition certs
Exclusive TA Offers



Most Popular Cert

Great Option

Best Cert for you?

Good Option

Good Option

Good Option

What is Precision Nutrition?


The Precision Nutrition nutritionist certification is a premium nutrition course with the health and fitness entrepreneur in mind.
This certification comes from a big name Dr. John Berardi. Dr. Berardi is one of the co-founders of the company and a famous name in fitness and nutrition.
The company only offers nutrition certification, as opposed to the competition like NASM and ISSA, which offer the NASM CNC and ISSA Nutritioni st with many other types of fitness certifications and exercise science certifications.
The ISSA Nutritionist and NASM CNC serve as the two main competitors for Precision Nutrition Level 1.
With a wealth of credibility and research-based knowledge from a team of Ph.D. and Masters's experts, Precision Nutrition is crafted to provide second-to-none education and skills in the field of nutrition.
The science-based concepts and practical, real-life application of the coaching program cover the skills needed to coach the following details:
nutrition science
behavior-change coaching
eating habits
dietary patterns
science nutrition
meal plans
nutrition plans
getting lean and losing body fat
diet plans like the ketogenic diet and more
the usefulness of other relevant client information in nutrition
From your general fitness clients and population groups, all the way to more sensitive population groups such as athletes and special needs individuals, PN Level 1 can be scaled to any situation for public health and physical activity, as well as falling into the sports nutrition certification category.
Precision Nutrition can enhance personal trainer certifications and is achievable while also becoming a personal trainer.
This nutrition course will also take about the same amount of time to become a personal trainer.
It is important to note that Precision Nutrition isn't a certification in the traditional sense. That is to say, it isn't recognized by an accrediting commission such as DEAC or the NCCA.
With that said, it's still rated as one of, if not the best and foremost platforms for education and business development in the field of diet nutrition coaching.
And business is where this course really shines, as well as in the realm of improving your salary in fitness.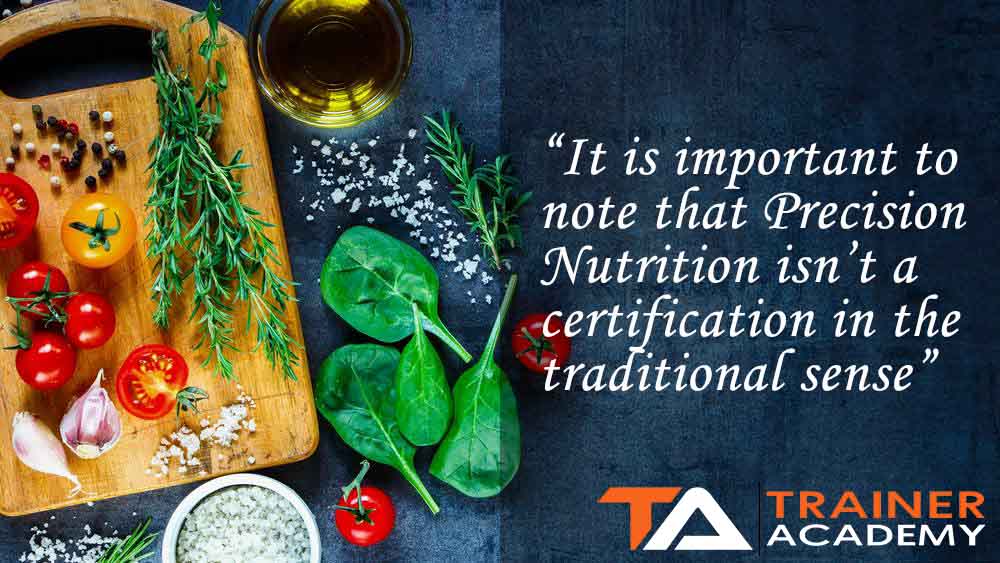 Too often, you will find great certifications that supply candidates with amazing skills and insight into the practical and scientific principles of nutrition coaching.
But the one key ingredient, business training, is often underplayed or missing altogether.
The Precision Nutrition approach is aimed at helping you not only understand the intricacies of providing results-driven nutrition coaching, but it's also going to help you accelerate your business.
Precision Nutrition course content covers business skills that will help you excel in the fitness industry, including the use of social media such as Facebook groups to grow your business, which increases your overall income. 
Additionally, case studies from successful clients highlight how effective Precision Nutrition is at teaching how to help people reach health fitness goals through science-based nutrition.
Since Precision Nutrition isn't NCCA-accredited, you might be wondering why we're even mentioning it. Well, that's because everyone mentions it, and usually in a positive light in terms of credentials. 
Some other options for specializations would be to become a group exercise instructor, strength and conditioning coach, virtual trainer, and even a spin instructor.
When a nutrition course is taught in universities, elevates pro athletes, and is offered by some of the most upmarket fitness clubs in the world, it might be worth looking into.
But let's not get ahead of ourselves and rather let the facts and figures speak for themselves.
First up, let's look at what makes Precision Nutrition so great, but also what may be holding it back, or at least why it may not be everyone's cup of tea.
We're going to break down some pros and cons so you can begin formulating an idea of how well Precision Nutrition Level 1 will suit your career aspirations.
Check out the table below and then read a more detailed version of each pro and con in the next sections.
What we liked:
Scientifically proven methodology
Certified for life
Student-friendly learning approach
Free access to the ProCoach tool
Flexible Refund Policy
Easy-to-grasp delivery
CEU opportunity
What we didn't like:
High price
No answers in the workbook
The waiting list to sign up
Open-book policy
Not accredited
Scientifically Proven Methodology
The first big impression you will get when it comes to PN is the cutting-edge, evidence-based science behind it.
Precision Nutrition was designed and is currently administered by some of the top nutritional experts in the world.
It is the culmination of thousands of hours of Ph.D.-level research and published data.
PN's level of scientific soundness is at such a high degree that many of the big-name certifying agencies use their research or straight-up offer their courses through their learning platforms.
An example of this is ISSA, which is considered one of the best traditional certifying agencies when it comes to nutrition.
It is also a recognized CEU provider by the biggest accredited certs out there, but more on that later on.
The academic integrity of what PN has to offer has made its way into the lecture halls of universities.
Precision Nutrition has been taught at Eastern Michigan University as part of its master's program.
Because of this, you can be assured that what you get in the box will assist you in gaining relevant and factual knowledge you can apply for optimal results.
Certified For Life
Once you are Precision Nutrition Level 1 certified, you'll qualify for life.
Most accredited certifications have a constant expiry and renewal cycle.
With PN, you can focus on growing your career and not have that nagging feeling of impending recertification every two years or so.
Student-Friendly Learning Approach
Another big win when it comes to PN is the relaxed approach to learning and testing. Like many certified personal trainer courses, you can study at your own pace.
Improving your coaching skills takes time.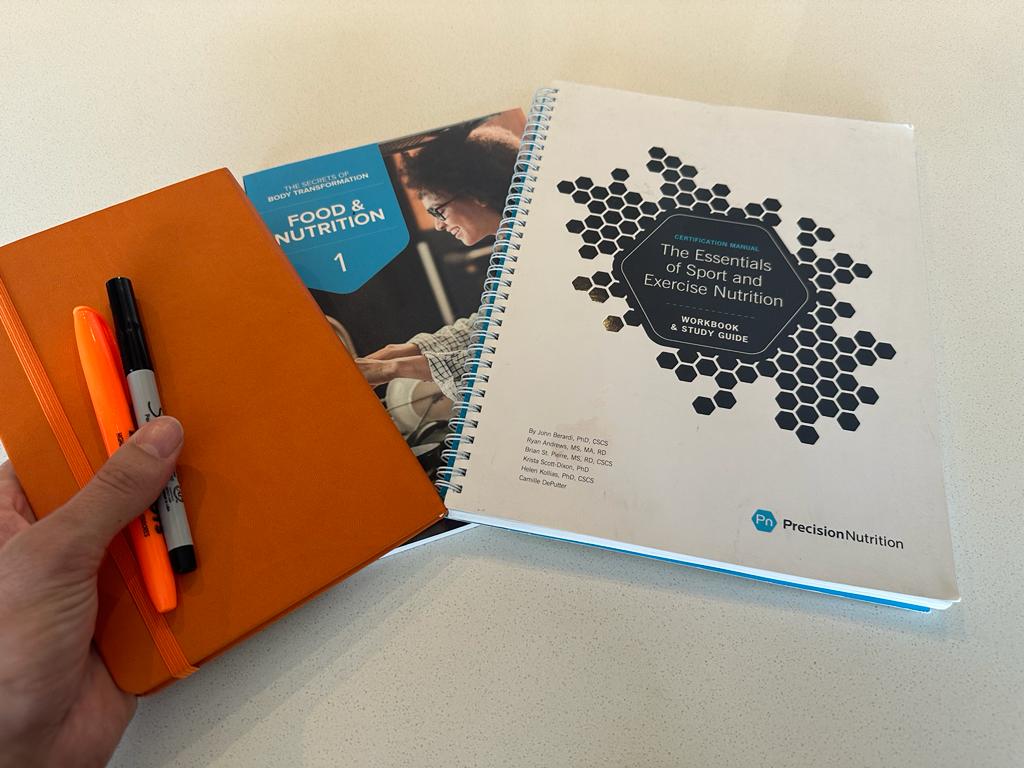 Additionally, Precision Nutrition is available globally. That means students can engage with the course in the comfort of their preferred surroundings, or if need be, anyone can learn on the go while traveling.
The exam itself is a self-paced and open book, this allows you to go through the process without the pressure of time constraints and with access to resources that guide you step by step as you unlock the necessary knowledge and skills.
Precision Nutrition Level 1's study materials are shipped for free anywhere in the world and contain a robust offering of premium prep materials which include: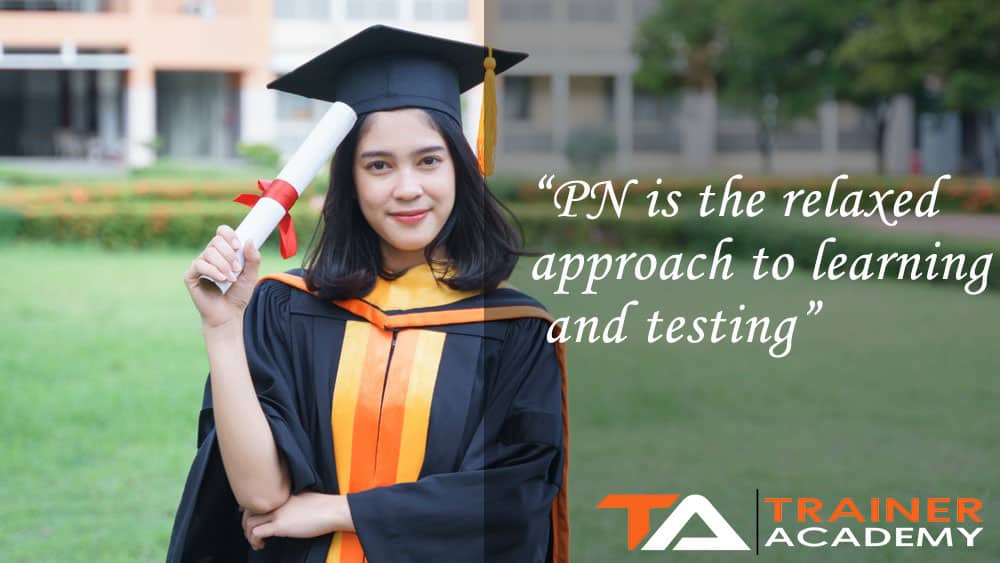 3-course textbooks
A workbook/study guide
Assessment forms and business resources
Access to the Precision Nutrition Facebook group
Information on diet guide and how to count calories
Business growth resources
The PN exams
Free Access To ProCoach Tool
This next-level nutrition coaching software typically goes for $99/month, but with the purchase of your Level 1 cert, you get free lifetime access to this amazing tool.
But why is it so amazing, you may be wondering?
ProCoach is a client management tool geared towards nutrition coaching.
Similar to things like PTDistinction or Trainerize, which do pretty much the same within the realm of exercise coaching.
Pro coaching allows you to manage client data such as:
Food intake
Goals
Measurements
Pictures
Progress reports
All this allows you to focus on the coaching aspect of nutrition without the tedium of putting together every tiny detail and executing all the calculations.
ProCoach isn't the only useful business tool when it comes to Precision Nutrition Level 1.
You will also gain access to a nifty PN calculator which helps you quantify your client's nutritional goals with just a few buttons and sliders.
Flexible Refund Policy
One great thing about PN is they understand it might not work for everyone.
It is, of course, your responsibility to do your own research before you purchase something, which is why you're reading this.
But in the case that your expectations vs. your reality with Precision Nutrition Level 1 don't match up, you have 45 days to request a full refund.
Easy To Grasp, Relatable Delivery
The course textbooks are delivered in an easy to relate to, conversational tone.
We feel this takes away a lot of the intimidation traditional textbooks impose with their stern, academic tone.
Having a relatable method of delivering knowledge and instruction allows for better studying and preparation, in our opinion.
This method of writing and delivery is probably a reason why Precision Nutrition sees so much success.
The ability to connect with the broader population makes relaying concepts and instructions to clients much easier.
Because it's not just about how you understand the content as a trainer, it's also about how your clients can digest it, no pun intended.
CEU Opportunity
PN Level 1 offers 1.9 CEUs, which is 19 hours worth of continuing education credits.
Most major certifying agencies, such as ISSA, ACE, ACSM, NASM, NSCA, NFPT, and so on, have a limited time within which the certification is valid.
This is typically two years but can be more depending on the certification.
When this period is nearing its end, you will need to recertify, and to be eligible for that, there are certain requirements you will need to fulfill.
The main one of these is to have the right amount of continuing education units or CEUs. Sometimes these are also called continuing education credits (CECs).
These credits prove that you have been taking part in activities that further your education, broaden your skills, and keep your sharp and trends savvy when it comes to the health and fitness profession.
Precision Nutrition Level 1 provides almost enough of these credits to meet the requirements for recertification.
That's because most two-year certifications ask for 2.0 CEUs for renewal of your cert. Since you get 1.9 with PN, you have very little else to work towards to meet the requirements on demand.
To get detailed info about the above-mentioned certifying agencies, click on the links below:
Exclusive TA Offers



Most Popular Cert

Great Option

Best Cert for you?

Good Option

Good Option

Good Option

Quite Pricey
Precision Nutrition Level 1 is a $999 one-time payment or $119 per month over 12 months.
This makes it more expensive than most Nutrition certifications in the top category of accredited certs.
In our opinion, as dedicated health and fitness experts, Precision Nutrition costs as much as it should. Regardless, this course may not be for everyone from an affordability perspective. Some people won't want to dip into their savings for a non-accredited certification. 
No Answers With The Workbook
The workbook is designed to encourage candidates to draw from retained knowledge, but we felt the lack of an immediate answer guide to check with was a bit of a drawback.
Exams are meant to be challenging. They are created to test your knowledge and skills as a means of verifying that you are cut out to carry the qualification in question. This means that gyms who hire you can have confidence in your abilities on-the-job, without thinking you have to look up information from a textbook to verify your knowledge. 
So providing context in the form of an answer guide you can refer to definitely helps.
Waiting List To Sign Up
Unlike most nutrition certs, Precision Nutrition isn't immediately available for purchase.
You have to sign up for the presale list and hope that by the time enrollment opens up, you have a spot to actually buy the course.
Precision Nutrition only offers a limited number of spots at any time to be able to take their nutrition program. 
This seems a bit unnecessary since the course is conducted remotely and online with no real administrative constraints that would force an intake limit.
Who knows, perhaps there's a perfectly great explanation, or it could just be a case of crafty scarcity marketing.
Nevertheless, you'll get more value at the same price if you purchase the course through the ISSA website.
Doing this gives you access to lots of benefits that are more than the cost, such as: Having instant access to enrollment opportunities at your convenience
You'll be getting the ISSA personal training certification in addition to the PN certification at no cost.
There is no way your clients won't enjoy the benefits of the knowledge gained from acquiring both certifications.
To enjoy this bonus and much more, click on the link here.
The Open Book Policy Isn't Universal Hit
The open book test policy might sound like a great hassle-free, easy way to deal with an exam, but for many, the idea of being able to just flip a page and get the answer is less than ideal.
Exams are meant to be challenging, they are created to test your knowledge and skills as a means of verifying that you are cut out to carry the qualification in question.
When it comes to the fitness industry, the most challenging exam is the NSCA CSCS, and this one is not going to be close to that level of difficulty.
Precision Nutrition may have an open book policy, but paging through the text to find answers requires that you know what you're looking for in some way.
It's a difficult debate and a worthy criticism in many respects, but the proof is in the pudding, and that proof comes in the form of success and great results.
Non-accredited Certification
Is Precision Nutrition accredited?
Another common criticism against PN is the fact that it is not accredited and, therefore, technically not a certification.
Accreditation is basically a certification for certification.
It authenticates the quality and relevance of educational content and validates how it is delivered and administered.
In the US, there are two main accrediting organizations.
One is the DEAC or Distance Education Accrediting Commission. This one deals with certifications that are delivered and administered remotely or without any central facilities.
The other, and more common, is the NCCA, or National Commission of Certifying Agencies.
This one is pretty much stamped on all the major certifications and is highly recognized as a seal of approval by the industry.
So why isn't Precision Nutrition accredited?
Well, they don't need to be. Precision Nutrition is an industry and academic leader in nutritional practice. Their curriculum is taught in universities and promoted by some of the biggest fitness brands in the world.
It's also a recognized CEU provider to some of the big certifying agencies accredited by the organizations we've mentioned.
So from both an industry and academic perspective, Precision Nutrition is highly regarded, which ultimately is the point of accreditation in the first place.
With that said, accreditation does offer some degree of direction and assurance to the less initiated, it certainly wouldn't hurt to get it done, which is why we count this as a con.
Who is the Precision Nutrition Certification Meant For?
Precision Nutrition is for anyone with a passion for nutritional concepts that can be applied to any of the numerous career fields in health, fitness, wellness, sports, and medicine.
Oftentimes, this certification is pursued in addition to a cheap personal training certification or some bundle and a desire to add nutrition expertise.
The career path is similar to that of a registered dietitian and is known as being a certified nutritionist.
PN resources and coaches have worked with some of the biggest brands and organizations in sports, health, and fitness.
So whether you want to approach the general health and fitness market or want to go big and work with athletes, Precision Nutrition has been there and done that.
Because of the advanced level of knowledge, resources, and training that comes with PN, the ideal candidate is someone who's already in the trenches with nutrition and coaching practice.
Precision Nutrition gives you an alternate coaching method, which can make a difference if you feel like your current skills need some polish. 
It's also great for trainers who have had success as trainers but want to enhance their business approach.
Another possible candidate, although not the most ideal owing to the cost and potentially idol resources, is pretty much anyone who just wants to learn about nutrition.
It's a great educational resource and can teach even the most uninitiated individuals about the important, must-know aspects of nutrition.
The relatable, conversational tone makes it an easy, enjoyable read for most.
However, as we said, it's quite an investment, and if your only return on it is a trivial pursuit, you're better off just reading up research journals on the internet.
Other options that are viable for specialization would be pursuing other certs like yoga certs, pilates certs, group fitness certs, and strength and conditioning certs.
Exclusive TA Offers



Most Popular Cert

Great Option

Best Cert for you?

Good Option

Good Option

Good Option

Precision Nutrition isn't super heavy on the study resources.
You get 3 Precision Nutrition textbooks and a workbook that is similar to a study guide.
The course text is divided into 3 units of study.
Each unit is contained in its own separate book.
As you move through the 20 chapters of each unit, you will be presented with a unit exam at the end.
We'll get more into the exam stuff later on, but as far as the quality of the study materials is concerned, we give PN Level 1's stuff an 8/10 rating.
To learn the techniques, you need to understand, assimilate, and retain info for long term-benefit and to ace your exams with flying colors, using the ISSA MVP study package is not a bad idea.
It is value-loaded and comes with a guaranteed money-back offer, and will help reduce your study time by 50%.
The Precision Nutrition price does take a little wind out of its sales, but still well worth it when considering the relevance of the materials.
While it may not have all the fancy bells and whistles you would get with some of the major certifications, what it gives you is all you need!
The real treat with PN's resources isn't what you get as prep material but rather what you get as business resources.
Access to ProCoach, the macro calculator, forms, and assessment resources. All these things come together to provide a second-to-none product and service.
And that brings us to our next topic, Precision Nutrition's value in starting a nutrition business.
Precision Nutrition Business Growth Tools
We've touched a few times on how Precision Nutrition coaching is very business-centric and how their goal is not only to equip you with the methodology of a nutrition coach but also one of a business person.
To this end, they have a very business-savvy slant to the material covered.
Added to this, the industry's popularity and recognition of PN means a lot of doors will open once you hit the market intending to take your career in a nutritional direction.
Many large global fitness brands such as Virgin Active, Lifetime, Equinox, Crunch, Gold's Gym, and many more, use the PN system for their clients and members.
There's also a plethora of cool business tools and resources, but let's take a look at the most significant ones first.
ProCoach is a client management system geared towards optimizing and streamlining your work as a nutrition coach.
It is an online platform that you can use with up to 20 clients at a time.
The ProCoach platform assists your efforts by delivering PN's nutritional methodologies to your clients on a hassle freeway.
It also includes daily lessons, updates, and feedback, as well as progress tracking.
It is regarded as rather easy to use in comparison to other fitness client management tools.
This ergonomic approach is a benefit on both ends since both clients and trainers report an amazing experience with the system.
Gathering client data is relatively easy, and once your client is locked in, it's even easier to keep track of their activity and progress.
The software is feature dense, making it a robust system with most bases covered. Features include:
Auto-generated marketing assets
Sales
Comprehensive coaching dashboard
A billing system
Exercise programming
ProCoach is $99/month if you subscribe to it directly, but if you are a PN student, you'll get free lifetime access to the system. It is like a master class in nutrition.
Change Maker: By John Berardi
John Berardi, co-founder of Precision Nutrition believes that nurturing the right business acumen is the key to true success and fulfillment as a professional fitness expert.
We've gone on about how PN takes a very business-minded approach, and John's book is a literal testament to that.
The book provides some insight into how to set up and operate a thriving business in nutrition. This helps loads considering how competitive and saturated the market currently is.
Precision Nutrition Calculator
The Precision Nutrition Calculator is a state-of-the-art dietary calculator that works to provide accurate data and recommendations for client nutrition programs.
The calculator calculates calories, portion sizes, and macro values (protein, carbs, fats).
This is incredibly useful when going for specific nutritional goals such as weight loss or assisting athletes with the right dietary protocols.
Popularity and Recognition
The popularity and recognition of certification provide two useful pieces of information.
Popularity tells us that it's a great experience and is trusted by candidates.
If so many people are willing to spend money on something, it must be safe for you to do the same. Not only safe but probably beneficial.
Recognition tells us that the certification can definitely open doors as far as your career is concerned.
Industry recognition is pivotal when it comes to providing opportunities for employment and business growth.
When it comes to popularity, Precision Nutrition is quite an in-demand certification.
According to Google search data, Precision Nutrition nets around 15,000 search entries a day.
To stand a chance of enrolling, you have to join a presale waiting list with no immediate guarantee that you will be in line to purchase upon signing up.
That in itself is a testament to how popular PN Level 1 is.
As for recognition, Precision Nutrition is highly recognized in the industry. In fact, Precision Nutrition's curriculum is included in the content of many well-established nutrition certs such as ISSA Nutritionist.
It is also provided by a few certifying agencies in its entirety.
PN has many major brand endorsements from corporations and sporting organizations.
Some of the brands Precision Nutrition is associated with include:
Atlis
Nike
The San Antonio Spurs
The Toronto Maple Leafs
The Seattle Seahawks
The Houston Rockets
Aside from this, PN has received publicity and praise from a few popular mainstream news outlets, such as:
Livestrong
Time
New York Times
Everywhere you go in the nutrition world, somebody knows about Precision Nutrition and usually has something good to say.
Click here to find great deals on PN certification via the ISSA website.
Average Study Time and Study Tips
Since the course is self-paced with no exam deadline, you can pretty much take as long as you want with it.
It's also important to point out that Precision Nutrition, unlike many other certifications, does not have a single final exam.
Instead, PN's assessment structure is on a chapter-by-chapter basis. With the completion of each chapter, you will be required to complete a 10-question test.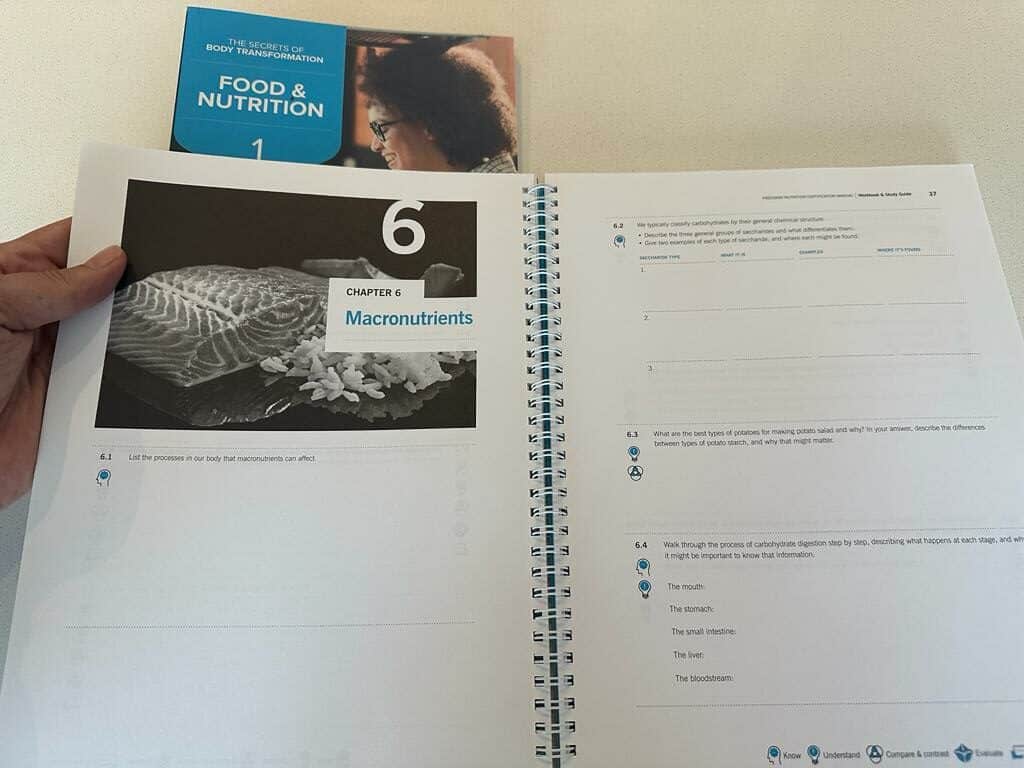 Because of this format, you can take your time or whizz through the course at a record pace.
Most people would average between 10 to 20 weeks as this is the going trend with most other online courses and certifications.
It's safe to assume that Precision Nutrition candidates wouldn't stray too far away from this beaten path.
A great way to pace yourself is to go through one chapter each week rather than cramming multiple chapters in a single sitting.
Your goal is to retain skills, not temporarily memorize facts.
As for the best study tips to pass Precision Nutrition, the most important thing is to be meticulous.
Be an active reader when you go through each chapter so that you have a good grasp of the concepts once it's time to do the chapter test.
Other useful tips include:
Use bookmarks in the form of sticky tabs
Complete the workbook before the tests for each chapter
Take your time with the textbook. This is not a crash course, it is designed to enrich you with knowledge and skill
Exam Layout and a Passing Grade
The Precision Nutrition Level 1 exam layout is a bit different from what you'd normally get in a certification course.
Instead of one big exam, you'll have several small chapter-by-chapter tests.
There are 20 of these tests representing the 20 chapters of PN Level 1.
These chapters are spread across the three textbooks, which have their own separate areas of focus or units.
The three units are:
Unit 1: The Precision Nutrition approach
Unit 2: The science of nutrition
Unit 3: Working through the Precision Nutrition coaching process
Let's go into each of these a bit more in-depth.
Unit 1: The Precision Nutrition approach
This unit introduces you to two main ideas. The first one is how to be an effective nutrition coach. Basically put, you'll be gaining knowledge and insight on how to coach clients on a habit basis, using strategies to support your clients. 
The next concept is how to coach Precision Nutrition way.
This is where you'll be introduced to the methodologies and proprietary systems that make Precision Nutrition what it is, which is super successful.
Unit 2: The Science of Nutrition
In this unit, you're introduced to the fundamental concepts of nutritional science. All nutrition certifications should teach the science of nutrition in some form.
You learn everything from understanding the different types of nutrients (macros and micros) to what role and effects they have on the body.
Most CPTs teach macronutrients, but not to the extent of a nutrition course like Precision Nutrition. 
You will learn the biochemistry of metabolic activity and how nutrition interacts with the body and its systems.
This stage brings in concepts surrounding the anatomy and physiology of the human body.
This stage brings in concepts surrounding the anatomy and physiology of the human body. In order to give nutrition advice, you must know how the body works. 
Other topics touched on in unit 2 include:
Energy balance
Fluid balance
Rest, recovery, and sleep
Stress management
Unit 3: Working through the Precision Nutrition coaching process
This unit focuses on the different coaching standards for different types and levels of clients.
You will learn how to adapt different nutritional protocols based on how intense the goals of a particular client are.
You will also go through the different psychological factors that influence success and learn how to manage those factors along with behaviors. 
Learning behavior change psychology will help you greatly as a coach. 
This unit also goes in-depth into the business of fitness nutrition.
To pass your PN course, you will need to score a minimum of 75% in each chapter.
That means you have to do considerably well with each test as opposed to an aggregate score which grades you on an average mark from a cumulative basis.
That would mean your total should be no less than 75%, allowing you to score less in certain chapters and more in others.
Some would argue that an aggregate grading system would work better, but we believe the nature of assessment means that having a chapter-by-chapter passing grade makes more sense.
FAQs (Frequently Asked Questions)
Is Precision Nutrition worth the cost?
Precision Nutrition is an excellent online nutrition certificate. However, it comes with a steep price tag.
If nutrition coaching is a big part of your business plan, then the cost is a great investment. If you do not plan to sell nutrition coaching directly, Precision Nutrition is a bit too expensive to justify the cost.
What is Precision Nutrition Level 2?
This is a more advanced and time-consuming nutrition certification. It costs $349 per month for 12 months, so you can see the added cost and time differentiate level 2 from the level 1 cert. It is worth looking into for the most dedicated.
How many years of school does it take to be a nutritionist?
A program such as this will only take a couple of months to complete, but if completed through a university, nutritionists programs take around 4 years.
Is Precision Nutrition level 1 a challenge?
Precision nutrition level one is not considered to be a challenging certification. It does a good job teaching the fundamentals and also has a relaxed exam for certification.
How much do Precision Nutrition coaches make?
The average salary for a Precision Nutrition coach that works 30 – 40 hours a week is around $49,000 a year. PN certified graduates do well compared to other nutrition coaches. 
Precision Nutrition is actually a pretty great choice. 
We've gone through it and have found little to diminish its value.
The depth of knowledge is second to none, while at the same time, it manages to come across in a relatable tone.
Some might complain about the price, but with all the tools, resources, and not to mention free shipping, it's definitely well worth it.
The lack of accreditation means nothing in the face of the high esteem and recognition Precision Nutrition holds.
We hope this article provided some insight into the world of professional nutrition courses as we shine a spotlight on one of the best in the game.
Good luck out there, changing lives for the better!
Look into some of the master trainer cert bundles if you want to get multiple types of fitness certs.