The ACSM certification has a strong focus on advanced research and education whereas the ACE certification covers change psychology and developing healthy habits with its Integrated Fitness Training (IFT) model. Both certifications are NCCA (National Commission for Certifying Agencies) accredited.
Let's find out which one is best for you.
The American College of Sports Medicine (ACSM) and the American Council on Exercise (ACE) are two of the top NCCA accredited certified personal trainer (CPT) certifications and are widely accepted for exercise professionals fitness industry, especially in the United States.
If your goal is to be a career personal trainer you should strongly consider either of these best personal training certifications.
While most gyms, fitness studios, and prospective clients 'in the know' will recognize either certification program as legitimate, there a few major differences between the ACSM CPT and ACE CPT you must be aware of before selecting which top personal training certification is right for you.
Ultimately, your goals in the fitness industry will be the determining factor towards which certification you should choose.
This article breaks down everything you need to know about picking the ACSM vs the ACE personal trainer certification.
Our ACSM vs ACE certification review looks at the following criteria:
Skills and content covered in ACE and ACSM certifications
The usefulness of each certification in different areas of the industry
Quality of study materials in ACE vs ACSM CPT curriculum
Cost of exam fee and additional study materials in ACSM and ACE
The difficulty of ACE vs ACSM exam
Continuing education requirements and ongoing costs to stay certified
By the time you finish reading, you will be ready to choose whether ACSM or ACE CPT will be your first personal training certification.
We highly recommend that you take our helpful quiz to find the best personal trainer certification for you.
Without further ado, let's dive into our ACSM vs ACE personal trainer certification review!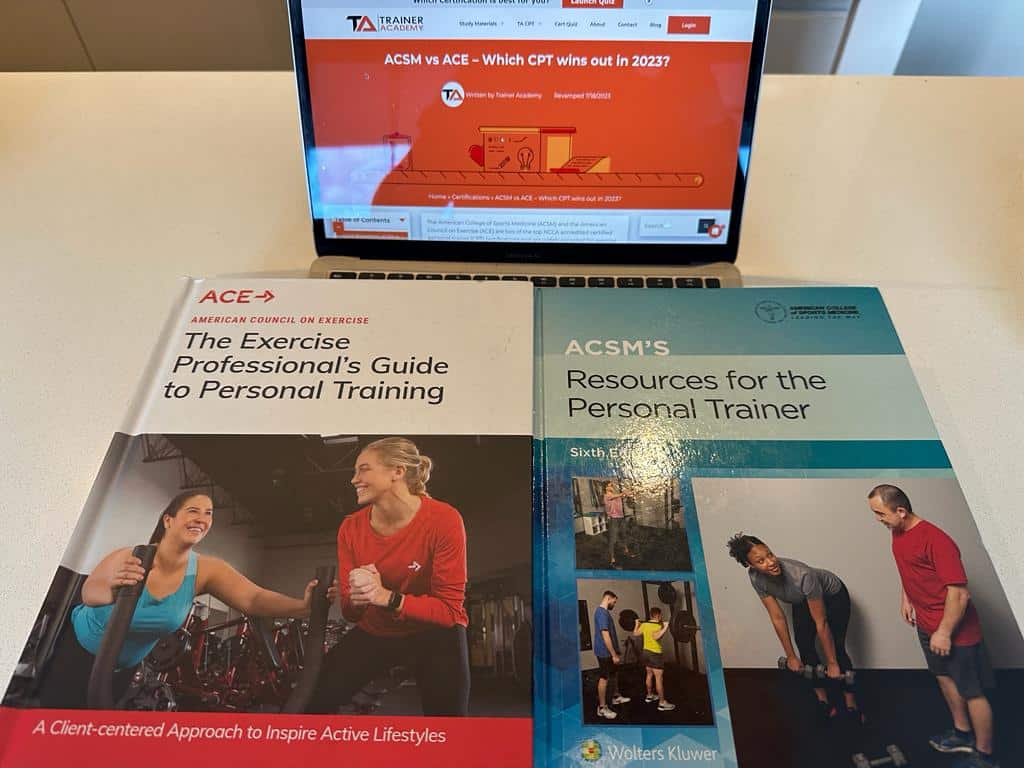 CPT
ACSM vs ACE Quick Breakdown
Features
Price
ACSM CPT

Good exercise science, behavior change, and special populations training
Covers basic business and sales skills
Lacks comprehensive program design framework
Weaker coverage of resistance training technique
Weak on corrective exercise

View on ACSM Website
ACE CPT

Best certification for actual personal training work
Complete skillset for training healthy clients
ACE IFT® Model provides excellent program framework
Mover Model® effective for behavior change
No sales skills discussed
Weak on corrective exercise

View on ACE Website

ACSM CPT
Exam cost: $349
Packages: $619-999
Requirements: CPR/AED, High School Diploma
Passing Score: 550/800
Pass Rate: 69%
Average Completion Time: 3-6 Months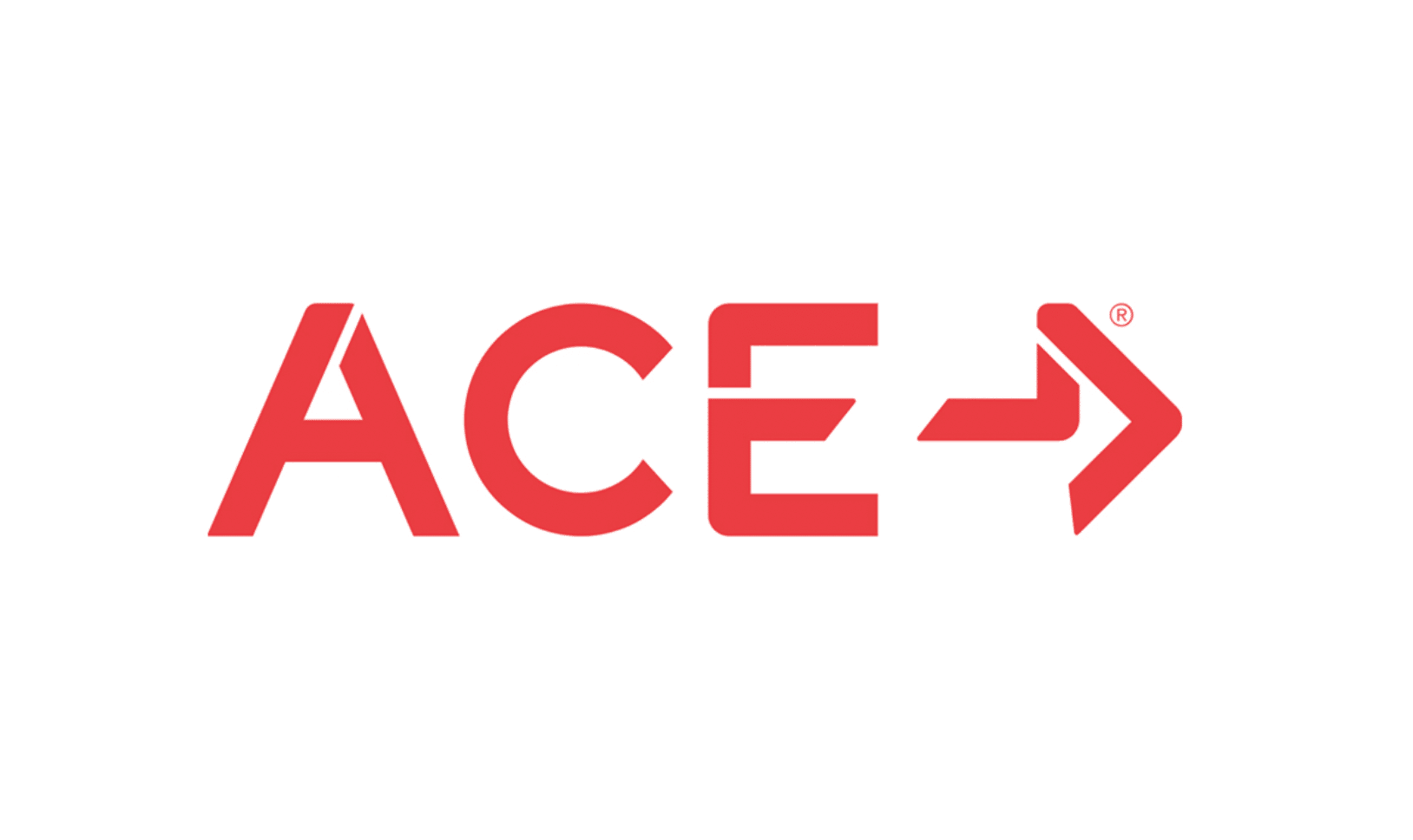 ACE CPT
Exam cost: $636
Packages: $636-999
Requirements: CPR/AED, High School Diploma
Passing Score: 71%
Pass Rate: 69%
Average Completion Time: 3-6 months

Trainer Academy Guides
Complete curriculum study preparation
Audio guide, flashcards, and mnemonics
800+ practice questions
Exam pass refund guarantee
Cheaper pricing than premium materials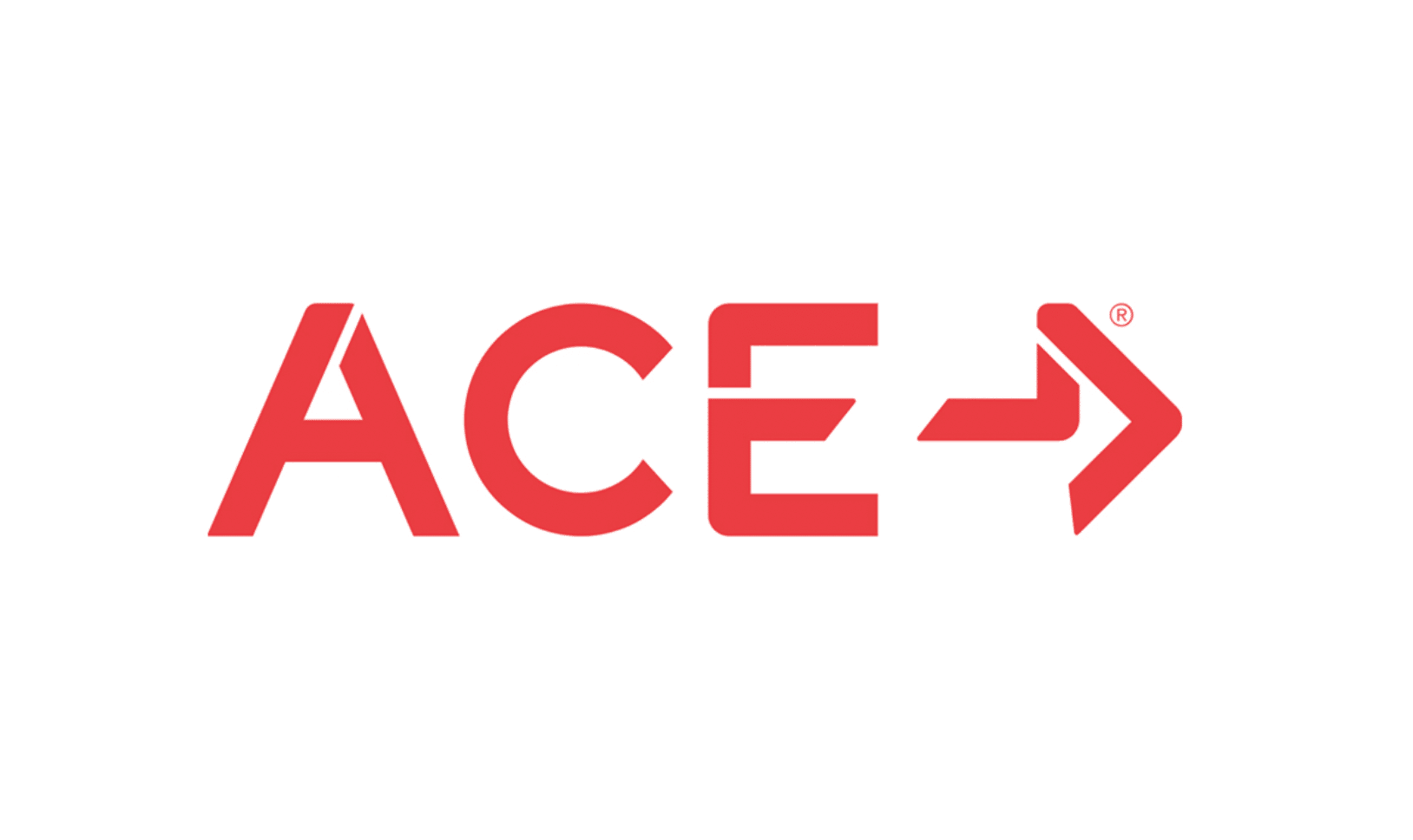 Provider Materials
Curriculum study preparation
Includes text, graphics, and videos
200+ practice questions
No exam pass refund guarantee
$300+ for ACSM textbook and prep course (test not included)
$636+ for ACE starter package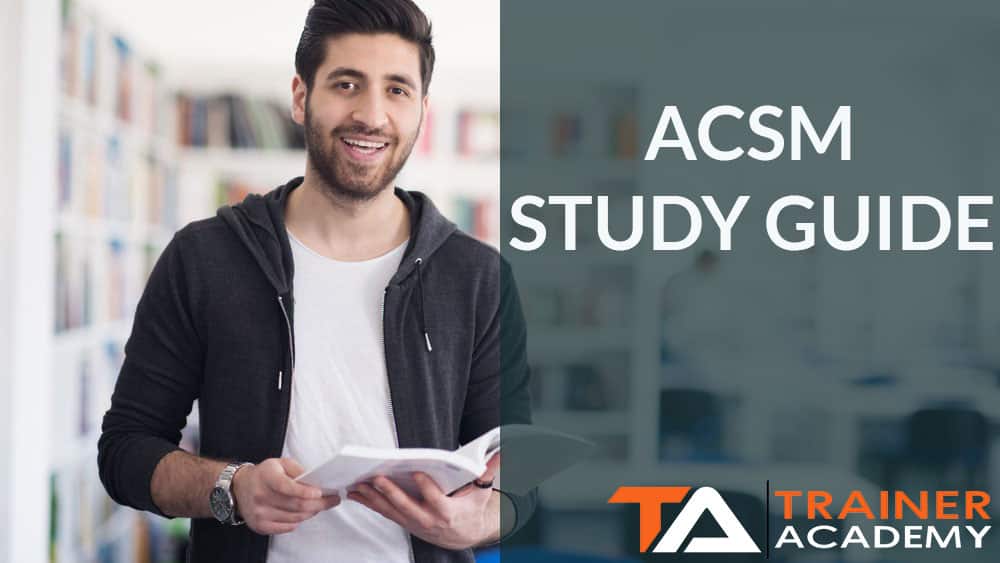 Free Study Guides
Curriculum material overview
Complete chapter breakdowns
60 practice questions
130 flashcards
Exam cheat sheet
Free from Trainer Academy
Exclusive TA Offers



Most Popular Cert

Great Option

Best Cert for you?

Good Option

Good Option

Good Option

Quick Breakdown: ACSM vs ACE
The ACSM has a heavy focus on clinical populations and screening clients for chronic disease while ACE is more focused on general resistance training programs and assessing, correcting, and improving client's functional movement patterns.
ACSM includes far more in-depth anatomy and exercises science knowledge than the ACE CPT, but fewer practical skills.
The ACE Integrated Fitness Training® Model is easier to use with general fitness populations than the programming provided by the ACSM.
If you plan to work with general fitness clients in the gym, look to become certified with the ACE personal training certification as it is far more practical than being ACSM certified, which keeps things simple when you're learning how to become a fitness trainer.
On the other hand, if your goal is to work with clients in a clinical rehabilitation setting, then ACSM personal trainer is a better choice for your first certification.
Both ACE and ACSM are gold-standard personal training certs and organizations with additional specialty certifications available.
They both are nationally accredited personal training certifications, and are among the elite PFT programs out there.
Click on the links below to get a detailed understanding of how both certifications work and the current deals available.
ACE vs ACSM Content comparison
The content covered in each certification has some major differences as well as overlaps.
Our content breakdown goes over the different knowledge categories in each CPT curriculum and their respective usefulness for the occupation of personal training.
Fitness industry overview and role of the personal trainer
Most fitness certifications begin with a general overview of public health in relation to exercise, a rundown on the fitness industry, and a discussion on the role of the personal trainer in promoting client health and wellness.
The ACE and ACSM coverage of this topic are similar.
Both certifications include statistics on public health, activity rates, and chronic disease that are relevant in terms of understanding the need for fitness trainers in society.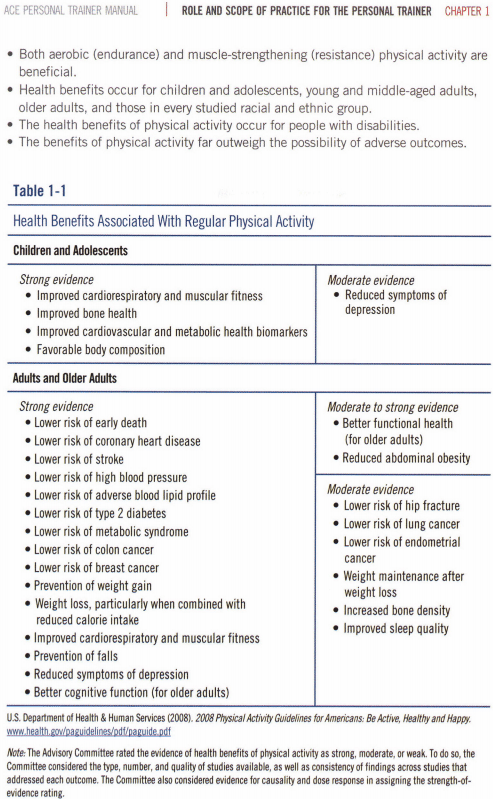 Each certification discusses some general career paths in the fitness industry, the different job options for personal trainers such as working as an employee, independent contractor, or owning a fitness studio.
One interesting standout in the ACSM is its inclusion of the 'fitness industry trends,' which are not discussed in ACE.
Despite this, the overview of the fitness industry is almost the same in both certifications, which suggests that they are both up-to-date and relevant to the modern fitness professional.
The scopes of practice of the personal trainer are also virtually identical in both certifications.
Each book also includes a section on other health and fitness professionals such as registered dieticians, chiropractors, and medical doctors, and the relevant education and scopes of practice for each.
This section is key because you need to know when and to who to refer your clients when issues come up beyond your scope of practice.
Given that each certification qualifies you on paper for the same job, the scope of practice sections should not differ regardless of your intended use for the CPT.
Other than the fitness industry trends snippet in ACSM and the in-text mentions of each respective organization, the first sections in each textbook are virtually indistinguishable.
Anatomy and exercise science
After the fitness industry overviews, most CPTs discuss the anatomy and exercise science to some degree. The ACSM certification has comprehensive coverage of these topics including in-depth breakdowns of the following:
complete anatomy of the skeletal and muscular systems
breakdown of major joints, relevant muscles, and the motions performed by each
detailed breakdown of exercise biomechanics
the process of muscular contraction via the sliding filament theory
overview of cardiovascular, respiratory, and nervous system anatomy
This coverage is spread across three full chapters in the textbook and makes up the bulk of Section II in the curriculum.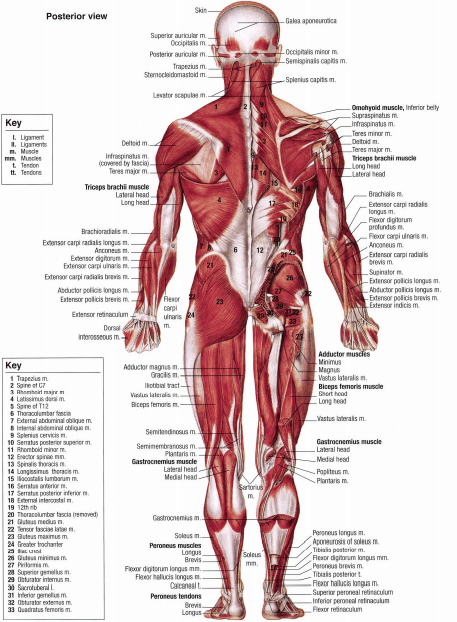 The ACSM anatomy discussion exceeds what you technically need to know as a personal trainer.
However, much of the content ACSM covers helps inform your underlying knowledge of programming. This is useful when a client asks about the reason you are choosing a certain program.
Although you do not want to overexplain complicated anatomy to a client, a good rule of thumb is to know at least one or two layers of knowledge beyond what you are likely to be asked by a client.
For example, if a client asks about why you selected a certain set and repetition scheme, you could say '10 repetitions is good for hypertrophy.'
Although this will cover 90 percent of clients who ask, there is a chance they will press a bit further.
Being able to explain the deeper physiological differences in muscular adaptations at different repetition ranges would be helpful in this instance to ensure the client has confidence in your programming.
You want to avoid stumbling to explain basic anatomy, as this can cause clients to lose some faith in your knowledge. If you learn anatomy in the ACSM curriculum, you will not have this problem.
When you compare the diagrams in one book next to the other, it is difficult to see any real differences. They are both done well and have color; the ACE materials may just appear a bit more modern, but it is very minor.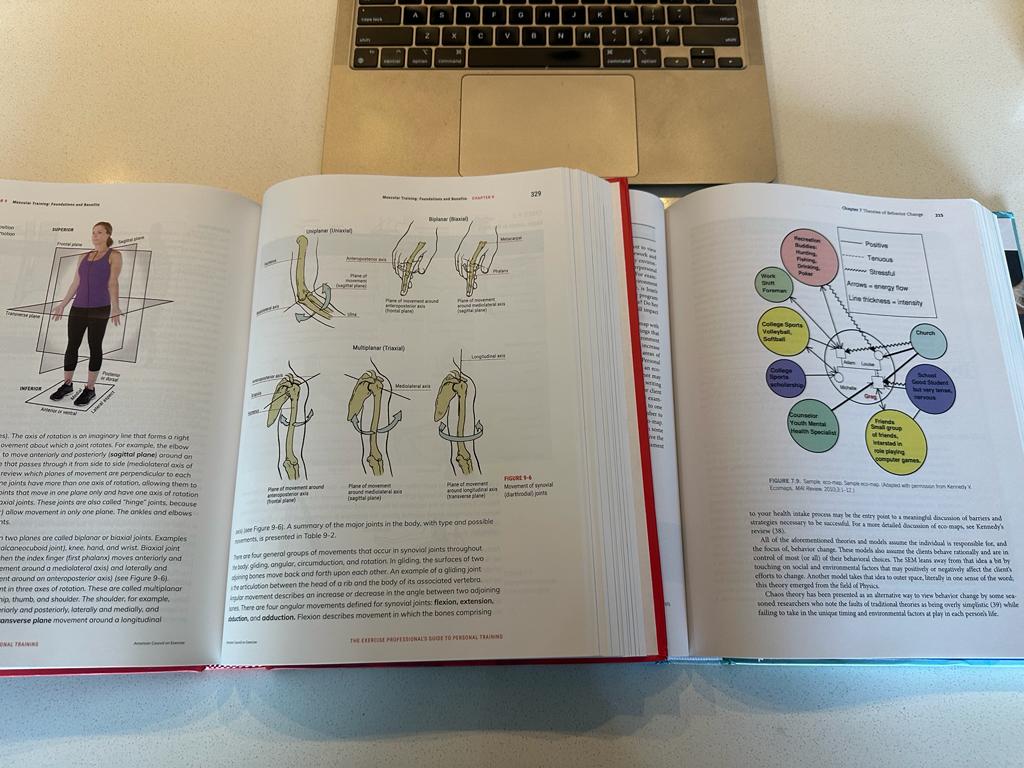 ACE covers little anatomy, particularly when compared to the ACSM.
Exercise physiology and biomechanics concepts are mentioned in passing throughout the ACE textbook, however, there is no dedicated section or even a single chapter for this in the ACE curriculum.
Although you technically do not need to know this to develop programs or coach exercise techniques for your clients, ACE could do a better job of providing you with a more scientific background when it comes to personal training.
You really will not know enough to explain anything in real depth to your clients if they press you on your scientific knowledge.
While this may not concern you, if you expect to have an 'extra curious' type of client, you should consider supplementing the core ACE CPT knowledge with some basic anatomy and physiology.
Note that bonus exercise science material is included in the more expensive ACE study packages but is not found on the exam itself.
Behavioral change and leadership
The psychology of behavioral change, motivation, and long-term exercise adherence are key skills that you must learn to have any hope of successfully helping clients reach their fitness goals.
Most people can learn how to make a program for different fitness goals and demonstrate and coaching exercises.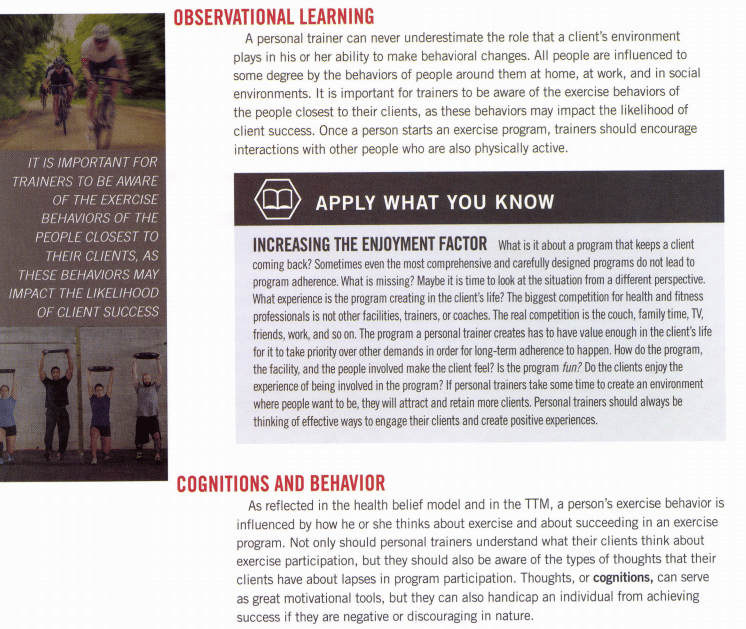 However, truly transformational trainers must be leaders to their clients and promote and inspire long-term change.
Although 3-month transformations are great sales pitches, without getting your clients on board for a lifetime of physical training, they will regress towards their pre-exercise state.
Luckily, both the ACSM and ACE CPT do an excellent job of covering this area of personal training.
The ACSM includes excellent discussions of the main behavioral change theories as well as practical case studies to guide your application of each theory.
Stay up to date with current deals and discounts from ACSM by clicking the link here.
The behavioral change theories in the ACSM are as follows:
transtheoretical model of change
health belief model
theory of planned behavior
social cognitive theory
goal setting theory (SMART goals)
small changes model
socioecological theory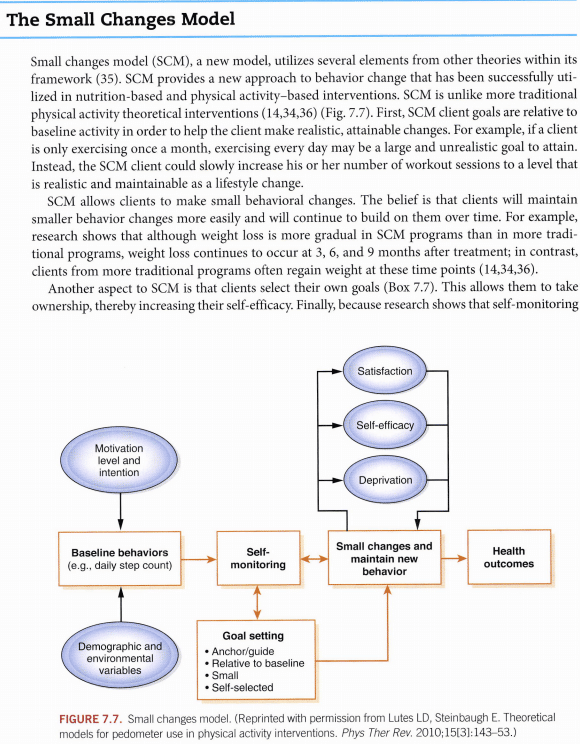 ACE only discusses the transtheoretical model of behavior change, which is the typical model used in most mainstream fitness certifications.
Additionally, ACE covers SMART goal setting, which is the primary goal-setting theory used in most industry-respected fitness certifications.
Overall, both certifications adequately prepare you to coach your clients through the necessary behavioral changes.
Get informed about the latest deals and discounts from ACE by clicking here.
Exclusive TA Offers



Most Popular Cert

Great Option

Best Cert for you?

Good Option

Good Option

Good Option

Client pre-participation screening and assessments
Any time you acquire a new client, they will go through a screening process.
This process necessarily begins with the initial consultation, which is your first contact with a prospective client and the first opportunity to begin working towards selling training to the client.
Assuming the client agrees to be trained, you will have them sign a waiver, fill out a general medical history questionnaire, and fill out a PAR-Q risk assessment form to ensure the client can safely begin training and that you yourself are protected from any major liability.
Both the ACSM and ACE have similar approaches towards the initial client consultations, rapport building, sales, and pre-participation screening.
Each certification includes step-by-step checklists that guide you through some key points for mastering this first step of client acquisition.
Rapport building is especially important in the field of personal training because prospective clients must feel you understand their goals and struggles but will also be socially easy to work with.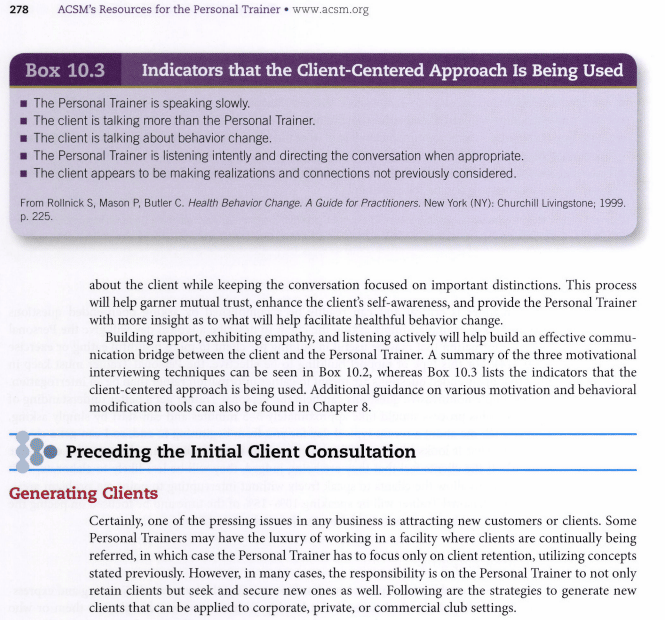 The ACE trainer certification has more specific details on the rapport-building stage than ACSM, however, both certifications explain the importance of establishing this trainer-client connection, which ultimately leads to the sale.
A few standout points in both certifications are conversational guidelines, such as making eye contact, conveying emotions through facial expressions, and similar more subtle social aspects of ensuring a smooth initial conversation.
Whether you pursue ACSM or ACE, you will learn the skills needed for successful initial client contact.
Following the sale or preceding the first session is the previously mentioned risk screening.
Both textbooks provide sample medical history forms, PAR-Q forms, and other useful examples of paperwork relevant to this process.
The first major difference between the ACSM and ACE initial consultation phase follows the preparticipation screening.
This is the point where you begin performing actual physical and performance assessments to create a baseline profile to track your client's improvement throughout their training and assess for any non-clinical muscular imbalances, postural deviations, or movement pattern issues.
Both ACSM and ACE include the same anthropometric and cardiovascular measurements such as circumference measurements, skinfold measurements, and standard aerobic tests such as the Rockport walk test, step test, and cycle ergometer.
Following these assessments, ACE has a comprehensive list of postural and movement assessments and the different issues you might find with both static and movement assessments.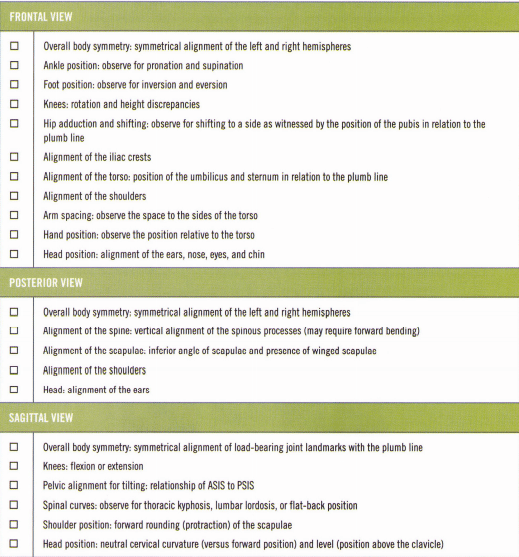 This includes five different variations of static posture issues that can come up on the plumb line assessment, with excellent diagrams illustrating these postural distortions.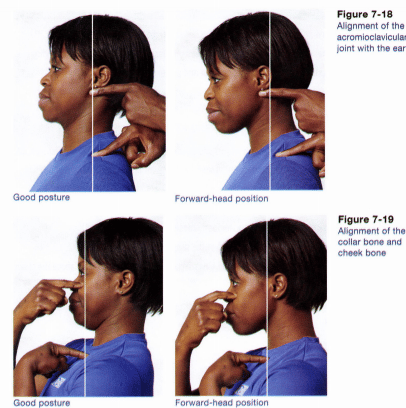 This also includes a list of probable tight and weak muscles associated with each distortion.
ACE then includes a battery of movement assessments, including squat assessments, pushing and pulling assessments, hurdle step screens, and thoracic mobility assessments to name just a few.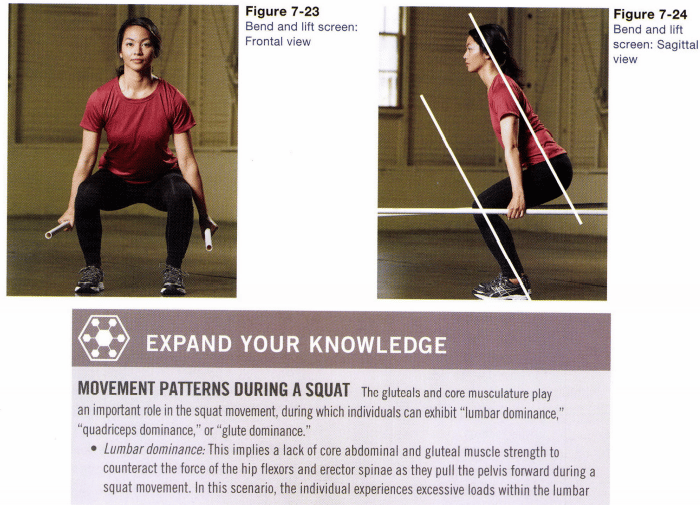 These assessments are invaluable for ensuring you address the client's movement issues before progressing to heavier resistance training exercises. In general, ACE does an outstanding job of providing you with enough assessments to cover the typical fitness client.
ACSM is severely lacking when it comes to discussions of postural imbalances, assessments, and corrective solutions.
The only real assessments provided are the plumb line static posture assessment and assessments of rolling mechanics. Additionally, very few diagrams are provided to illustrate how to conduct the rolling assessments.
Knowing how to asses poor movement patterns and ways to correct limitations is one of the key personal trainer duties.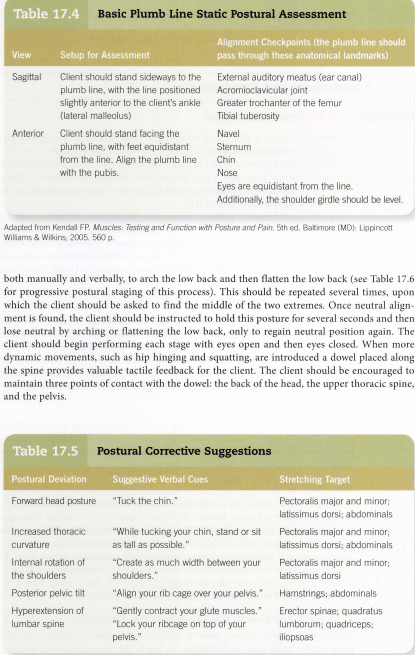 ACSM also contains no real discussion on performing a squat, lunge, pushing, or pulling assessment, which is a serious knowledge gap since most general fitness clients will not have optimal movement patterns with these motions.
The ACSM assessments have another organizational issue as well.
The textbook discusses postural and movement assessments after it discuss resistance exercise, aerobic exercise, flexibility exercise, and programming.
This makes little sense given that you should conduct your postural and movement assessments during the initial session and before developing the client's first phase of training. Without assessing the client's movement, you do not have sufficient information to develop programs that cater to the client's specific needs.
The inadequate corrective exercise assessments and programming in the ACSM compared to the detailed assessments in ACE are a key aspect that makes ACE far more practical for training fitness clients.
Should you end up choosing the ACSM certification, you will need to learn additional assessments and corrective programming to adequately address the range of postural issues you will find when training the general population.
The final note we want to mention when comparing the ACSM vs ACE assessments is that ACE has far more performance assessments than ACSM.
These include tests such as the long jump assessment and other plyometric field tests that yield useful information about a client's athletic ability.
Overall, the ACSM is severely lacking when it comes to movement and performance assessments, particularly compared to the comprehensive test battery in the ACE curriculum.
Exercise technique and programming
Along with physical and performance assessments, exercise techniques and programming are the 'hard skills' of personal training.
You must know and be able to demonstrate a wide range of different exercises for all the major areas and movement patterns in the human body.
You also need to understand how to plan these exercises into short, medium, and long-term programs and adjust the acute training variables appropriately.
Both ACSM and ACE cover these topics across multiple chapters.
The ACE Integrated Fitness Training® model does a superior job of providing a practical system for implementing complete fitness training programs with your clients.
This IFT® system includes four total phases that progress your clients through stability training all the way to performance training.
Each phase includes guidelines for flexibility, exercise technique, load assignment, and aerobic training that allows you to create organized and structured programs incorporating multiple training methods (i.e. flexibility, resistance training, and cardio).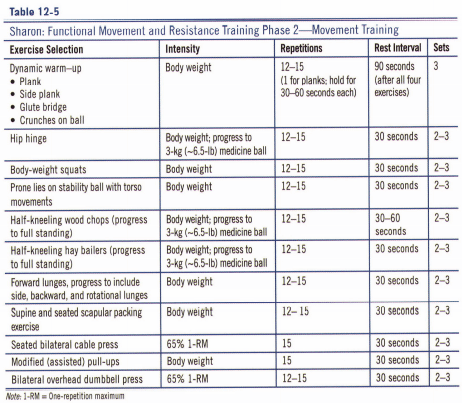 Although the ACSM technically discusses resistance training, cardiorespiratory training, and flexibility training, there is a little-to-no discussion of how to create programs that complement each training type with the other types.
Touching back on the movement assessment, ACSM also fails to incorporate corrective exercise protocols into a long-term training plan.
On the other hand, ACE dedicates the "IFT® Phase 1: Stability and Mobility Training" towards correcting clients' posture, coordination, and movement challenges as they begin aerobic training.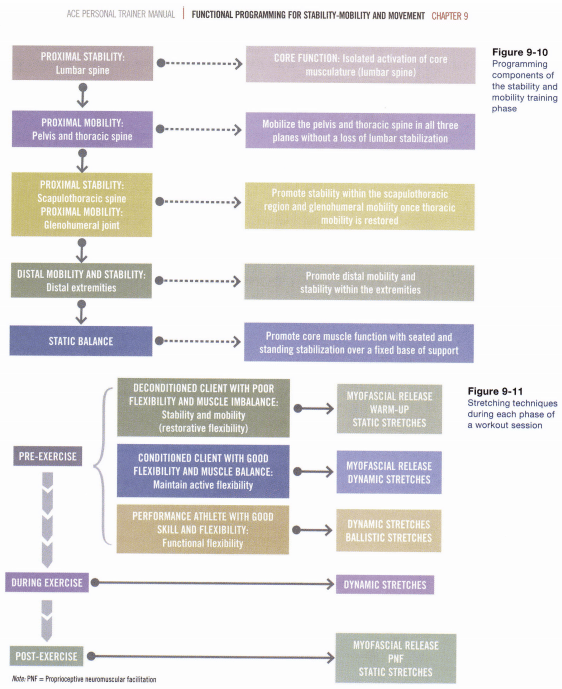 This structure allows a more seamless transition to full resistance and performance training for deconditioned general fitness clients.
The ACSM curriculum is simply not presented in a manner that allows you to coordinate these different areas of fitness.
In terms of exercise library, the ACSM has about 15 different exercises discussed, which is far from sufficient for long-term client progression.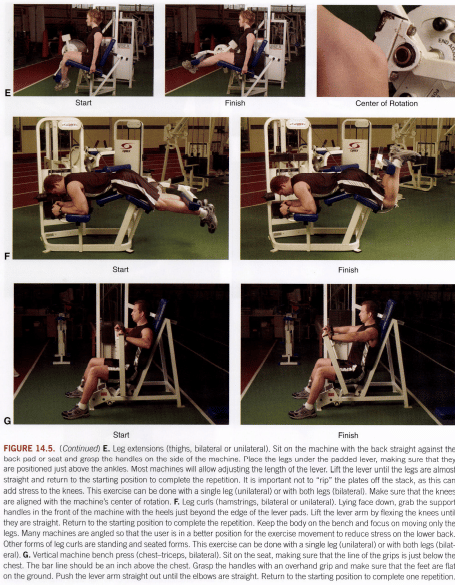 Additionally, there is no discussion in ACSM about training clients through exercises of progressive difficulty for a given movement pattern.
Although the ACE textbook does not include an exercise library, ACE has a massive exercise library on its website that includes video and written descriptions and does not require an additional subscription.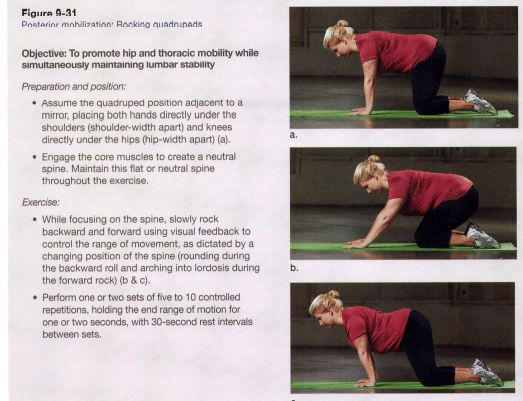 This resource is indispensable as both a study guide and reference once you are training clients.
Another standout aspect of ACE is its discussion of mind-body exercise systems such as Yoga, Tai Chi, and similar practices.
Given the popularity of mind-body training and alternative training systems, understanding the benefits of this training and how you might incorporate resistance training with clients who have a mind-body practice is immensely beneficial towards your comprehensive understanding of fitness training.
To date, we have not seen these practices discussed in any other mainstream personal trainer certifications.
Overall, ACE absolutely knocks ACSM out of the park when it comes to teaching the practical technique and programming skills needed for general fitness clients.
Exclusive TA Offers



Most Popular Cert

Great Option

Best Cert for you?

Good Option

Good Option

Good Option

Special Populations Training
Both the ACSM and ACE do an excellent job of covering training considerations for special populations. This includes healthy special populations such as youth, pregnant women, and older adult clients, in addition to clients with chronic disease, comorbidities, and other health problems.
The ACSM guidelines for older adults, pregnant women, children, cardiovascular disease, and metabolic disease clients are detailed and easy to comprehend.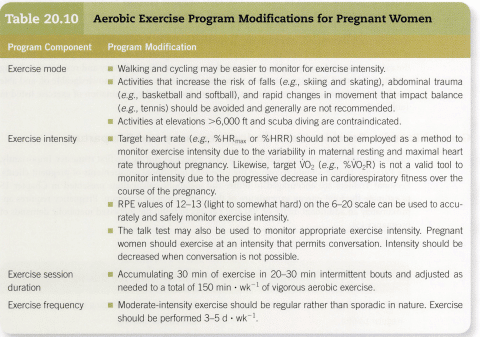 The biggest downside of ACSM's special populations' guidelines is the limited coverage of conditions not mentioned above.
For example, asthma, fibromyalgia, and low back pain are not covered in ACSM despite the widespread prevalence of these conditions.
ACE does a much better job of covering a broad range of common special populations you might encounter as a personal trainer.
The ACE guidelines for each population are similarly detailed and practical as those in ACSM, except ACSM does not cover as many different populations.
Overall, ACE edges out ACSM for special population guidelines. With that said, if you expect to train special populations, you should consider relevant continuing education certifications for even more knowledge on the topic.
Business Skills for Personal Trainers
Business skills are key for success in the fitness industry.
Both ACE and ACSM include substantial chapters on the business side of personal training and provide equally sufficient coverage on the topic for general fitness certification.
Fitness business skills comprise both industry knowledge and specific personal business skills.
Topics covered in business skills include:
the different common employment setups for personal trainers
marketing, sales, and client retention
calculating rates, desired income, expenses, and weekly session numbers needed to reach those targets
professional services for starting a business
Business skills require ongoing learning, and the coverage in most CPT certifications, including ACSM and ACE, is best used as a general overview into the topics you need to delve deeper into as your career progresses.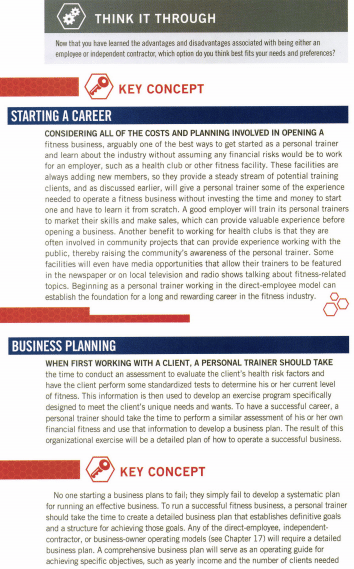 As with continuing education for exercises and programming, furthering your business knowledge is vital for ensuring your financial success and happiness. How to make money in the fitness industry can change with new technology and business strategies.
Although any general fitness certification can only teach so much, both the ACSM and ACE CPT do a commendable job at introducing prospective trainers to the business skills and considerations needed for long-term success and a high personal trainer salary.
Neither cert covers as much ground as the ISSA personal training certification, but even that cert doesn't go as in depth as you will probably want when you're learning the marketing knowledge needed to thrive as a new trainer or starting an online personal training business.
Study materials, pricing, and continuing education
Both the ACE and ACSM include a wide array of materials to help with exam preparation.
The textbooks form the backbone of the curriculum in both certifications.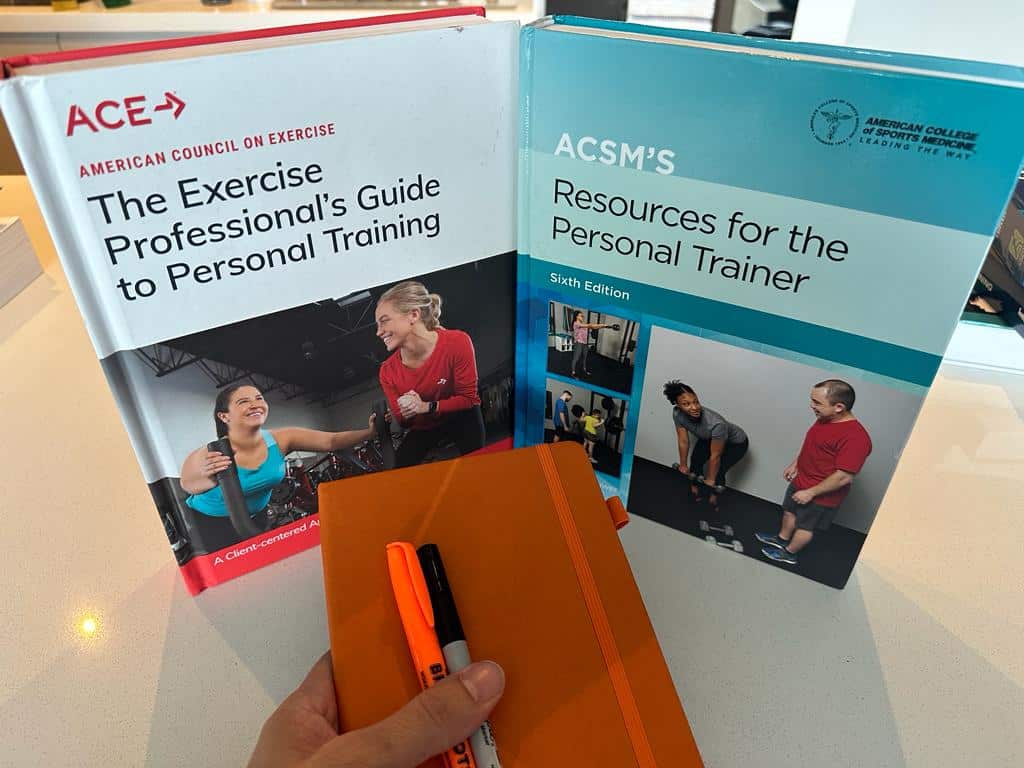 Content aside, the ACE textbook is far more logically organized and visually appealing than the ACSM, particularly when it comes to the discussions of client intake and program design.
When it comes to additional study materials, ACE also edges out the ACSM.
The ACE University study portal includes much better videos and lessons for digesting the content than the ACSM's slideshow and audio course from the third-party PrepU company.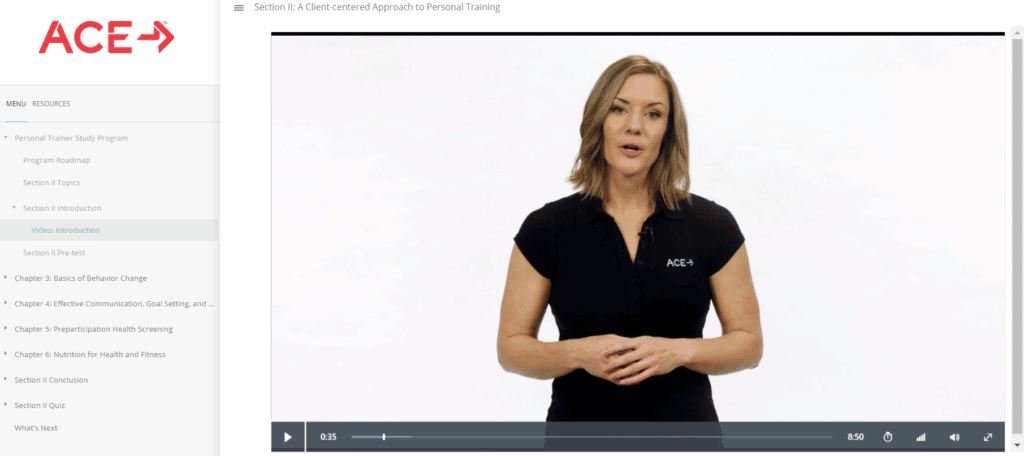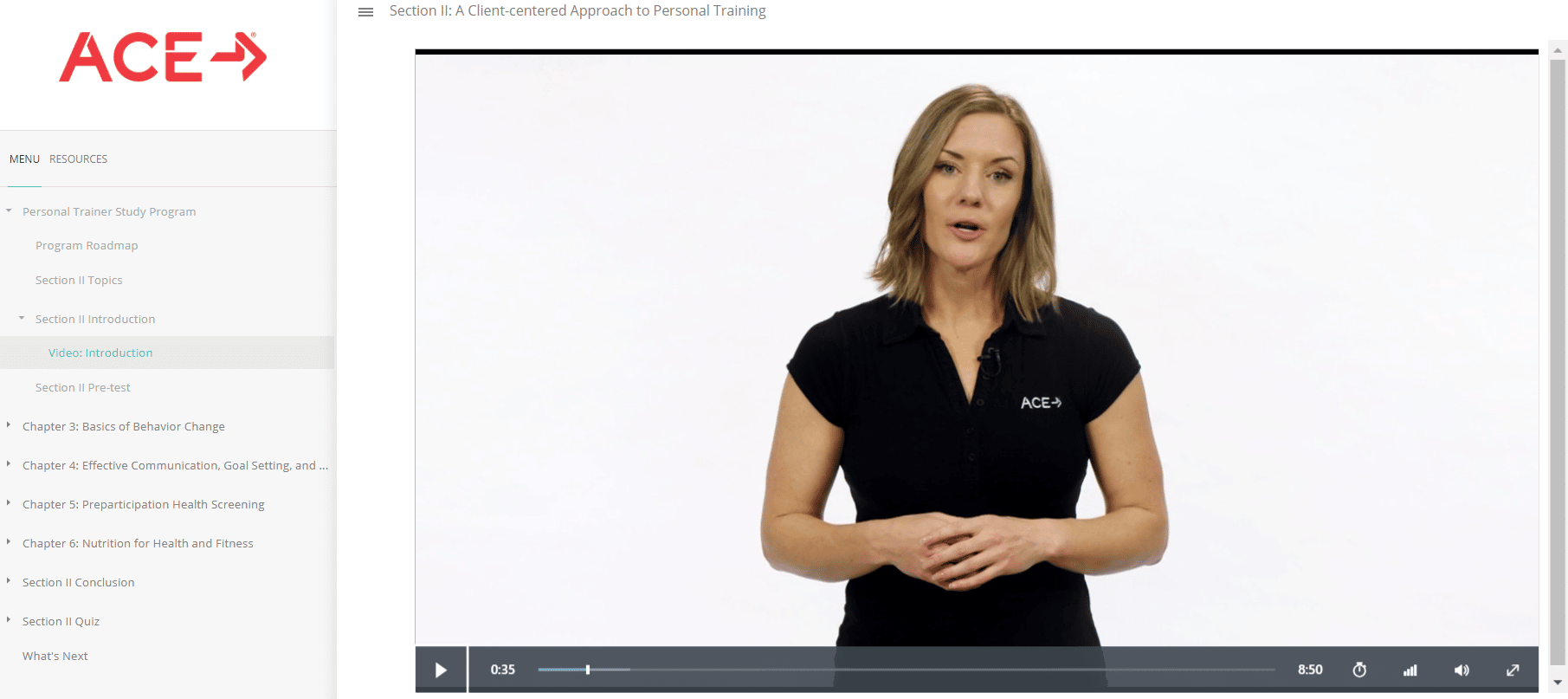 Additionally, ACE's study portal is well-organized into modular components and is well-suited for self-study.
ACSM's online materials have a much more "clinical" feel and are less engaging.
Finally, ACE has a far greater offering of additional study preparation materials for purchase.
If you are looking for complete preparation courses directly from the company itself, ACE completely beats ACSM in terms of quality and quantity.
Each certification has the option to just take the exam for a flat fee, which does not include any additional material.
For the ACSM, each additional study material is sold separately for an individual cost. This includes the ACSM Resources for the Personal Trainer, Guidelines for Exercise Testing and Prescription, a slide show and audio course option, practice quizzes, and flashcard bank.
The main textbooks for both ACSM and ACE are essentially the personal trainer manual for the respective organizations.
These materials are not sold as bundles but can each be purchased individually, allowing you to mix and match the best materials for your learning style.
The ACSM pricing breakdown as of May 2021 is as follows:
Exam fee – $349.00
Retake fee – $175
Resources for the Personal Trainer (digital text) – $65
Guidelines for Exercise Testing and Prescription (digital text) – $55
PrepU slideshow and audio course – $270.00
PrepU adaptive quiz engine – 3 month subscription starting at $65.00
The ACE certification includes bundled study resource packages that include varying levels of content. You can also pay the basic exam fee and purchase the textbook separately.
The ACE pricing breakdown as of May 2021 is as follows:
Exam fee – $399
Exam retake cost – $199
BASIC study package – $599

Exam fee included
ACE university study portal
1 practice test
ACE CPT Textbook (digital)
Study companion
ACE answers (Q and A, common questions on exam)

PLUS study package – $699

all BASIC package
ACE Answers Plus (more answers than basic)
Exercise science 101 course
ACE CPT hardcover textbook
2 practice tests

ADVANTAGE study package – $1049

all PLUS package
ACE CPT audio textbook
4 practice tests
Live Q&A webinars
One-on-one individual tutoring support
Theoretically, the material you need to pass either exam is contained in the main CPT textbook.
As such, if you were only to schedule the exam and buy the textbook, ACSM would be the cheapest personal training certification between the two.
However, if you plan to utilize additional materials, the ACE packages are a much better deal.
Alternatively, you could investigate third-party study preparation materials that provide similar resources at much more affordable prices and may include study pass guarantees.
An example is Trainer Academy with its comprehensive premium study packages that are intended to help you pass your exams in your first attempt.
Their time-tested study techniques are useful in reducing your study time, ensure you have a 99% pass guarantee plus a money-back guarantee offer.
So, what else are you waiting for? Check out the ACSM MVP Study Package and the ACE MVP Study Package here.
You can view some of our complementary study guides: the ACSM CPT study guide and the ACSM CPT practice test.
We also have study materials for the NASM CPT certification like our free NASM study guide and NASM practice exam, and help for the NSCA CSCS test with a practice CSCS test and a CSCS study book.
Both ACE and ACSM trainer certification programs require you to do a certain amount of continuing education CEU (also known as CEC or continuing education credits) credit hours each year through additional certifications. These hours must be completed through the coursework from the respective organizations.
The ACSM personal trainer program requires 45 continuing education hours and a $45 recertification fee, every 3 years, while ACE requires 20 hours and a $129 recertification fee every 2 years.
Both organizations have an excellent selection of course options for continuing education although you must pay for the courses independently from the recertification fee.
These specializations include:
Group exercise
Kinesiology
Strength and Conditioning
Fitness nutrition
Performance enhancement
Youth health fitness
ACE is well-known for its Group Fitness instructor course, while ACSM's Exercise Physiologist certification is well-respected for trainers on the path towards clinical work or careers in exercise science.
We at Trainer Academy always encourage new trainers to look at further certs that might give them an extra edge to potential clients or gyms.
If you have a nutrition certification, a group fitness certification, or even a yoga certification or a pilates certification it means you have more work opportunity.
You should also note that both the ACSM and ACE PFT programs require a CPR AED certificate before sitting for the exam. Be sure to become adult CPR AED certified before planning your exam date. You must provide proof of your CPR AED certification before scheduling your exam.
Although you do not need a bachelor's degree for either ACE or ACSM, you must have a high school diploma or diploma equivalent, such as a diploma GED before taking either exam. This is a requirement from the National Commission for Certifying Agencies.
Both the ACSM exam and ACE exam have a roughly 70 percent pass rate and have easier multiple-choice questions overall than many comparable certifications such as the NASM CPT exam.
Although the curriculum in both certifications covers a substantial amount of content, each personal trainer exam is designed to be straightforward.
You can realistically expect to exclude 1 or 2 obviously wrong answers on most questions on each trainer certification exam, meaning you have a 50/50 shot of answering correctly even if you are not completely sure.
There are no trick questions on either CPT exam.
While you certainly need to prepare to ensure a passing score, the exams are designed to ensure you pass provided you put in the necessary study time.
Both exams have a heavy emphasis on screening for cardiovascular risk factors, so be sure you know the cutoff points for different levels of risk.
Note the ACE uses the ACSM guidelines for risk factors, so in this case, that information is almost identical.
You do need to learn more anatomy if you are taking ACSM, while ACE requires more knowledge of movement assessments and programming.
If you are worried about failing the exam, consider signing up for a program that gives an exam pass guarantee to remove the financial anxiety about any retake fees from the equation. Many online course programs, guided study, self-study, and home study courses offer a retest guarantee at no additional cost to you.
Your individual study needs to determine which one will work best for your learning style.
Passing the exam is ultimately all that's needed.
This free ACE study guide and ACE practice exam from Trainer Academy will help achieve the success you desire.
| Certification | Best For | Base Exam Cost | Full Study Program Cost | CEU Requirements | CEU Fee |
| --- | --- | --- | --- | --- | --- |
| ACSM | Clinical exercise careers | $349 | $804 | 20 hours every 2 years | $129 |
| ACE | General fitness population training | $399 | $1049 | 45 hours every 3 years | $45 |
Which certification is more respected, ACE or ACSM?
Both the ACE and ACSM certifications are NCCA accredited and widely respected across the fitness industry.
Each certification will start your career as a personal trainer. Your long-term goals in the fitness industry will determine which certification is best for you.
Which certification is best for bodybuilding?
Although ACE and ACSM both cover programming for hypertrophy, all things being equal, ACE is a better choice if you plan to train bodybuilders.
Which certification is more expensive?
Although prices are similar between ACSM and ACE, the ACE CPT costs more for the equivalent study packages when purchasing directly from each organization.
Which test is hardest?
The tests are fairly similar overall. The ACSM requires more memorization of different risk cutoff points, while ACE requires more focus on programming.
ACE vs ACSM: Which certification should you choose?
You are probably ready for our final assessment of which certification you should take.
With similar costs and exam difficulties, the decision boils down to your goals in the industry.
These two aren't the only options out there. When you compare ACE vs NASM or NASM vs ISSA you can see that all the certs have their pros and cons.
If your goal is to focus only on the practical skills needed to coach general fitness clients, ACE is likely to right certification for you.
ACE is much heavier on the nuts and bolts of training clients without excess knowledge, and the continuing education options are excellent for general fitness training.
If you plan to work with a clinical population in the future or want deeper background and anatomy and exercise science, then ACSM is the right choice.
Additionally, the ACSM continuing education programs offer great career tracks towards clinical work.
Regardless of which certification you choose, you must commit to continuing education to both maintain your certification and ensure long-term success in the fitness industry and a good personal trainer career outlook.
Finally, given that both certifications are NCCA accredited, you should have no problem finding your first job as a personal trainer after passing either exam.