Create Account
1. Go to https://www.smttest.com/candidatemanagementsystem/cplogin.aspx?cms_cid=592
2. Click "Create New Login" to create a new account.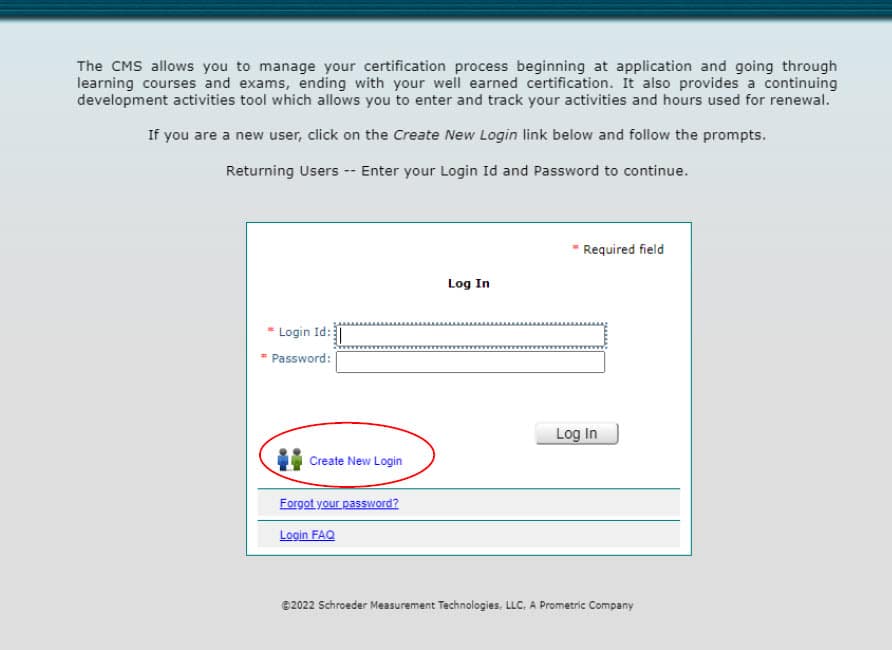 3. Create a new account
a. use your email address as the Login ID and create a password.

b. Your password must contain at least 8 characters and requires at least one number and one capital letter.

c. Click Submit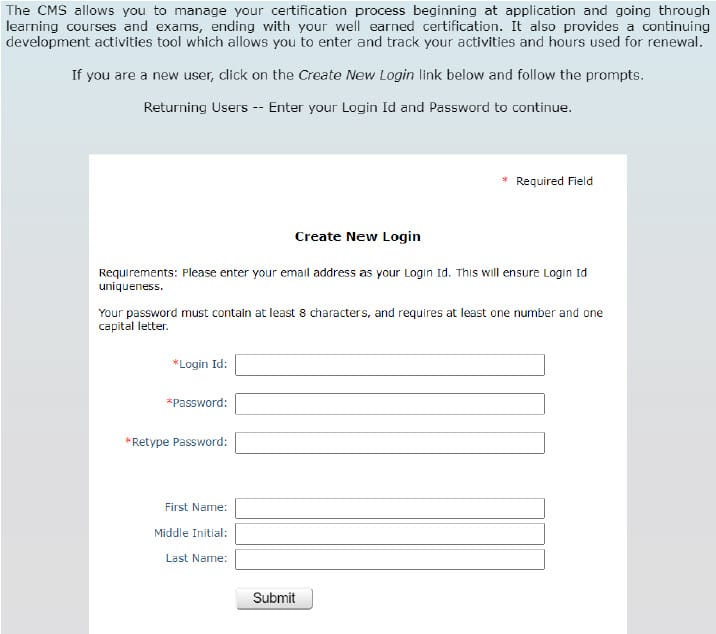 4. Once logged in, click on the 'Application' tab

5. Click on the 'Create an Application for Certification' tab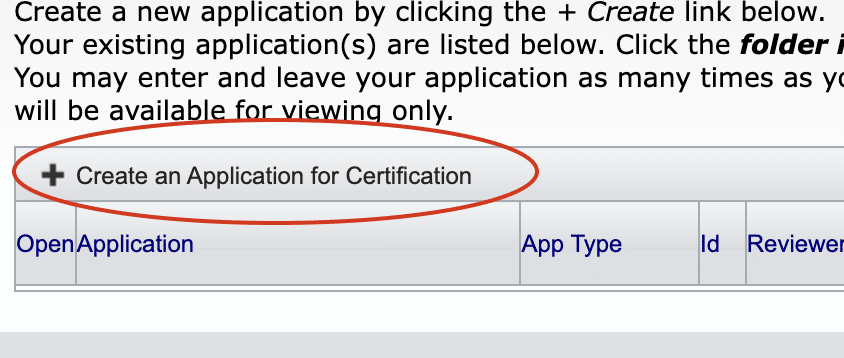 6. Select the Option for 'TA-CPT Trainer Academy CPT Application' in the drop-down menu.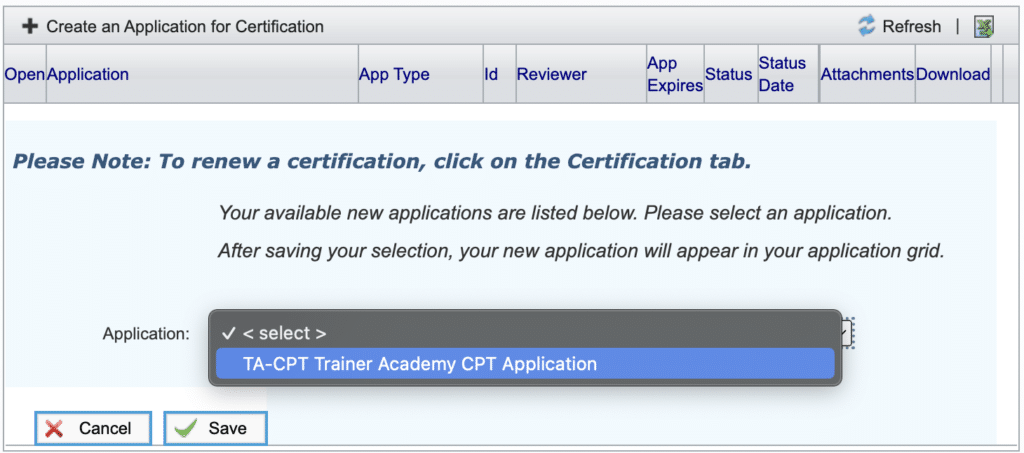 7. Click on the open folder to start your application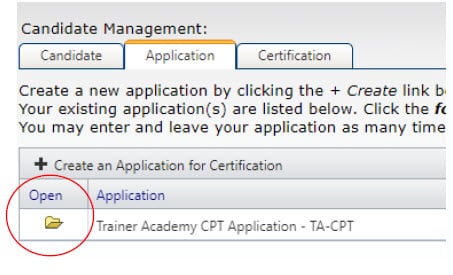 Application
Complete each tab of the application.
1. Review the welcome page instructions and click Next.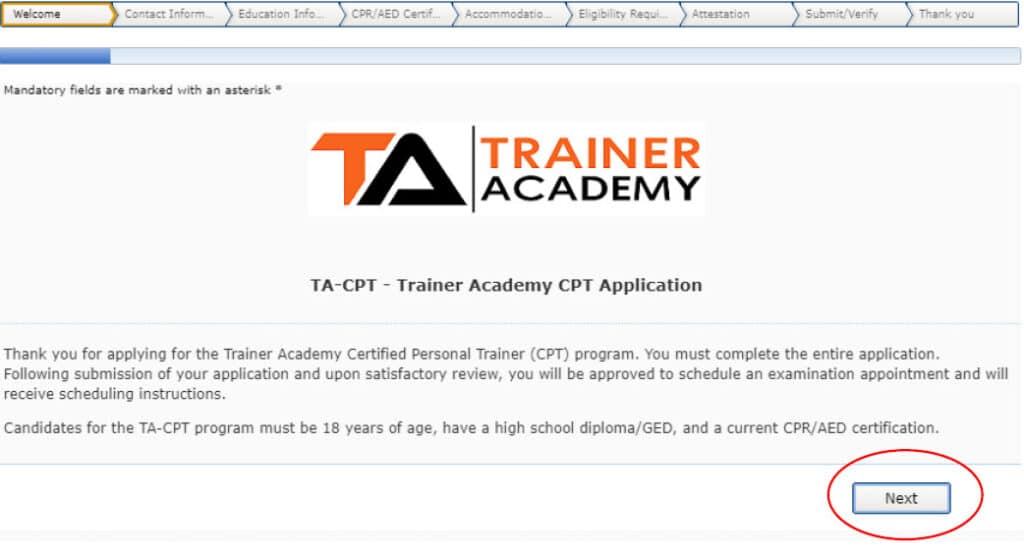 2. Enter your contact information
a. Complete email, name, address, phone number, and birthdate fields.

b. Other fields are optional.

c. Click 'next' to move to the next page.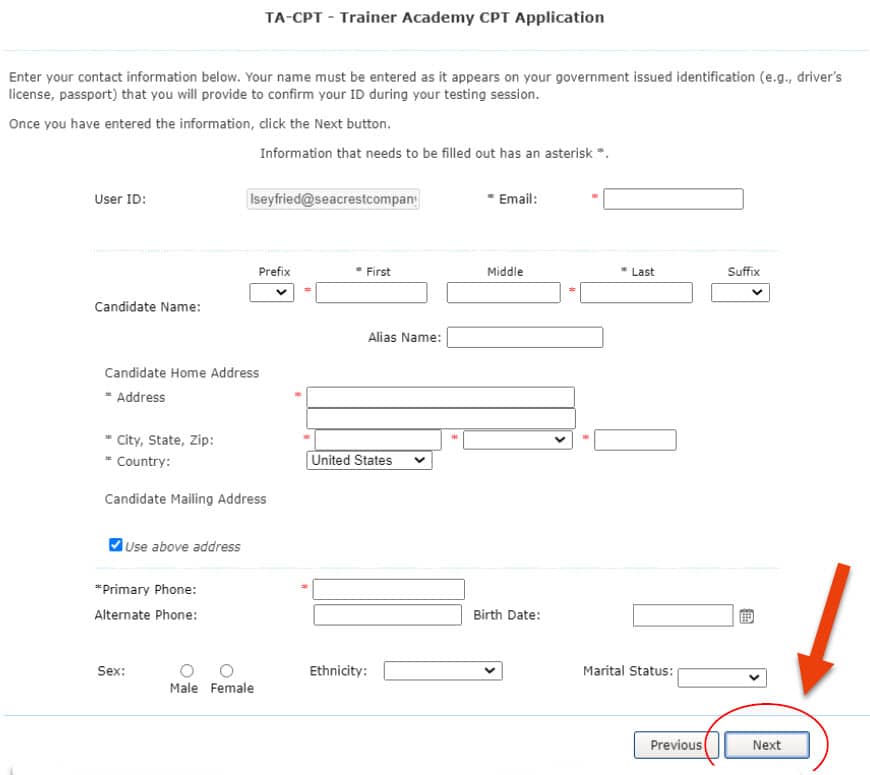 3. Enter education information – Candidates are required to have at least a high school diploma or GED.
a. Enter name of the institution (or school) and degree held (e.g., High School Diploma, Bachelors degree, Masters degree, etc.) and click Save.

b. Click the "+Add New Organization" (top left) to add another entry. For example, if you want to add your high school and college academic institutions.

c. Click 'next' to move to the next page when you have entered the required academic information.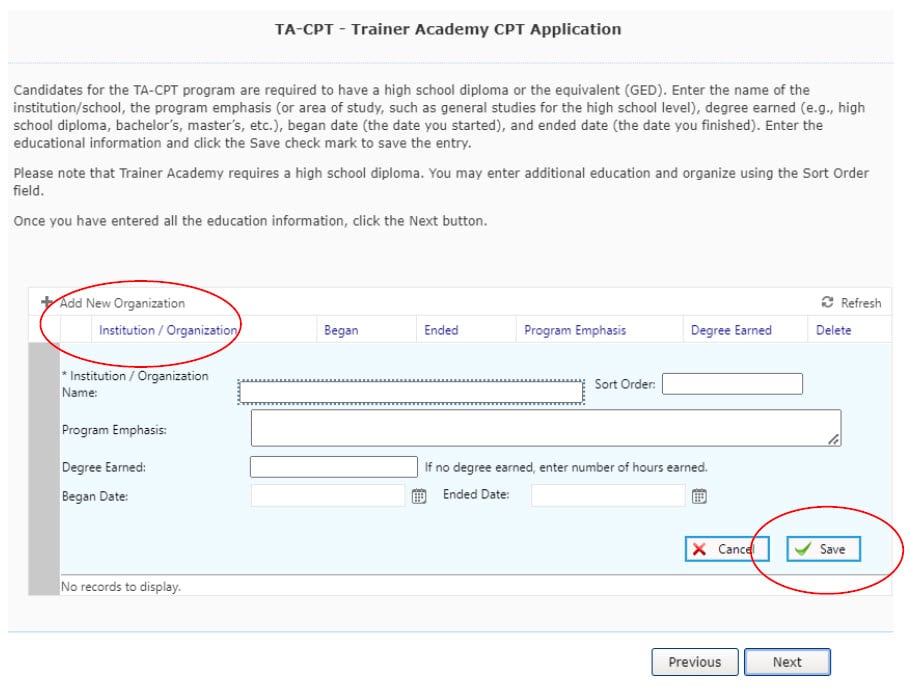 4. Upload CPR/AED Certification
a. Click "other" from the Document Category drop down menu.

b. You may add a description of the document to the description box.

c. Click select to add upload the file.

d. Upload a copy of your current CPR/AED certification.

e. Click the 'save' button.

f. Click 'next' to move to the next page.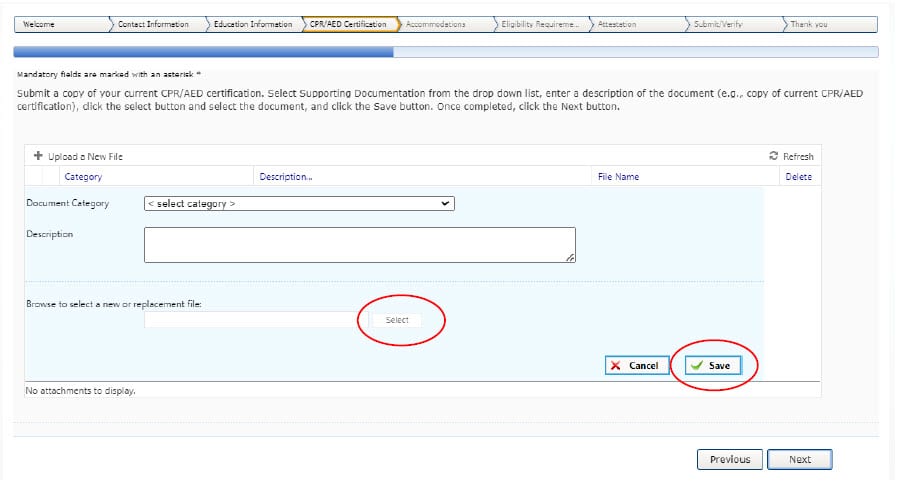 5. Complete accommodations form
a. Check the 'Require Accommodations' box if you require an accommodation for testing.
i. If you require an accommodation, you will need to upload the completed accommodations form located in the TA-CPT Candidate Handbook, as well as any supporting documentation.

b. If you do not require an accommodation, check the 'No accommodations are being request' box.

c. Click 'next' to move to the next page.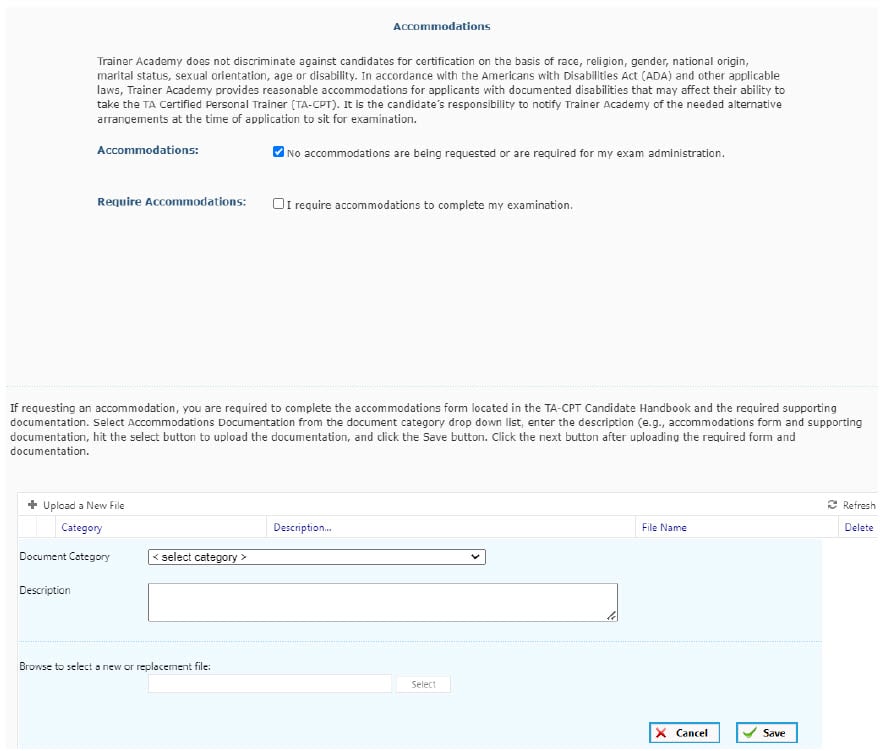 6. Confirm Eligibility Requirements
a. Confirm you meet the eligibility requirements by answering each question with 'yes – I meet requirements.

b. Click 'next' to move to the next page.

c. If you answer no to any question, you will not meet eligibility requirements.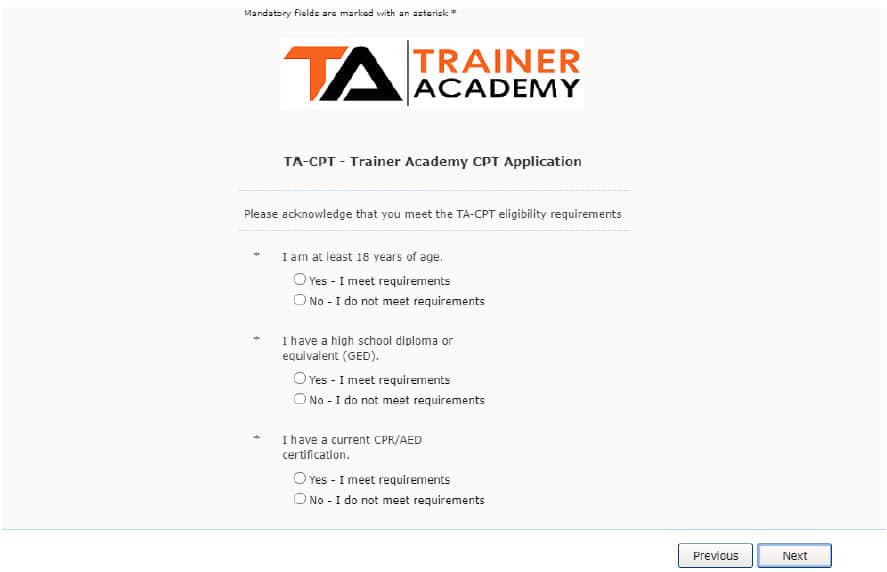 7. Complete Attestations
a. Trainer Academy asks that you attest to each statement before proceeding. Sign by entering your name in the 'Signature' box.

b. Click 'next' to move to the next page.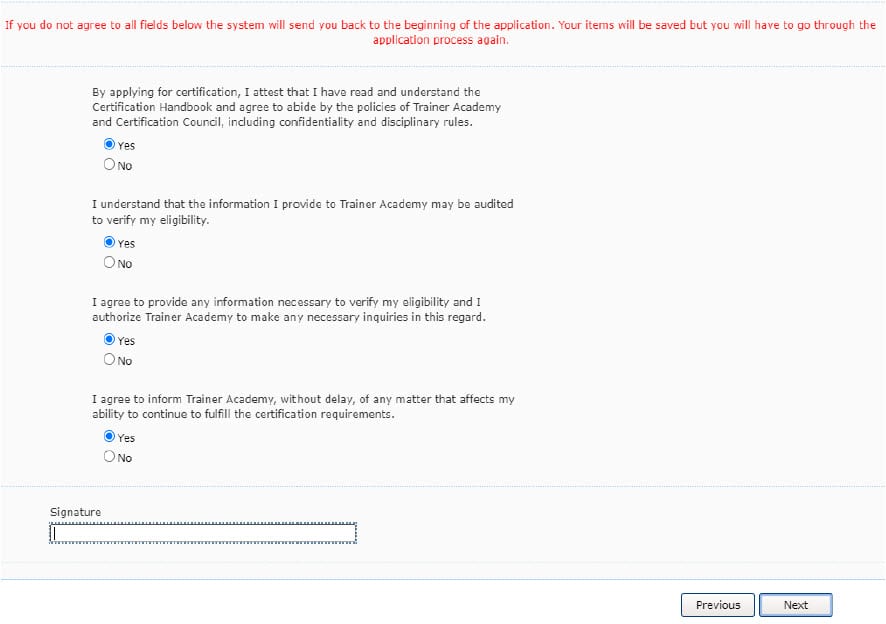 8. Submit/Verify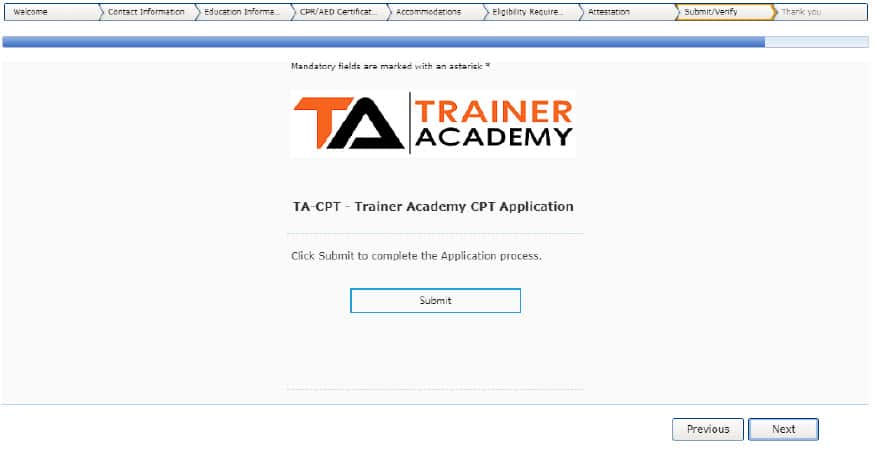 Following submission, you will receive an email confirming your submission.

Once your application has been reviewed, you will receive an email noting either approval or not approval.

If approved, you will receive an email with instructions to schedule your examination.